Teaching English in Budapest, Hungary: Q&A with Jenny Bardoczi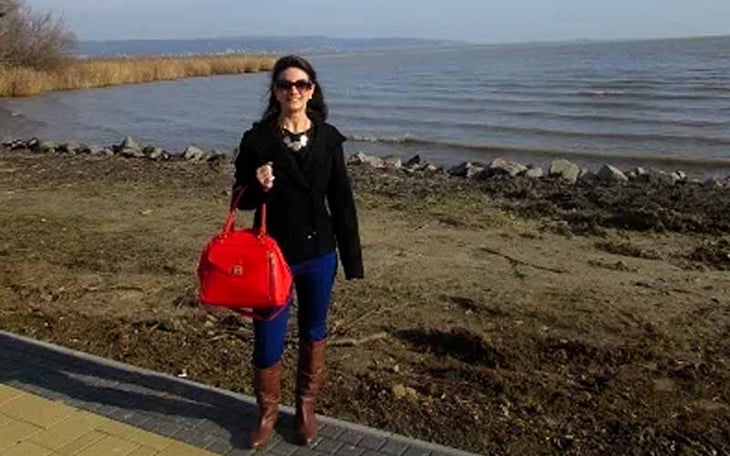 What is your citizenship?
United States
What city and state are you from?
Asheville, NC
How old are you?
23
What is your education level and background?
Bachelor's Degree
Have you traveled abroad in the past?
I studied abroad in Debrecen, Hungary, and have traveled to Israel and Austria.
What sparked your interest in going to teach English in Hungary?
After graduation, I had a strong urge to go back overseas and explore different parts of Europe. Traveling is so invigorating and fulfilling!
What were some of your concerns before teaching teaching English in Hungary?
Teaching ESL & leaving my friends & family.
What did your friends and family think about you moving and teaching abroad?
They were actually very supportive. They understood the drive that I had to leave and begin a new chapter of my life.
Why did you decide to get TEFL certified and choose International TEFL Academy?
Honestly, along with the great reviews that I saw about the course, Doug Waxman my admissions adviser was the key person who encouraged me to become TEFL certified. He spent a lot of time talking with me, explaining the course to me and just being a great support. You rock, Doug!
Which TEFL certification course did you take?
Online TEFL Class
How did you like the TEFL certification course?
Overall, I think that it was good. I prefer face-to-face classroom settings but with all of the YouTube videos and quick access to my professor Gosia Mroz, my anxieties were soothed. The tasks took a lot of work, no doubt about it, but the tasks definitely helped me to better understand the module work. The practicum was brilliant; I valued the 20 hours of shadowing/student teaching. It gave me an insight as to what I'd be expecting overseas.
How has your TEFL training helped you in your current teaching position?
After completing the TEFL certification course, I was a lot more confident to go overseas and teach English in Hungary. Of course I still was a bit nervous, but along with the coursework and practicum, I knew I was good to go!
Which city and country did you decide to teach English in and why?
I am teaching English in Budapest, Hungary. I chose to teach English in Hungary because of my Hungarian roots. I'm half-Hungarian and am married to a Hungarian. I really enjoyed my time studying in Debrecen so I knew that I'd be thrilled to actually live and teach in the capital.
How long have you been teaching English in Hungary and how long do you plan to stay?
In total, a little over a year. I'm planning to stay until August 2014.
How did you secure your job teaching English in Hungary?
Through a program called CETP.
How did you get your work visa? If you didn't get a work visa, please elaborate on working under the table without a work visa.
Through CETP, I obtained all the legal documents/visa that I needed in order to stay and teach English in Hungary.
Tell us about your English teaching job in Hungary!
I teach English at a bilingual secondary school in Budapest. My students are incredibly respectful, hard-working and always find a way to make me laugh! I work an estimate of 30 hours per week including the 22 classes (45 min each) that I teach a week. Though the pay is not great, roughly $600/month, I'm provided with housing, which helps quite a bit. If I was just living off of my salary (my husband works as a resident doctor here), then it'd be difficult to save money. It's wise to bring some savings with you -- especially since it sometimes takes a month or so to receive your first month's salary.
Vacation time is wonderful! There is a week long break in October (I traveled to Austria during this break!), two and an half weeks for Christmas (I flew back to the US), a week long break in April (I'm planning to travel back to Israel or Italy), and a few days off in May. My school's last day of school is June 13th. I plan to do much more traveling after the school-year is over!
How did you find somewhere to live and what is it like? Do you have roommates?
Everything was done through CETP and through the school that I work with. My husband and I live in a flat just down the street from the school.
Please explain the cultural aspects, public transportation, nightlife, social activities, food, expat community, dating scene, travel opportunities, etc. about your country:
Cultural aspects: There is SO much to see here. If you're a history nerd like I am, then you'll
love it. There are a lot of museums to visit that portray the communism era here in Hungary, the Holocaust (a ton of memorials) and much more. The architecture of the buildings is absolutely phenomenal.
Public transport: All in all, wonderful! It's easy and inexpensive.
Nightlife: I'm not particularly into the "nightlife" scene so I can't comment on this, sorry!
Social activities: Going with friends to nearby cities, walking through downtown Budapest and grabbing some Hungarian desserts (so delicious!) and coffee, or just going to hang out near the Danube -- there are SO many options for social activities!
Food: Along with the Hungarian cuisine, you can find Turkish food everywhere, along with Italian, American, Greek and others.
Expat community: There is a huge expat community. It's good to join a group via facebook to keep in the loop of things. Also, if you teach through CETP, you'll have a large group of fellow (mostly) American teachers to communicate with!
Dating scene: Well, I'm married so I can't really comment here! But I did meet my husband here 4 years ago -- so ladies (& guys!), don't give up on love yet! :)
Travel opportunities: Its inexpensive to travel to other countries. For example, I took a train to Salzburg, Austria for about $30. Not bad!
What are your monthly expenses?
Rent/utilities: paid for by the school.
Food (depending on how much you eat out): approx. $250-$320
Social activities (again, depending on how much you go out): $50 - $100
Transportation: $50
Phone: $50
Travel: this really depends on the person. Depending on where you travel to, you can spend as little as $30 to as much as $150 (for example, a round-trip ticket to Rome is about $150).
How would you describe your standard of living?
Actually, quite good!
In your opinion, how much does someone need to earn in order to live comfortably?
About $800 - $1000 a month.
What advice would you give someone planning or considering teaching in Hungary? Would you recommend teaching in your country?
I'd definitely recommend someone to come teach English in Hungary. It's a wonderful country full of history, good food, good people and amazing architecture!

Jenny Bardoczi is an ITA graduate who attended the University of North Carolina at Asheville. After completing her Online TEFL Course, she taught English in Budapest, Hungary. She now works as an office manager and continues to be involved with ESL/EFL, giving online English classes to Chinese students for a Beijing-based company.
Want to Learn More About Teaching English Abroad & Online?
Request a free brochure or call 773-634-9900 to speak with an expert advisor about all aspects of TEFL certification and teaching English abroad or online, including the hiring process, salaries, visas, TEFL class options, job placement assistance and more.