Frankfurt, Germany English Teaching Q and A with Noah Franc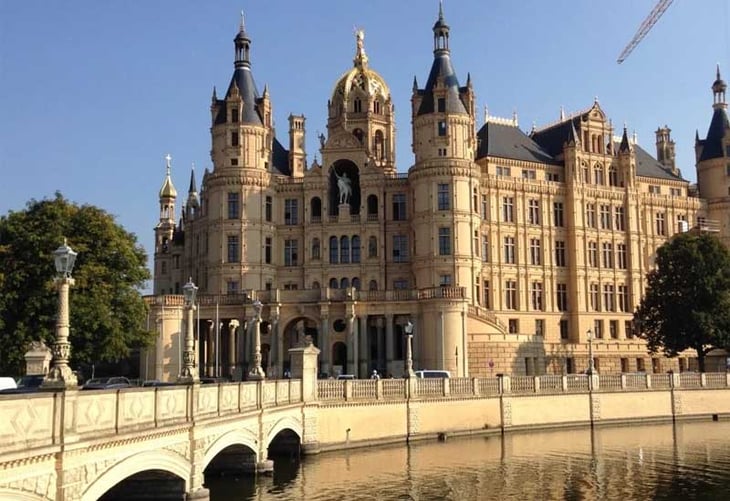 TELL US ABOUT YOURSELF
What is your citizenship?
United States
What city and state are you from?
Sparta, New Jersey
How old are you?
22
What is your education level and background?
Bachelor's Degree
Have you traveled abroad in the past?
I studied abroad in Europe
If you have traveled abroad in the past, where have you been?
Germany, France, Belgium, Switzerland, Luxembourg
What sparked your interest in going to teach English abroad?
I wanted to be able to travel further and see even more of the world. I also wanted some experience teaching, to find out if it is a career path I would like to pursue.
TEFL CLASS INFORMATION
Why did you decide to get TEFL certified and choose International TEFL Academy?
I came across International TEFL Academy by chance, and my admission advisor Cassie was very patient and informative in helping me decided whether or not the course was right for me.
Which TEFL certification course did you take?
How did you like the course?
I found the online TEFL course interesting and engaging. Adrian Ortiz was the instructor for my online class, and he was always very timely in responding to the various questions and concerns I had during the course of the class. For my Practicum, I tutored a lovely French family near my neighborhood, and also observed several days of ESL classes at my high school for the exchange students there, mostly from China.
How has your TEFL training helped you in your current teaching position?
The school websites sites and school finding links provided by ITA have given me an excellent jumping off point, and have allowed me to establish several contacts here in the Frankfurt, Germany area.
TEACHING ABROAD IN FRANKFURT, GERMANY
Which city and country did you decide to teach English in and why?
I am teaching English in Frankfurt, Germany, because I loved my study abroad time there so much.
How long have you been in this country and how long do you plan to stay?
I have been here 3 months and plan to stay for at least 7.
How did you find your current teaching position?
I gave my resume to a company in Frankfurt and was invited in for an interview. After the interview, I was offered a contract as an independent instructor.
Which school do you work for?
The company I currently for is called Eifert.
How did you get your work visa?
To get my visa, I followed these steps:
1. Register my address with the local Rathaus (City Hall)
2. Open a German bank account
3. Acquire German health insurance
4. Obtain a guaranteed contract from a company
5. Submit the materials to the nearest Ausalenderbehoerde (Foreigner's Registration Office) and await approval for an Aufenthaltsgenehmigung (Residence Permit)
6. Once Aufenthaltsgenehmigung is obtained, register with the nearest Finanzamt (Revenue or Tax Office) for tax reasons
Even before I got my official permit, however, I did start tutoring a private student in Frankfurt, for which I was paid directly and in cash.
Tell us about your English teaching job!
Hours: I currently have 12 hours of class time per week, although that is rising slowly as I begin new courses.
Salary: My pay with Eifert is 20 Euros for every 45-minutes of class time, known as a unit, so with the 12 hours I have now I am paid for 16 units a week.
Savings: I have not been able to save yet, as I am still waiting for my first paycheck, but after a few months I will be able to save a small amount with each paycheck.
Students: The school I am working for teaches Business English. They are hired by different companies to organize English classes for their employees. My students are all adults and business professionals.
Vacation: I can take days off for vacation at my leisure.
COUNTRY INFORMATION - FUN!
Please explain the cultural aspects, public transportation, nightlife, social activities, food, expat community, dating scene, travel opportunities, etc. about your country:
Germany has a much more relaxed atmosphere in many ways than the United States. Transportation is widely available, and is fast and efficient, making it easy for me to commute to the nearby cities to search for jobs. I am particularly excited to be back because of the food, which I love. I am an especial fan of "Green Sauce," a mixture of certain herbs that are eaten with potatoes. And the immense variety of sausages are, of course, excellent.
COUNTRY INFORMATION - MONEY
What are your monthly expenses?
I have an agreement with my girlfriend's mother to provide 250 Euros a month for living expenses, adjusted each month as needed. Aside from that, I had to purchase health insurance, which I anticipate will cost at least 100 Euros a month, if not more. Transportation locally is pretty cheap, but I had to purchase a long-term card for the local public transportation, which could be around 100 Euros a month. My phone and social costs vary from week to week, but I keep them as low as possible.
How would you describe your standard of living?
Excellent
In your opinion, how much does someone need to earn in order to live comfortably?
At least 1000 Euros a month is probably best to maintain a reasonable standard of living.
ADVICE FOR PROSPECTIVE TEACHERS IN GERMANY
What advice would you give someone planning or considering teaching abroad? Would you recommend teaching in your country?
I would recommend teaching in Germany, but if possible, secure a position before coming over. Although there are plenty of schools here for me to apply to, it can sometimes take awhile to find a position.
Noah Franc is a 23-year-old graduate of TCNJ, The College of New Jersey. After graduating with a degree in History and International Studies (including a year of study abroad in Frankfurt am Main, Germany), he decided to prioritize returning to Germany to continue his travels. To this end, he decided to return after obtaining a TEFL certification, so he could travel while also being able to work and save money.
Want to Learn More About Teaching English Abroad & Online?
Request a free brochure or call 773-634-9900 to speak with an expert advisor about all aspects of TEFL certification and teaching English abroad or online, including the hiring process, salaries, visas, TEFL class options, job placement assistance and more.