diversity abroad
Teaching English in Berlin, Germany: Alumni Q&A with Tina Angok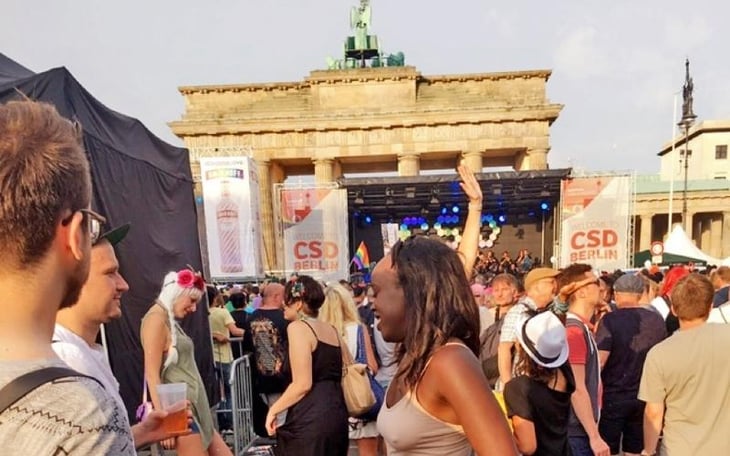 What is your citizenship?
United States
What city and state are you from?
Minneapolis, Minnesota
How old are you?
24
What is your education level and background?
Bachelor's degree

Have you traveled abroad in the past?
Studied abroad in France and Germany and traveled to Canada and Denmark.
What sparked your interest in going to teach English abroad?
Studying abroad in France and Germany was the first thing that sparked my interest in teaching abroad. I couldn't believe how much more of the world there was to see besides the midwest. I realized during this trip how passionate I was about traveling and helping others, which is why I decided to teach abroad. I also really love meeting new people and learning about different cultures.
What were some of your concerns before teaching abroad?
I was concerned about not finding a job and not speaking German. Now that I look back, I realized I really didn't have anything to worry about. Thankfully, English is such a global language that most people speak it around the world, especially in a city as diverse as Berlin. Finding a job was probably the easiest part of my transition abroad. I remember my advisor telling me that I had nothing to worry about because everyone finds a teaching position. Well, she was right. It took me less than a month, probably two weeks until I landed my first position.
What did your friends and family think about you moving and teaching abroad?
My family and friends were very supportive. My mother was apprehensive, of course, but happy I was following my dreams. My friends thought I was incredibly brave for moving across the world alone, and that motivates me everyday.
Why did you decide to get TEFL certified and choose International TEFL Academy?
I chose to get TEFL certified because of ITA's accreditation, the resourcefulness of an online class, and my desire to travel the world.

Which TEFL certification course did you take?
Online TEFL Course
How did you like the course?
I really enjoyed the course. My course started on August 29, 2016, and was instructed by Emily Ricklefs. The tasks assigned taught me how to be an effective teacher and construct lesson plans. I appreciated the straightforwardness of practicum and quizzes.
How has your TEFL training helped you in your current teaching position?
Two concepts from my TEFL training that really resonated with me were realia and LTTT (limit teacher talking time.) In a lot of my courses, my students have told me that discussion is a great way for them to increase their English speaking skills, so naturally, I implement LTTT and let them discuss whichever business topic we're covering that day. Also, realia brings life to my lessons, and my students seem to really enjoy it.
Which city and country did you decide to teach English in and why?
I decided to teach English in Germany in the city of Berlin. I decided to teach in Berlin because I'm a history nerd, and there's so much history to learn about in this city. I also love the high level of diversity and plethora of activities to do.
How long have you been in this country and how long do you plan to stay?
I've been in Germany for five months and plan on staying for at least two years.
What school, company, or program are you working for?
I'm working for Lingua Franca.
During which months does your school typically hire?
January and September.
Did you secure this position in advance of arriving?
No.
How did you interview for this position?
In-person interview.
What kind of Visa did you enter on?
Tourist Visa.
Please explain the visa process that you went through.
The most important part of the visa process for me was scheduling an appointment. The Auslandbehorde is usually very busy, and it normally takes two months to book an appointment. If I would have known this before I moved here, I would've scheduled my appointment when I was still in Minnesota. Besides scheduling an appointment, the next important documentation to have would be registering one's address and health insurance. Next, one needs a financial statement of one's expected income, bank statement, letter of intent, CV, letter of motivation, passport photo, and actual passport. Thankfully, I worked with Speakeasy Language Academy and they thoroughly helped with this entire process.
What are the qualifications that your school requires for teachers? Please check all that apply
- Bachelor's degree
- TEFL Certification
What is the best way to apply?
Email.
Tell us about your English teaching job!
I work for Lingua Franca, a company that specializes in business English training. My students are all adult professionals working in their field. For example, I have a group of Industrial Engineers, and we often cover vocabulary terms related to their jobs. I also have students with American bosses that they frequently email, so we cover emailing and phoning in English. Lastly, I cover cultural differences within business with all of my students. I'm not able to save much, but I live a comfortable life. I make roughly 500 euros ($600 USD) a month, which is enough for me and work about 15-20 hours a week.
How did you find somewhere to live and what is it like? Do you have roommates?
I have a friend that lives in northern Germany, and she referred me to www.wg-gesucht.de, which is a great website to find flats throughout Germany. Yes, I have one roommate.
Please explain the cultural aspects, public transportation, nightlife, social activities, food, expat community, dating scene, travel opportunities, etc...
Culture: The biggest cultural aspect that I've noticed is friendliness and directness. Coming from Minnesota, I'm very used to strangers being friendly and everyone being passive. In Berlin, it's the exact opposite. People are very straightforward and tell you exactly what they mean. Germans don't engage in as much small talk and are usually distant with strangers.
Public Transportation in Berlin is outstanding! Most people I know don't have cars.
Nightlife is amazing! There are so many different types of bars, clubs, and open-airs to go to.
Social activities are endless, especially in the summer! I love history, so I tend to go to museums and memorials in my free time, but there are also plenty of shows, festivals, and attractions to see.
Food: Germany has a high population of Turkish citizens, so one can find Turkish food at any corner. (My personal favorite, yum!)
Expat community: I've met quite a few expats here and even one Minnesotan!
Dating scene: The dating scene is a lot different for me because I tend to be a serial dater. Back home dates usually consist of lunch, dinner, or some fun activity. Here it's usually grabbing a drink or talking a walk, so I think dating in Germany is much more relaxed than in the U.S.
Travel opportunities, one of the reasons I love Europe! Traveling is so inexpensive, that I plan on visiting multiple different countries during my stay here!
What are your monthly expenses?
My monthly expense includes; rent (utilities included), food, transportation, phone, and gym membership. The social activities I attend are usually free. All together my expenses equal out to 500 euros a month.
How would you describe your standard of living?
My standard of living is very comfortable, definitely better than it was in Minnesota because I have to opportunity to travel now.
In your opinion, how much does someone need to earn in order to live comfortably?
It all depends on where one lives and what they like to do, but 600 euros would be best to live comfortably in Berlin.

What advice would you give someone planning or considering teaching abroad? Would you recommend teaching in your country?
I would tell them that life will be different, but extremely rewarding. I would definitely recommend Germany. The location is great and allows for ample traveling.


An extremely international Midwestern girl, born in Cario, Egypt, and raised in Minneapolis, Minnesota. Her family is originally from South Sudan, but she has lived in California, Iowa, and Minnesota! Tina chose to teach English abroad because of her passion for travel, enjoyment in helping people, and her interest in different cultures. During the summer of 2014, she studied abroad in Berlin and absolutely fell in love and ended up. back there to teach English.
Want to Learn More About Teaching English Abroad & Online?
Request a free brochure or call 773-634-9900 to speak with an expert advisor about all aspects of TEFL certification and teaching English abroad or online, including the hiring process, salaries, visas, TEFL class options, job placement assistance and more.