Cairo, Egypt English Teaching Q and A with K Diefen
Written By: K Diefen | Updated: June 28, 2022
Written By: K Diefen
Updated: June 28, 2022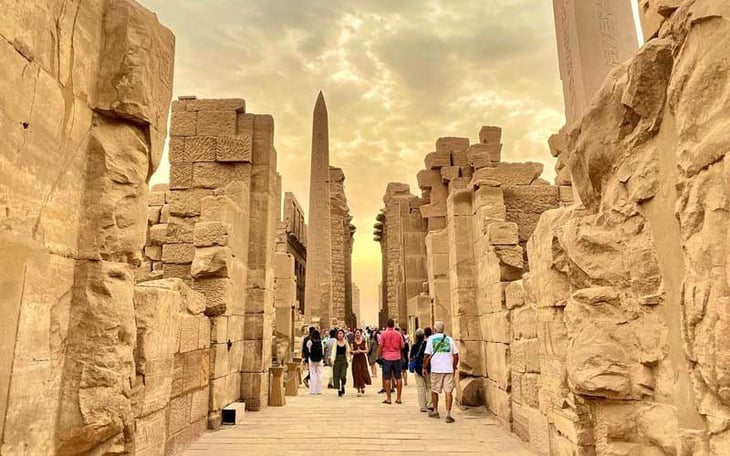 What is your citizenship?

United States

What city and state are you from?

Fairfax Station, VA

How old are you?

31

What is your education level and background?

Master's degree or Higher
Have you traveled abroad in the past?
Studied abroad
What sparked your interest in going to teach English abroad?

I was born in Europe and I really enjoy teaching, so the idea of teaching and finding deeper meaning while exploring a new place was a natural fit for me.

What were some of your concerns before teaching abroad?

My priority was to find good and safe housing and also to understand the every day factors such as transportation and language so that I had as much awareness as possible.

What did your friends and family think about you moving and teaching abroad?

My friends and family were very supportive of my decision.
TEFL CLASS INFORMATION
Why did you decide to get TEFL certified and choose International TEFL Academy?

I was looking to create more meaning in my own career and this seemed like a really great new avenue to explore. I chose the International TEFL Academy for two reasons, first because of their extensive student support network and alumni relations, and second because their course plan fit my own availability perfectly.
Which TEFL certification course did you take?

Online TEFL Course

How did you like the course?

I loved it! My instructor was phenomenal. Her instruction was very clear and concise, and she was always available for additional questions or explanation if needed. The tasks were interesting as it was a completely new field for me, requiring an entirely new way of thinking. I had a terrific practicum experience (live practice teaching) and this was where I was able to implement what I had learned and put into practice all of the new skills to create a wonderful classroom experience.

How has your TEFL training helped you in your current teaching position?

My TEFL training was essential to my teaching position. My training taught me how to teach, and this, combined with my practicum experience, allowed me to identify and draw upon my students' strengths and passions to energize and ignite the classroom experience. In addition, I learned from a mentor in my practicum how to create a classroom community, and this is what made a very lasting and incredible impact on my position.

Which city and country did you decide to teach English in and why?

I decided to teach English in Egypt in the city of Cairo. This was one of two teaching positions that I was offered in the region, and I was more comfortable in Cairo than in Sharjah, UAE, due to the fact that I had been there previously.
How long have you been in this country and how long do you plan to stay?

Three months

What school, company, or program are you working for?

Reach Out Academy
During which months does your school typically hire?

Ongoing hiring

Did you secure this position in advance of arriving?

Yes

How did you interview for this position?

Skype/phone

What kind of visa did you enter on?

Tourist visa

Please explain the visa process that you went through.

Tourist visa extension

What are the qualifications that your school requires for teachers? Please check all that apply

Current management is seeking qualified teachers to teach who are native speakers.

What is the best way to apply?

Online
Tell us about your English teaching job!

Teachers, depending on their status, worked 6 days a week for 8+ hours a day. Pay was very minimal but enough to meet basic needs. Saving depends on an individual's housing and lifestyle choices, minimal at best. The school was an education NGO that served business professionals, college students and refugees. All students were between the ages of 16 and 45. Vacation time as with other aspects of the teaching contract were very vague. The contract indicated one thing while in practice it was something else. Very good learning experience!

How did you find somewhere to live and what is it like? Do you have roommates?

I had friends in the region that were able to tell me the best, safest area for housing. I chose to live away from the school's immediate region in order to ensure that I was in a safe area. Yes, I had roommates.
COUNTRY INFORMATION -
Please explain the cultural aspects, public transportation, nightlife, social activities, food, expat community, dating scene, travel opportunities, etc...

Egypt is a very culturally diverse country. Cairo is very cosmopolitan in nature, so there is a large variety of culture and tradition. Many ethnic food dishes that are delicious! There is a strong expat scene, and many social and travel opportunities that one can seek. I did not use public transportation due to safety concerns. Due to the conservative nature of the culture and religion, social and dating scenes are very different than in Western countries.
Also, as a result of the church bombings, the government instituted a state of emergency which had a notable effect on the entire city. One must take into consideration the conflict that is ongoing in the Sinai region and use a high level of situational awareness and caution when navigating the region.
COUNTRY INFORMATION - MONEY
What are your monthly expenses?

- Rent was 2000 LE (approx. $110 USD)
- Uber rides were 15 - 60 LE (approx. $1-$5 USD)
- Food can be bought for as little as 5 LE (about 25 cents US). High quality imported food is considerably more expensive.

How would you describe your standard of living?

I kept a high standard of living due to previously planning out my expenses. My salary (< 5000 LE - $275 USD) was put toward my housing.

In your opinion, how much does someone need to earn in order to live comfortably?

12000 LE ($665 USD)


ADVICE FOR PROSPECTIVE ENGLISH TEACHERS
What advice would you give someone planning or considering teaching abroad? Would you recommend teaching in your country?

It is a wonderful experience and you will have an incredible opportunity to learn so much about yourself, the country, and its people. I would recommend teaching a country that aligns with your own values and in which you can maintain a healthy lifestyle.



K is from Virginia and is originally from Europe. K took ITA's 11-Week Online TEFL Course before teaching English in Cairo, Egypt.
Want to Learn More About Teaching English Abroad & Online?
Request a free brochure or call 773-634-9900 to speak with an expert advisor about all aspects of TEFL certification and teaching English abroad or online, including the hiring process, salaries, visas, TEFL class options, job placement assistance and more.