Teaching English in Cairo, Egypt: Alumni Q&A with Blake Edwards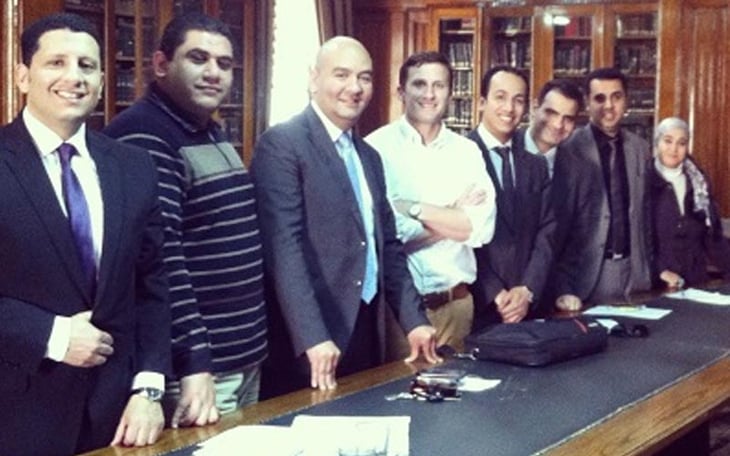 What is your citizenship?
United States
What city and state are you from?
Conway, Arkansas
How old are you?
29
What is your education level and background?
Master's Degree or Higher
Have you traveled abroad in the past?
I had previously studied abroad
If you have traveled abroad in the past, where have you been?
Spain, UK, France, Germany, Italy, Morocco, Mexico, Haiti, Costa Rica, Egypt.
If you have studied abroad in the past, where did you study?
Spain.
What sparked your interest in going to teach English abroad?
My interest was in living in the Middle East. Teaching English in Cairo, Egypt provided a way to make that happen.
What were some of your concerns before teaching English in Cairo, Egypt?
That I wouldn't enjoy teaching.
What did your friends and family think about you moving and teaching English abroad in Egypt?
They were supportive, but because I was moving to Egypt, they were also apprehensive.
Why did you decide to get TEFL certified and why did you choose International TEFL Academy?
I decided to get certified because most employers I was seeing online required it. I chose International TEFL Academy because the class was available online (I was already abroad when I started), and because the price was right.
Which TEFL certification course did you take?
Online TEFL Certification Class.
How did you like your Online TEFL Certification Course?
I liked it. I did feel sometimes like I was just doing it to get it done. I think my experience would have been different if I'd still been in the U.S., preparing to leave. Since I was already here and already teaching, I didn't have the luxury of thinking deeply about how and what I wanted to teach. I was doing the lessons sometimes knowing I had to teach a class a few hours later at 6:00, which put a different spin on things.
Since I already knew where my students were, what we were studying, what they needed, etc., reading material on, say, the psychology of language learning could feel like a waste of time. That said, much of the material did make me think about important issues. I filed away some of my assignments to use in the future, and the "resources" tab came in handy in a couple of my classes.
How has your TEFL training helped you in your current teaching position?
The certificate itself gave me a boost when I was hired (even though I was still in the process of obtaining it). And, as I said, some of the assignments were useful to me as future lesson plans. The resources (prefixes document, suffixes document, etc.) were also helpful.
Which city and country did you decide to teach English abroad in and why?
I am teaching English in Cairo, Egypt: I'm very interested in the politics of the Arab Spring, and in Egyptian politics in particular.
How long have you been in this country and how long do you plan to stay?
I've been here 2 months. I plan on staying through the end of 2014.
How did you secure your English teaching job in Egypt?
A friend referred me to an institute.
What school, company, or program are you working for?
NGC Academy.
How did you get your work visa? If you didn't get a work visa, please elaborate on working under the table without a work visa.
I am here on a tourist visa. As far as "working under the table," there's not much to elaborate on. NGC hands me an envelope of cash at the end of every month. This is standard practice in Egypt for English teachers. It's standard practice for a lot of things, actually.
Tell us about your English teaching job in Cairo, Egypt!
NGC, my employer, is a language and business skills institute that serves primarily university students and professionals with courses at night. Currently, I work 12 hours per week for 60 EGP an hour (roughly 8.50 USD). This isn't much, of course, but my English teaching is supplemental to freelance writing, editing, and social media work I do for several companies back in the U.S. I'm not saving any money, and I don't think it would be easy for an English teacher to do so in Egypt without working significant hours.
I have a friend here who has saved quite a bit of money teaching English in Cairo, but he's been here a long time, has a significant book of private tutoring and consulting business, and works LIKE A DOG.
Don't come to Egypt if you're trying to save money. Do, however, come to Egypt if you're willing to put student loans in forbearance and have an experience worth, by a factor of ten, the amount of money you're not saving.
How did you find somewhere to live and what is it like? Do you have roommates?
I live in a fantastic building right outside the gates to the Sphinx. I can almost throw a rock and hit the pyramids from my rooftop. I found the place on airbnb.com. I don't have a roommate, but the owner uses the second room in my apartment for travelers passing through.
Please explain the cultural aspects, public transportation, nightlife, social activities, food, expat community, dating scene, etc. about your country:
Cultural Aspects: Egypt is unique among Muslim majority countries. It has a (famously) long history that predates Islam and, as a result, a national identity (tied to the cultural identity) that is especially distinct from the rest of the Arab world. Although many of the national identities that exist in the Middle East and North Africa were born in the minds of English and French diplomats during and after WWI, Egypt was Egypt, and Egyptians felt Egyptian, long before any of the Western powers were around. You can feel this in Egyptian culture. They're a proud people. Their society is also, relative to many other Muslim countries, pluralistic (there is a significant Christian minority) and secular. Of course, I say relative. Islam is still very much the sun (moon?) around which daily life revolves, which leads me to...

Nightlife/Social Activities: You have to hunt for it, but it's here, and it's fun. Unfortunately, the only people indulging in it tend to be upper class bourgeoisie types, who aren't near as much fun as the average Egyptians who don't go to clubs and drink until they can't feel their faces, which, let's be honest, is what we westerners are sometimes really talking about when we talk about nightlife.

The Dating Scene: Maybe you'll strike Egyptian gold and ride off over the hill into the Sahara with Cleopatra (or her male equivalent), but the odds aren't in your favor. Don't come to Cairo to date.

Public Transportation: Is not for the faint of heart, but the public transportation in Cairo is incredibly cheap and relatively efficient. Most Westerners just hop in a taxi, but it's much, much cheaper to take a microbus and/or the metro. I've met a handful of Westerners who've been here years and never taken the metro, and I've met tons of them who've never taken the microbuses. It's a shame. "Exhibit Egypt," viewed through the glass bubble of a taxi ("Wow, Mildred. Just look at all that squalor..."), is more than most ever see, but it isn't half as fun or rewarding as learning how to travel as your Egyptian friends do.

Food: Very cheap, very filling, very greasy, very delicious.

Expat Community: Smaller than it once was, but still here. To find people, use an expat website, or just go have beers at Horreya, not far from Tahrir Square. You'll see the same 150 people twice in a week's time. The American University in Cairo, if you can find a way into that network, is also a good way to meet expats. The bottom line: once you meet a few people, you'll quickly meet lots of them.

Travel Opportunities: I haven't yet availed myself, but you're just a short, and cheap, plan ride away from all kinds of fantastic places. Just look at a map. Cairo is a great place to see the world.
What are your monthly expenses?
Rent: $150 USD a month
Food: $100 USD a month
Social Activities: $100 USD a month
Transportation (provided you're not a taxi cheat; see above): $20
Phone: $20
How would you describe your standard of living?
Awesome. But don't come to Cairo if developing world squalor makes you squeamish.
What advice would you give someone planning or considering teaching abroad? Would you recommend teaching English in Egypt?
I would absolutely recommend teaching in Cairo. The Egyptians are as friendly and open a people as you will ever meet, and now is an especially historic moment in the Middle East, if it is also a bit depressing and unsatisfying in Egypt, where the revolution has stumbled. Every day is an adventure, and history is everywhere.
But there's a more important reason to come to Cairo besides the myriad selfish ones I could list like a travel agent: the Egyptians need and want you here.
Once I met people in the English teaching community and started teaching, I started having to turn down opportunities left and right.
I'm told that, after the revolution started, English teachers fled the country en masse. It's a shame. There are people here who want to learn English, not just so they can advance their careers or watch movies, but so they can move closer to, dialogue with, the rest of the world. What an incredible role for an American to play: helping bridge the widest gap in the world: that between the West and the Middle East.
The supposed danger is overemphasized; that acceleration in my heart which I felt when booking my ticket to Cairo was irrational. I got an email a couple of weeks ago from our State Department warning me to be careful because there were two armed robberies in Cairo. Did the same message go to people thinking of visiting Chicago? The northern part of the Sinai Peninsula is, I'm told, lawless. But in Cairo an American is in no greater danger than Egyptians with whom she shares the city. And if you tally up the people who have been killed by political violence since 2011, divide that by the 20 million people who live here, the odds are so far in your favor it's almost silly to talk about it.

After studying abroad in Spain during college, Blake Edwards developed an interest in teaching English abroad, specifically in the Middle East due to his fascination with the Arab Spring politics. He successfully gained employment in Cairo, Egypt, at a language institute where he teaches business English and skills to university students and business professionals.
Want to Learn More About Teaching English Abroad & Online?
Request a free brochure or call 773-634-9900 to speak with an expert advisor about all aspects of TEFL certification and teaching English abroad or online, including the hiring process, salaries, visas, TEFL class options, job placement assistance and more.
"The Middle East is a very fascinating and unfortunately an extremely misunderstood area by so many. In a lot of ways, it's an extremely easy place to adjust to, Western luxuries are quite accessible and almost everything is in English and Arabic."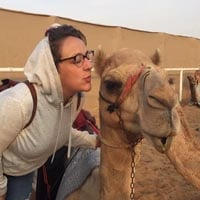 - Katie Ayers
Teaches English in the UAE