Cuenca, Ecuador English Teaching Q and A with Lynsey Schwab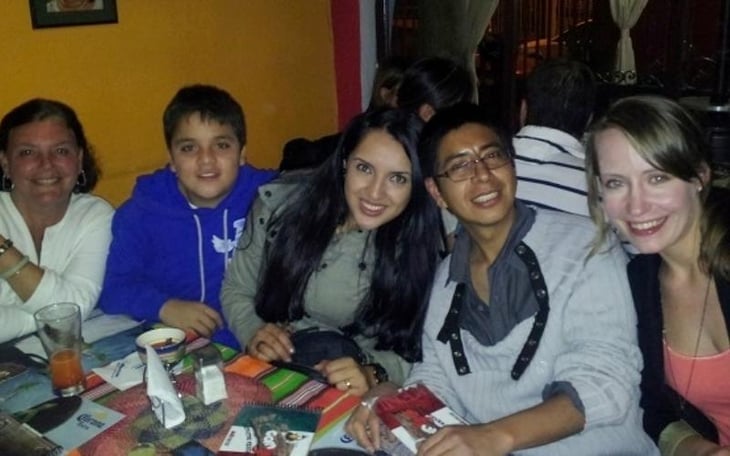 TELL US ABOUT YOURSELF
What is your citizenship?
United States
What city and state are you from?
Chicago, Illinois
How old are you?
26
What is your education level and background?
Bachelor's Degree
Have you traveled abroad in the past?
Some international travel with friends, family, business, etc.
If you have traveled abroad in the past, where have you been?
Czech Republic, Austria, Germany, France, England, Netherlands, Peru
What sparked your interest in going to teach English abroad?
I was looking for a change of pace from the 12-16 hour work days I was pulling in the States. I was looking for a better work-life balance and felt it would be a valuable experience to seek this out in another country.
TEFL CLASS INFORMATION
Why did you decide to get TEFL certified and choose International TEFL Academy?
As soon as I decided I wanted to move abroad, I realized teaching English was a reliable way to make money while traveling. Ironically, shortly after I realized this, the International TEFL office moved to a new location less than 3 blocks away from my house! I found it helpful to talk to the staff there, and felt better taking classes with people I had met rather than another online company where I would have to do 100% of communication through the internet.
Which TEFL certification course did you take?
How did you like the course?
I found a lot of the information to be quite valuable, both while taking the course and while teaching afterwards. My instructor was incredibly helpful; she had taken classes with the organization I was hoping to work for and put me in contact with the people who were responsible for hiring teachers. She also wrote me a very kind reference letter and answered any questions I had about teaching or my future destination.
How has your TEFL training helped you in your current teaching position?
I had no teaching experience before taking this TEFL course and my training provided me with many activities, behavior management, and helpful suggestions. I felt fully prepared by the time I needed to run my own classroom.
TEACHING ABROAD IN CUENCA, ECUADOR
Which country did you decide to teach English in and why?
I decided to teach English in Ecuador. I enjoy the Latin American culture and pace of life. I found the mix of nature, arts, and culture I was looking for in Cuenca.
How long have you been in this country and how long do you plan to stay?
I came here in September, 2012, and plan to stay here until at least June, 2014... possibly longer!
How did you secure your English teaching job?
I researched language institutions in Cuenca online. I discovered CEDEI, a non-profit organization with a mission of cultural exchange. I applied for a job 4-5 months before I planned to arrive, interviewed via Skype, and accepted the position soon after.
How did you get your work visa? If you didn't get a work visa, please elaborate on working under the table without a work visa.
CEDEI offers their teachers an Intercultural Visa. It is slightly different from a work visa, in that people with these visas are technically considered "volunteers" (even though they do make money). The visa cost $80, and I needed to get this before leaving US. The Intercultural Visa is good for one year, and CEDEI will renew the visa for you if you agree to stay longer.
Tell us about your English teaching job!
Teachers at CEDEI are assigned 15-25 hours a week, depending on teaching preferences, availability, and need. Teachers make between $6.50-$7.50 an hour, depending on the types of classes you teach. There are always opportunities to pick up more hours if you are looking for more work. I haven't been able to save much money so far, but have started picking up extra hours and in order to make enough money to travel.
The students range from age 7-70 and are of all ability levels. Some students are preparing for the TOEFL exam and many are true beginners. You don't get to pick your students, they are assigned to you every 5-10 weeks when a new cycle begins.
We get 1 month vacation for Christmas and the opportunity to take 3 months off in the summer to travel. We also get 1-2 weeks off in between cycles, and days off sporadically for holidays.
How did you find somewhere to live and what is it like? Do you have roommates?
I live with my boyfriend in an apartment in the city center. There are 4 other people living in the house, but we have our own private space. We pay $300 a month for a 2 bedroom apartment (utilities included). We found our apartment through a fellow teacher; she had looked at the apartment earlier, but it was out of her price range and thought we would like it. Luckily, we found it on our first day in the city, and it was the first apartment we looked at!
COUNTRY INFORMATION -
Please explain the cultural aspects, public transportation, nightlife, social activities, food, expat community, dating scene, travel opportunities, etc. about your country:
Cuenca is a city of 500,000 people, but with a much smaller feel when most of your day-to-day existence is walking around the general "centro" area. We walk nearly everywhere: to the market, to our school, to the bus to the national park, to the gym, to most places we've needed to go. There are giant blue busses that run throughout the city ( $.25 a ride), and a Tram system is being due to be finished in 2014.
On our walks we reveled at the colonial center of Cuenca, famous for its cathedrals, plazas, and cobblestone streets. The center bustles with every store you can imagine, and, different from Chicago, not just high-end places. Due to its favorable climate, Cuenca enjoys year-round outdoor "mercados" where you can buy clothes, gadgets, flowers, and food - all unmarked with prices.
There are four boulder-strewn rivers that criss-cross the city and the city is surrounded by a ring of green mountains. The climate has been unreal so far (cool light jacket weather at night, short sleeves in the sun during the day, no shorts unless going for the super-gringo look), and it only rains for about an hour a day during rainy season. People smile and say hello on the street, want to know where we're from and what we're doing, and don't "just stare" much at all. There's something special about the kindness of Ecuadorians that we're noticing more and more. Life is slower here, and with that extra time comes more time for people.
In all, Cuenca seems to us a very livable place, and we are so excited to be living a different life here to see what we can learn about living along the way.
COUNTRY INFORMATION - MONEY
What are your monthly expenses?
Rent: $325 (internet/utilities included) per month
Food: $1.25-$2.50 for lunches
$3-8 main dishes at restaurants
$20-30 a week for groceries
Social activities: $20-$30 a week
Transportation: $.25 a ride on the bue (average $4 month)
Phone: Prepaid cell phone, average $3-$5 month
Note: Clothes & electronics are VERY expensive here! Bring what you can from home!
How would you describe your standard of living?
I don't enjoy all the "luxuries" I afforded myself in the States, but I've enjoyed living a simpler life. I can't honestly say there's too much I miss from back home.
In your opinion, how much does someone need to earn in order to live comfortably?
$500-$600 a month
ADVICE FOR PROSPECTIVE TEACHERS IN CUENCA, ECUADOR
What advice would you give someone planning or considering teaching abroad? Would you recommend teaching in your country?
Pick a place that you really want to be in, especially if you're not sure how you're going to like teaching. I've found that I don't enjoy teaching as much as I expected to, but I don't mind it because it allows me to live in a place that I love and supports a more laid-back lifestyle that I enjoy very much.
Lynsey is originally from Chicago and took ITA's Online TEFL Course. She was searching for a better work-life balance and opted to teach English in Cuenca, Ecuador!
Want to Learn More About Teaching English Abroad & Online?
Request a free brochure or call 773-634-9900 to speak with an expert advisor about all aspects of TEFL certification and teaching English abroad or online, including the hiring process, salaries, visas, TEFL class options, job placement assistance and more.