Teaching English in Cuenca, Ecuador: Q&A with Lindsey Ingwersen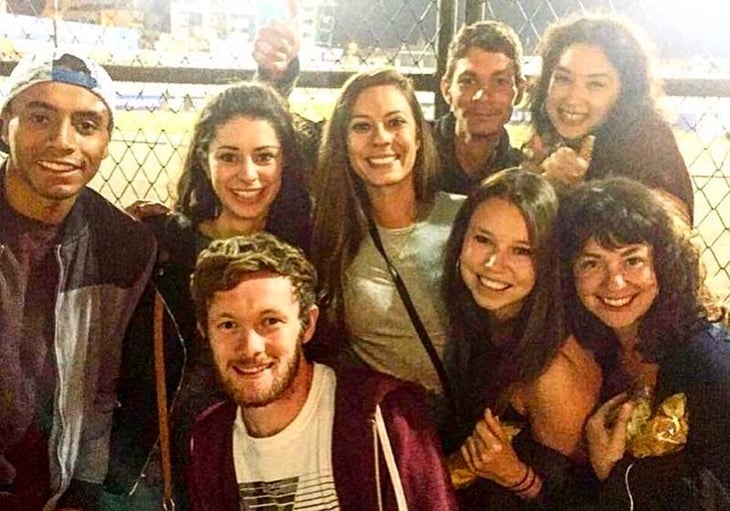 What is your citizenship?
United States
What city and state are you from?
Alpharetta, Georgia
How old are you?
23
What is your education level and background?
Bachelor's Degree
Have you traveled abroad in the past?
Some international travel with friends, family, business, etc.
If you have traveled abroad in the past, where have you been?
Fiji, New Zealand, and Australia.
What sparked your interest in going to teach English abroad?
During my first solo travels last year, i went to Fiji, New Zealand, and Australia. I fell in love with the idea of traveling, but knew I wanted to do something that was making a difference, as well as affording me a life of travel. That is when I started to look into teaching English abroad and saw the range of possibility by becoming certified.
What were some of your concerns before teaching abroad?
What if I got homesick? What if the job was not for me? What if the cultural differences are too much?
What did your friends and family think about you moving and teaching abroad?
Most of my family was shocked at first. I have a history of homesickness, so when I broke the news, most people were pretty doubtful. However, when my friends and family saw how excited and confident I was, they began to be more supportive and excited.

Why did you decide to get TEFL certified and choose International TEFL Academy?
I decided to get certified after my first solo travels to Fiji, New Zealand, and Australia. I wanted to find a way to sustain a life of visiting new places, while also feeling like I was making a difference. Education is the key to success and making a difference, so I knew it was the field I wanted to enter. I discovered the International TEFL Academy through a long research process that described and differentiated between the different certifications and academies. After speaking with Paige, my admissions advisor, I knew International TEFL Academy was right for me. It was widely recognized, fit into my full time work schedule in the U.S., and the people I spoke to were very personable and able to answer all of my questions.

Which TEFL certification course did you take?
Online TEFL Course.
How did you like the course?
I think until you are in an actual classroom, you never really know what to expect when teaching. Thankfully, the online TEFL course prepared me as best as it could. Although it was not as personable being through the computer, the attentiveness of my online instructor made it more valuable. I was also able to develop relationships with some of my classmates which made for a more enjoyable and personable class where opinions and criticisms could easily be shared. My practicum placement was by far the most rewarding experience during my certification. I completed my practicum tutoring a Syrian Refugee Family that was new to the United States. Not only did teaching them prepare me to move abroad, but it inspired me to seek my next placement in a refugee camp and pursue further education in international social work and the refugee crisis.
How has your TEFL training helped you in your current teaching position?
My TEFL training equipped me with many useful tools to succeed in as a ESL teacher. Success is measured in many different ways. However, my certification prepared me with classroom management skills that allow me to effectively create a beneficial learning environment. In my opinion, most importantly, by touching on the cultural differences, my class helped me to avoid complete culture shock. By being aware of the cultural differences, I was able to avoid the discomfort that can come with them. This has been beneficial for myself, as well as my relationship with my students and administrators.

Which city and country did you decide to teach English in and why?
I chose to teach English in Ecuador in the city of Cuenca. I decided I wanted to be in South America, and Cuenca, Ecuador, continuously came up as one of the best places to move. Ecuador has so many unique biomes that attracted me to it: the Galapagos, the Andes, and the rain forests. There is never a boring weekend!
How long have you been in this country and how long do you plan to stay?
I have been here almost four months, and I plan to stay another seven months.
What school, company, or program are you working for?
CEDEI School.
During which months does your school typically hire?
August and January.
Did you secure this position in advance of arriving?
Yes, I applied online through email and then had a Skype interview.
How did you interview for this position?
Skype/phone interview.
What kind of visa did you enter on?
Work visa.
Please explain the visa process that you went through.
The visa process for Ecuador can be quite confusing, but CEDEI helps you through the whole thing. Technically, I am on a cultural exchange visa because the school is a non-profit. After receiving paperwork from CEDEI, you scan it and apply for the visa online. If you are near a consulate, you will go in person and it is a breeze. If not, you have the opportunity to mail your passport and visa application or apply in Ecuador after entering as a tourist. The visa costs $450 - a pretty stiff price to pay - but CEDEI pays you back for over half the cost in sections throughout your employment.
What are the qualifications that your school requires for teachers? Please check all that apply
- Bachelor's Degree
- TEFL certificate
What is the best way to apply?
- Email
- In-person

Tell us about your English teaching job!
CEDEI is actually a dual language school, which means the children take the same classes in English and in Spanish. So instead of teaching English grammar, I am teaching science, social studies, math, grammar, and literature IN English. I think it is more enjoyable because you get to teach a variety of things!
I teach 21 hours a week, Tuesday through Friday, from 7:30AM TO 1:30 PM and the pay is $410, a comfortable salary in Ecuador. There is also plenty of opportunity to pick up extra tutoring for anyone keen on making more!
Cedei also provides you with Spanish classes and salsa classes if you wish to enroll. I primarily teach 7th grade (11 year olds), but also have two classes of 4th graders (seven year olds).
How did you find somewhere to live and what is it like? Do you have roommates?
Because Cuenca is a town with many expats, there are several websites and community places geared towards them. Gringopost.com.com is an excellent website. I was able to find my apartment through advertisements on there, and I actually found my roommate online in the ITA Alumni Ecuador group!
Initially CEDEI will set you up with shared housing which makes it pretty easy to find roommates you are interested in living with if you want to move to a more private location.
On a scale of 1 - 10 please rate your experience with this school.
7.
Please explain the cultural aspects, public transportation, nightlife, social activities, food, expat community, dating scene, travel opportunities, etc...
Cuenca is a medium-sized beautiful mountain town with four rivers that run through it. The best part about it is its climate! Characterized by a wet and dry season, it stays between 50 and 75 degrees pretty much all year round.
The public transportation system makes it easy and cheap to get around anywhere for 25 cents a ride. And the bus terminal is near by for any longer trips you want to take as well. A short five hour trip to the East will take you to the coast; a three hour trip South will take you to the coffee areas; and far to the West will take you to the rainforest!
You can't beat the fresh mercados (local markets) with cheap fruits and vegetables or the three course lunch that only costs $2.50. Although the wine lacks, the amount of craft brewery makes up for it. Cuenca is full of them. And, I hope you like salsa dancing or are prepared to learn how to, because the locals love to teach the gringos on a night out!
What are your monthly expenses?
The average cost of living in Cuenca is pretty low, especially compared to that of the states. However, with the low wage you have a good chance of just breaking even here.
You can find a nice place to live from about $150-250, but be careful because many of the locals here like to gringo you (charge a higher price for foreigners).
As I mentioned above, the cost of food is very cheap. Mercados sell fresh organic fruits and veggies for unbelievable low prices and almuerzos (lunches) cost about $2.50 if you want to eat out. In Cuenca you have a wide variety of cuisine to choose from, as well as a wide variety of prices. However, keep in mind that Ecuador has almost a 100% import tax, which means anything imported is ridiculously expensive. This goes for cosmetics, Oreos, some alcohol, etc.
You can get anywhere in Cuenca on the public bus for 25 cents a ride, but if you're in a hurry, take a cab which rarely costs more than $3.00.
Many places have wifi, so it isn'c necessary to have a cell phone here, but I recommend it for convenience. Claro and Moviestar are the largest cell providers. Buy a sim card for $3.00 at any tienda and pay as you go. About $15 will give you plenty of texts/calls for the month!
How would you describe your standard of living?
I live very well here. Although I am paying a little more then normal for my housing ($260/month), I am pleased. I live in an apartment that I am comfortable and feel safe in. I have made both local and international friends, and overall me encanta Cuenca
In your opinion, how much does someone need to earn in order to live comfortably?
$410 USD.

What advice would you give someone planning or considering teaching abroad? Would you recommend teaching in your country?
Go for it! In my opinion, the worst that can happen is you don't like it, and you go home. But at least you gave it a shot, and more often then not, I think you will like it. But, do your research and figure out what kind of environment you want to be in, don't settle for the first thing that comes your way, don't let being taken advantage of be mistaken for cultural differences, and try it out; go with the flow.
I would definitely recommend teaching English in Ecuador, specifically Cuenca. Although the culture differences can be difficult to adjust to at times, it teaches you patience, flexibility, and how to see past your own experiences. The people here are kind, patient, and eager to practice their English with you as you practice your Spanish with them!
Lindsey Ingwersen fell in love with the idea of traveling during a solo trip to Fiji, Australia, and New Zealand. She knew she wanted to continue traveling, but at the same time, make a difference in the world. She started to explore getting TEFL certified to teach English abroad and soon found a job teaching English in Cuenca, Ecuador after completing her TEFL course through ITA.
Want to Learn More About Teaching English Abroad & Online?
Request a free brochure or call 773-634-9900 to speak with an expert advisor about all aspects of TEFL certification and teaching English abroad or online, including the hiring process, salaries, visas, TEFL class options, job placement assistance and more.