Cayambe, Ecuador English Teaching Q&A with Jamie Belisle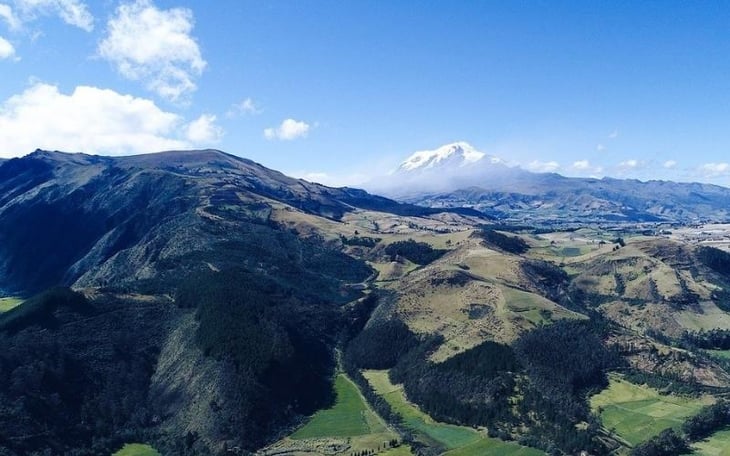 What is your citizenship?
United States
What city and state are you from?
Brighton, MI
How old are you?
26
What is your education level and background?
Bachelor's Degree
Have you traveled abroad in the past?
Yes.
If you have traveled abroad in the past, where have you been?
Mexico, Japan, China
What sparked your interest in going to teach English abroad?
I have always loved traveling and have always wanted to explore the world. I am a certified English teacher from the United States (Michigan) who had difficulty finding a full-time teaching job just out of college, and International TEFL Academy was an excellent way to assist me with finding a teaching position abroad.
TEFL CLASS INFORMATION
Why did you decide to get TEFL certified and choose International TEFL Academy?
I browsed many courses online, but I had great interaction with the staff at International TEFL Academy, who were willing to schedule Skype calls with me as I was currently overseas when I was considering earning a TEFL certificate in addition to my teaching certificate.
Which TEFL certification course did you take?
How did you like the course?
My professor was very thorough with her work. Many of my tasks, all completed online, always received immediate attention with very good explanations about my work overall. She also assisted me with lesson plans as I was preparing for interviews after the course had finished, and that was very unexpected but very rewarding too!
How has your TEFL training helped you in your current teaching position?
Many of the lesson plan techniques that were emphasized during the length of the course are currently in place in my language institute where I work. I also had opportunities to share ideas and to interact with other students who were also attempting to earn their certificates.
TEACHING ABROAD IN CAYAMBE, ECUADOR
Which country did you decide to teach English in and why?
How long have you been in this country and how long do you plan to stay?
One year, though I plan to stay for about a year and a half.
How did you secure your English teaching job?
Through job information provided by the International TEFL Academy, and Skype interviews with my current employer.
How did you get your work visa? If you didn't get a work visa, please elaborate on working under the table without a work visa.
My language institute worked directly with me once I was in country. I came to Ecuador originally on a tourist visa, but Wall Street English (Institute) assists all of its foreign employees with completing the necessary paperwork, translating, and ensuring that their teachers are working legally within Ecuador.
Tell us about your English teaching job!
Currently, I work 8 hours a day on average, including 2 Saturdays a month. My pay is very high for a worker in Ecuador ($600 a month).
Living in Ecuador is very cheap in comparison to the United States, for example. A typical lunch is between $1 and $4, with $4 being the more expensive side. However, in larger cities such as Quito the prices are a bit on the higher end...almost in comparison to a fast food restaurant price in the United States. It's possible to save if you don't mind living as an Ecuadorian, but if you want all the fancy things that you find on a daily basis in the US, you probably won't save too much.
I work at a language institute, called Wall Street Institute (soon to change to Wall Street English as it's known more globally). I teach mostly teenagers, adults and business professionals, though I do teach a few children (no younger than 11 or 12). I get two weeks paid vacation each year, plus national holidays (feriados), of which there are way more than in the United States. Ecuador is also an amazing place to practice and to learn Spanish.
At Wall Street, it is English-only immersion. All of the staff speak English very well in each center, so you basically have wonderful and "free" Spanish teachers if you want to try to learn Spanish. The Spanish accent in Ecuador is fairly neutral and very easy to understand as well!
How did you find somewhere to live and what is it like? Do you have roommates?
In my case, there is an apartment always available across the street from the institute that many of the foreign teachers have chosen to live. It's very easy to just walk across the street to work! I live by myself and have my own apartment, with all furniture (including a tv and fridge) provided for me. Basic cable is generally included with any apartment in Ecuador, which is really only a few national channels. You can also opt (especially for foreigners) to purchase a Direct TV satellite from one of the major grocery store chains. The satellite costs $100 and that includes the first month of having cable. There are different payment options depending on how much you are willing to spend (from $21 to $35 a month). I'm in constant contact with my landlady, who does not speak English except for a few words that she's been able to pick up, though some people in her family do speak very good English.
COUNTRY INFORMATION - FUN!
Please explain the cultural aspects, public transportation, nightlife, social activities, food, expat community, dating scene, travel opportunities, etc. about your country:
Ecuador is a fascinating place to live. It's most definitely a third world country still, but it's on the high end of this in most areas. In the small town of Cayambe, taking buses to and from the major nearby cities/villages is the best way to travel. It can cost about $1 or $2 depending on how far you are traveling by bus. The people of Cayambe are very friendly, so don't hesitate to ask them if you have a question.
(Advice: don't be afraid to ask the vendors who wait near the bus stops if you're unsure of which bus to take. They're always willing to help out and you can usually see them wearing some kind of uniform for the company that they're selling for!).
Food in Ecuador is very delicious and very healthy. The people love fruits and vegetables. Breakfast is generally a small affair consisting of coffee or hot chocolate, some kind of fresh fruit juice, bread and jam and butter, and possibly eggs. Lunch is the big meal of the day, consisting of some kind of meat (chicken or beef usually, occasionally fish), salad, some kind of vegetable, beans and rice. Sometimes they don't eat dinner, or if they do it's a smaller meal of meat and rice or a salad or just bread. In Cayambe especially, biscochos are a specialty (biscuits) that people travel from all over to taste. They are also famous for helado de paila, which is ice cream that's more like a sorbert.
In Ecuador, the culture is still very much indigenous. The local people, at least on the outskirts of major cities, speak Quechwa as well as Spanish. You'll typically see the traditional dress of the indigenous cultures as well. There are many holidays, such as Carnival (which lasts a week usually in February), that the people take very "seriously" and enjoy quite a bit. In Cayambe at least there is not much of an expat community, but nearby there is Otavalo which is a well known tourist attraction and many foreigners both live there and travel there. Quito is only two hours to the south, and has a major expat community with many foreign places that are found all over the world. I would definitely recommend really living in Ecuador to fully understand the experience of Latin America.
COUNTRY INFORMATION - MONEY
What are your monthly expenses?
In smaller towns, rent is cheaper. A fully furnished apartment can cost about $80-$150 a month in a small town. In Quito, the capital city, it can be a bit higher depending on where you choose to live. Utilities are very cheap. It's about $5 a month for water/gas, and they use propane gas to heat their water for showers and cooking. This costs about $1.50 every two months if you live by yourself. Basic house phones are $6 a month. Cell phones you can choose to buy minutes for or buy plans. Traveling to nearby towns in a bus is an easy option, though it's recommended for cross-country travel to fly. In country flights are very cheap, with many being about $50-$70.
How would you describe your standard of living?
It's definitely a daily adventure, but it's more of a second world situation in Ecuador.
In your opinion, how much does someone need to earn in order to live comfortably?
$500-$600 a month.
ADVICE FOR PROSPECTIVE TEACHERS IN CAYAMBE
What advice would you give someone planning or considering teaching abroad? Would you recommend teaching in your country?
I would research the country thoroughly before you travel. Read expat forums and really understand where it is that you are going. Know before you go if you will be living in a major city or a smaller city, because often times life in a smaller city is very different than life in a major city.
I would definitely recommend living and teaching in Ecuador!
Jamie always loved travel and wanted to explore the world. Even though she was already a certified English teacher in Michigan, she decided to get TEFL certified with International TEFL Academy. Working with ITA's expert staff, she landed a job in Ecuador, where she has been teaching in Cayambe, a city known for the adjoining volcano of the same name.
Want to Learn More About Teaching English Abroad & Online?
Request a free brochure or call 773-634-9900 to speak with an expert advisor about all aspects of TEFL certification and teaching English abroad or online, including the hiring process, salaries, visas, TEFL class options, job placement assistance and more.