Teaching English in Prague, Czech Republic: Q&A with Tom Buskey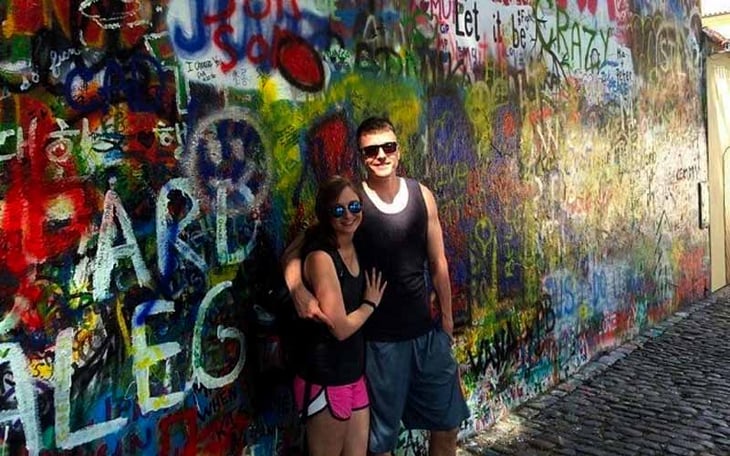 What is your citizenship?
United States
What city and state are you from?
Mankato, MN
How old are you?
30

What is your education level and background?
Bachelor's Degree
Have you traveled abroad in the past?
Some international travel with friends, family, business, etc.

If you have traveled abroad in the past, where have you been?
Mexico, Costa Rica, Portugal.
What sparked your interest in going to teach English abroad?
To be perfectly honest, I fell into teaching abroad by chance. My girlfriend and I have a mutual friend who took us to dinner and revealed that she was moving to Spain to TEFL. After hearing her plans, story, and the multiple opportunities for TEFL abroad, we both left kind of in awe. Maybe a week went by, and as we were on a long drive home from a wedding, we both asked each other if the other was as jealous as we were about our friend going abroad. Immediately we agreed and decided to look into how we could make this work for our situation. All credit goes to my girlfriend for the interest in TEFL. I am 29, worked professionally within my degree for seven years and had zero experience teaching. She explained to me the possibilities for someone like myself and really got the ball rolling on our whole experience.
What were some of your concerns before teaching abroad?
My major concerns were my responsibilities back in the U.S. I own a home that I had to turn into a rental property, get out of a lease on my car, and ensure that I had sufficient money to pay my obligations for the year(s) to come.
What did your friends and family think about you moving and teaching abroad?
I would say all of the above. Most of my family had never heard of TEFL and the opportunities it affords. So, when I explained to them how we would accomplish this, along with handling our obligations at home, the mood changed to excitement/jealousy.

Why did you decide to get TEFL certified and choose International TEFL Academy?
Again, my girlfriend really made the decision on this one, but a quick google search of TEFL will show you why we chose ITA. There were many options out there to get certified and some for less money, but when you factor in all of the positive reviews, feedback, and resources that ITA has, it makes the decision pretty easy. You want a company that is recognized and respected globally in the TEFL markets and ITA definitely has that. Our current group of expat teaching friends are almost all certified by ITA, which only reaffirms our decision.
Which TEFL certification course did you take?
Online TEFL Course
How did you like the course?
I would say the course was humbling :). I can't remember the last time I brushed up on my grammar, but it was far overdue. My course was online, so we took it at our own pace which is something that I really appreciated due to the fact that I had a full-time job and was working 50+ hours a week. The Moodle interface was easy to use and intuitive. The tasks were a big learning curve for me because, like I mentioned, I have no teaching experience. However, I did have an advantage as my girlfriend has a Bachelors in Elementary Education which basically gave me a live in-tutor.
The practicum [live practice teaching] was FUN! I've never participated in a classroom setting with young children before, and while challenging, still very fun and rewarding. I think our instructor was good. He started out the course with expectations which seemed firm but fair. However, about 1/4 of the way through the course he became overwhelmed as he had just recently been assigned the responsibilities of a co-worker who left the company. His promptness on returning assignments and responding to students fell but understandably. It was unfortunate for everyone, but we held no hard feelings.
How has your TEFL training helped you in your current teaching position?
Lesson planning! Again, I was not good at this and had zero experience with it. So, my first few weeks in country had me very nervous. My confidence was very low with what I had planned and I didn't know if it was what my students would be looking for or if it would last the allotted time. The only advice I can give is to plan, plan, plan. Always have more material than you could ever think you'd possibly need because things change quickly. Some lessons are very easy for some of your students and you might have to scrap the whole thing on the fly. Then if you have this back-up material, you can move right into it seamlessly.

Which city and country did you decide to teach English in and why?
I decided to teach English in the Czech Republic in the city of Prague for a combination of reasons: experiences, friends/colleagues had in Prague, central location, ease of getting a visa, teaching market. This was our first choice and just so happened that everything fit our requirements/expectations.
How long have you been in this country and how long do you plan to stay?
I've been in Prague, Czech Republic, for six months and will be here for at least another six months. I never like to say how long because things change so quickly.
What school, company, or program are you working for?
I am a private contractor in the Czech Republic. I don't work for a school. I've built my business through referrals and the expat community. I teach business professionals on a 1 on 1 basis.
During which months does your school typically hire?
All year round. Although, private lessons tend to slow down significantly during the summer months as everyone plans their holiday during this period.
Did you secure this position in advance of arriving?
No. Pretty difficult in this situation. However, you would be surprised how quickly you can acquire clients. Almost all of my students have referred me at least 1 other student.
How did you interview for this position?
In-person interview
What kind of Visa did you enter on?
Work visa
Please explain the visa process that you went through.
The visa process in the Czech Republic can be a nightmare if you decide to go at it alone. I used the recommended visa agency, Double Czech Visa (CZ Visa). My contact was Jodi and she was absolutely amazing. You could tell immediately that she had helped acquire hundreds of visas for expats. She herself was Canadian and is bilingual. She broke down the process step by step, identified the required documents, told me exactly where I need to go to get them signed and also filed documentation on my behalf with the corresponding government entities. When I went to apply for my visa (you have to do this at a Czech embassy in a neighboring country) in Berlin, I had folder in my hand with all of the documents translated to Czech. I handed it in and everything was perfectly done. The process is said to take between 8-10 weeks but my visa was approved in three. I honestly believe this is attributed to the work Jodi did and not to luck. The fee for her doing this is also nominal. There is a discount for ITA alumni, and she tells you exactly how much you'll spend upfront (Not all money goes to the agency: application fees, health insurance, etc)

Note: I am a really big fan of DIY, but this is something I wouldn't suggest in CZ. Once in country you will understand very quickly what I mean.
What are the qualifications that your school requires for teachers? Please check all that apply
- TEFL Certification
- Native English speaker
What is the best way to apply?
In-person
Please include any application resources (website, email, etc.) or other information here:
Teacher Creature: Practice English with a local Native Speaker

Tell us about your English teaching job!
I LOVE my job and the path I chose to TEFL in Prague. Like I said previously, I don't teach at a school or for a language school. I teach individual private clients that I've acquired via referrals from other expats. My students between the ages of 22-35 and are all business professionals from various fields. Like anything, there are pros and cons of this style of teaching.
Because I am teaching 1 on 1 to business people who have actively sought out English lessons, I'm able to charge more per hour. When working for an elementary school, they cannot afford to pay these higher wages. In language schools, they charge a rate to businesses for the number of lessons they are requesting (typically close to the rate I charge and then pay their teachers something less than that so they earn the profit they are looking for. Both options pay less than private clients and are similar hourly wages, but they do give teachers stability in income.
I work 15-20 hours a week. But I charge almost double (400Kc/hour - approx. $16 USD) what teachers at schools and language schools are paid. So it doesn't require me to work lets say 30-35 hours a week. Most of my students are borderline proficient in English, so our lessons are almost exclusively conversation-oriented, meaning they just want someone to talk with for an hour to use their English and have their "teacher" clean up small grammatical errors/uses for them. Another advantage is that I don't need to lesson plan for these students because of their advanced level of English. Other teachers spend countless hours preparing for the next day or weeks lessons which typically comes outside of class time and is unpaid. Also, when teaching private clients, you are paid per lesson at the time of the lesson, or your students pre-pay for a certain number of lessons. So, you always have income flowing which makes daily life much easier. People who teach at schools or for agencies are paid monthly (that's right monthly) on the 15th. This can make life difficult if you're not good at planning out your finances.
If I wanted to work 30-35 hours a week, I probably could and make a very good living in Prague. However, that's not why I left the U.S. and moved abroad. I did it to get away from a life that revolved around work, so this suits me great.
Now it's not all sunshine and daisies with this style of teaching. For example, when you arrive, it can be a bit slow-going, but that can be the case for all teachers. I started with one private client and had her for two weeks. Then a referral (from the visa agency) turned into my most consistent client. He referred two more students to me and they referred more. And by my second month in Prague, I had enough income to cover all bills and leisure. It took a bit, but it was very interesting to see how my client base grew without much effort from myself. I think it really is representative of the demand here for English teachers. Another issue with private clients is cancellations.
Because these people are seeking you out and scheduling with you, they tend to cancel lessons on a fairly frequent basis. You can re-schedule most of them, but sometimes you can't, and in that case you lose out on that income. They have full time jobs, and if a meeting with their private English teacher doesn't work, then you lose. Some private teachers have cancellation policies of 24 hours, meaning that if you cancel less than 24 hours in advance, then they still pay. I find this difficult because it could create a client who just says, "Well I'm not going to do English lessons any longer because I've been charged for three lessons that I couldn't attend." It's a fine line. So, in this scenario it can be nice to have the steady income from the other sources listed above.
My advice: Find a good mix between both. Get a part-time job with a school or language school teaching maybe 10-15 hours a week. That will give you the backbone of your income. Then add another 10-15 hours of private clients. This will allow you to earn much more than you normally would with a school and keep you sane from working with private clients 30 hours a week.
How did you find somewhere to live and what is it like? Do you have roommates?
When we arrived in Prague, we had scheduled meet-ups with fellow expat teachers that were either part of our TEFL class, or we had been asking questions before our arrival. By chance, one of the fellow teachers (who arrived three days after us) happened to be from MN and lived about 10 minutes from us. After a meet-up we decided that because we were all new, looking for jobs and a flat, that it would be a good idea to reduce cost by living together. It worked out great!
Finding a flat was an intense week. I can't tell you how many flats I looked at online but it was definitely in the hundreds. I called on about 15, and I got some interesting responses. Some people said that flat was rented. Some said they don't rent to foreigners. Some only spoke Czech, etc. Almost all websites in CZ advertise flats via a realty company. So, when you call to view the flat, you go with an agent (who typically speaks English). If you decide to go with that flat, there will be a fee, sometimes one month rent for a finders' fee by the agent. I don't know why they require this or what their thought process is behind "finders" fee because technically you found the flat online, but I digress. There are some websites that don't advertise with agencies and it possible to find them that way. I will say, the agent we had was very helpful though. He spoke very good English and took us to the property managers office, translated the entire lease for us, explained the do's and don'ts and even helped us set up our internet! Also, because we arrived in January, they were running a promotion, so we only paid 5,000 KC which is less than a 1/3 of what others were charging.
We love our flat. It's fully furnished which we pay a bit more for, but when the time comes to move on, it will be so much easier. It's cozy with the three of us living there as the size is much smaller than you would find in the U.S., but with all of us traveling so much it hardly makes a difference.
On a scale of 1 - 10 please rate your experience with this school.
9
Please explain the cultural aspects, public transportation, nightlife, social activities, food, expat community, dating scene, travel opportunities, etc...
I genuinely love the Czech Republic and Prague. I would describe the city as gritty. It's not modern at all, and people and sites are very blue collar. There is an abundance of graffiti, but not done in a negative light mostly. Very artistic.
My favorite part about it here is their attitude toward work/life balance. In the U.S. you're instilled at a very young age that you have to work, work, work and put in extra time at every opportunity in order to succeed. While I don't think those are bad teachings, sometimes I think they can get carried away. Having everyone work 50-60 hours a week (while getting paid for 40) isn't healthy and creates burnout (hence why I'm here :)). In the CZ, 30 hours is considered full-time. Businesses open later and close earlier. Life isn't about how much wealth you can acquire or how big a house you can buy. It's not about using the number of hours you worked in a day/week as a punch line or badge of honor. The people live to enjoy life. Life revolves around family and experiences and I can't put into words how refreshing it is.
The public transportation here rocks! When we arrived, we bought a one year travel card for the city of Prague. It was a lot of money upfront but a significant discount from buying on a monthly or bi-monthly basis. You can literally get anywhere in the city within 30 minutes, and the only reason it would take you that long is due to possibly needing to switch between trams, buses, and/or metros.
The nightlife, social life, food, and expat community all run hand in hand. I've heard it said in the past that you shouldn't be surprised if you arrive in your city of choice and have a group of expat friends within the first week. It's a very tight knit group that really enjoy helping each other, especially the "newbies". We personally had someone give us a two day tour of the entire city simply out of the goodness of her heart. Once your expat group is identified, they tend to get you involved in the social scene, food, and other expats. The food here is very pork based. Large sausages, kraut, potatoes, and dumplings are some of the local favorites. Although, in the past two years, they've seen exponential growth in the American burger scene. Something also unique to Prague is the price of beer. Roughly, a 1/2 liter of beer cost around $1.15-$1.50. Now, of course you're making less so a reasonable person might say, "well yes, a beer should be cheaper," but this is incredible. It's well known that beer is the cheapest thing, not the menu. Even water costs more. It's even common for people to have a beer with lunch before they go back to work!!
I'd say maybe the coolest part about being brought into the tight expat community is the opportunity to travel together. I've taken many trips with many different types of people and have enjoyed every one of them. It's also awesome to bounce travel ideas off of each other. For example, I knew almost nothing about Slovenia. A friend told me all about it and showed me pictures of how beautiful it is (Lake Bled). We now have plans to visit, but if it weren't for that person, I might not ever known what I was missing.
What are your monthly expenses?

Our rent for a 2-bedroom flat is roughly 20,000Kc a month including utilities (about $850). So, each bedroom pays 10,000Kc. The average income in Prague is around 23,000Kc (approx. $890 USD).
Food and social activities take up about 5,000 Kc/month (approx. $200 USD).

Public transportation is very cheap. I purchased a year long transit pass which allows access to all forms of public transportation (Bus, Metro, Tram). The cost was roughly 3,250Kc.
I use a pay-as-you-go system with Vodafone. I have an iPhone so most of my communication can be done between friends and family over Wifi. So, I pay 200Kc to charge my phone for local calls, text and data and it typically lasts me 2 months
Travel can be the tricky part with the expenses. Because the Czech Republic operates on the Koruna, it can be difficult sometimes to travel to countries using a more powerful currency (Euro, Pound). So, I mostly travel on savings. However, I know most people travel to nearby locations that are cheap by bus and/or save for two months and take a longer and more expensive trip.
How would you describe your standard of living?Middle class. I can't go out and buy whatever I want whenever, and I'm always budget conscious. However, that's pretty par for the course anywhere you live. I go out 2-3 times a week, don't work too many hours, and LOVE MY TIME HERE. I'm enjoying life!

In your opinion, how much does someone need to earn in order to live comfortably?
20,000Kc/month (about $775 USD). I live in a quite expensive flat, but most people get by with this amount.

What advice would you give someone planning or considering teaching abroad? Would you recommend teaching in your country?
GO FOR IT. I am an extreme planner and very calculated in my life decisions. I almost didn't come because I came up with every reason not to. Honestly the best decision of my life. Make your plans, research your location, get as much information as you can and set a date. Things will undoubtedly pop up unexpected, but they always seem to work themselves out. You will share a bond with the friends you meet abroad unlike any other. You're both experiencing this stressful and monumental life change together, and it creates some of the strongest relationships I've ever had.

Tom fell into teaching abroad by chance after hearing from a friend about her upcoming adventure moving to Spain to teach English. He and his girlfriend were immediately jealous yet intrigued so they researched how they could make this happen for themselves. Tom had been working professionally within his degree for seven years and had zero teaching experience until getting TEFL certified through ITA and moving to Prague, Czech Republic to teach English.
Want to Learn More About Teaching English Abroad & Online?
Request a free brochure or call 773-634-9900 to speak with an expert advisor about all aspects of TEFL certification and teaching English abroad or online, including the hiring process, salaries, visas, TEFL class options, job placement assistance and more.
"I chose ITA because it was highly recommended. From the first moment of contact, I felt supported by my advisor and had no doubt that they would provide me all the information and help I needed."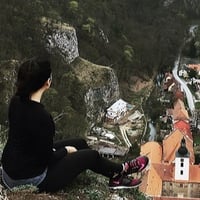 - Cassondra Lopez
Teaches English in the Czech Republic