Prague, Czech Republic English Teaching Q and A with Lauren Manderfeld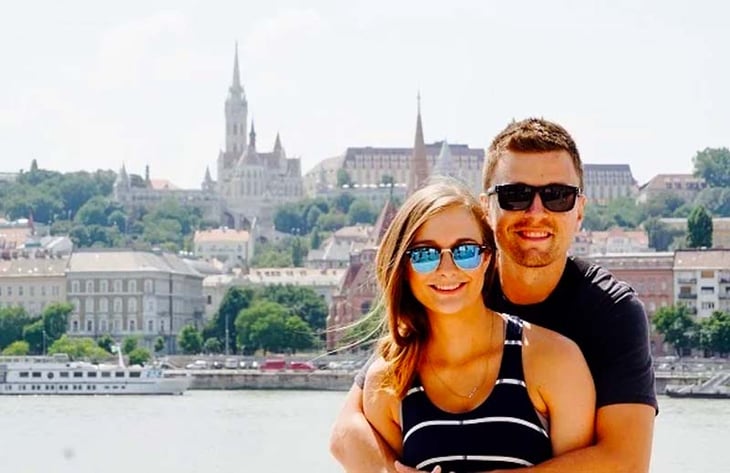 TELL US ABOUT YOURSELF
What is your citizenship?

United States

What city and state are you from?

New Ulm, MN

How old are you?

24

What is your education level and background?

Bachelor's Degree
Have you traveled abroad in the past?
Some international travel with friends, family, business, etc.

If you have traveled abroad in the past, where have you been?

Mexico, Finland
What sparked your interest in going to teach English abroad?

I love to teach, and I love to travel. I figured why not find a way to do both?!

What were some of your concerns before teaching abroad?

My biggest concern was can I be away from my family for so long. I also worried about find a job I enjoyed, and will it be enough to allow me to travel as much as I want to.

What did your friends and family think about you moving and teaching abroad?

My parents were very worried but still supportive. My friends were jealous and couldn't wait to come visit!
TEFL CLASS INFORMATION
Why did you decide to get TEFL certified and chooseInternational TEFL Academy?

Choosing ITA was an easy choice for me. My advisor (Michael) was amazing and sat on the phone with me for hours helping me decide whether or not this was the right choice for me. His help and guidance was very genuine, and I knew this was a great company to be a part of.
Which TEFL certification course did you take?

Online TEFL Course

How did you like the course?

The Online TEFL course was informative and helpful. The course gave a lot of helpful links to resources that I use in my teaching.

How has your TEFL training helped you in your current teaching position?

Being that I have a degree in teaching children, I have had a lot of training and experience working with students. This course helped me review things that I learned a long time ago, and it also gave me some insight on teaching adults in case I went that route.

Which city and country did you decide to teach English in and why?

I chose to teach English in the Czech Republic in the city of Prague. I wanted a place where it is easy to get a visa and where there are a lot of opportunities. I also love Prague because it's centrally located, and it's a little off the beaten path of travel.

How long have you been in this country and how long do you plan to stay?

Six months and I plan to stay at least another six months.

What school, company, or program are you working for?

ABC Academy

During which months does your school typically hire?

August and January

Did you secure this position in advance of arriving?

No

How did you interview for this position?

In-person interview

What kind of Visa did you enter on?

Work visa

Please explain the visa process that you went through.

I decided to get an Employee Card instead of a Zivno, which basically means that my visa is tied to a certain company. With this option, the visa is good for two years and the employer pays my taxes and health care.

The school had a lawyer that took care of the paperwork, and because I decided to go this route, I ended up needing more paperwork. I had to get a birth certificate, college diploma, college transcripts, teaching license, and they all needed to be apostilled by the Secretary of State in Minnesota. I suggest getting those things done before you arrive.

I gave my paperwork to the lawyer, and then I waited until the Ministry approved my request. Then I went to the foreign police and did some biometrical scanning and came to pick up my card three weeks later.

What are the qualifications that your school requires for teachers? Please check all that apply

- Bachelor's Degree
- TEFL Certification
- Native English Speaker
- Educational experience
What is the best way to apply?

- Apply online
- Email


Tell us about your English teaching job!

HOURS: Monday- Friday 9am -3pm and on Wednesdays, I work until 5
PAY: 25,000 kc a month which is a little over $1,000 USD a month
SCHOOL TYPE: English immersion preschool (3- 7 years old)
VACATION TIME: Weekends & school holidays
SAVINGS: 10,000 kc (about $400 USD/ 24 kc= $1) However, outside of the Czech Republic, it doesn't go very far. When traveling to places that use the Euro or the British Pound, everything seems extremely overpriced. I am used to paying 30 kc ($1.15) for a beer, but in Berlin its over 5 Euros ($5.75 USD)! If you travel to places where the currency isn't as strong (Budapest, Poland), your money can go pretty far!


How did you find somewhere to live and what is it like? Do you have roommates?

I used bezrealitky.cz to find an apartment. I used google chrome because it automatically translated the page for me considering it was all in Czech. There are many other resources on Facebook that you can use and sites like expats.cz that have housing options. Flatshare on Facebook is one of the best options if you are alone and just looking to rent a room. I have two roommates -- my boyfriend and another girl that I got in contact with through the ITA Alumni page for the Czech Republic.

On a scale of 1 - 10 please rate your experience with this school.

8


COUNTRY INFORMATION - FUN!
Please explain the cultural aspects, public transportation, nightlife, social activities, food, expat community, dating scene, travel opportunities, etc...
Prague is a beautiful city; I still find myself amazed that I live here! The city is very active; no matter what time or day of the week it is, you always see people out and about enjoying the weather and scenery. Prague has many beautiful parks and beer gardens. Each beer garden has its own feel; some are very busy and rowdy, and others are much more laid back.

The food scene in Prague is wonderful! The traditional Czech specialties are very affordable and delicious. They also have many other styles of food. It is very affordable to go out to eat in the city. When you are near the center, it seems to be overpriced, but when you go further out in ZIzkov or Vinohrady, you can find some hidden gems!

Prague has a lot of Facebook groups that offer details about parties, music, trivia nights, etc. There is always something going on no matter the day of the week.
Traveling is pretty easy because the Czech Republic is very centrally located. The airport has many discount airlines that offer cheaper tickets. Buses and trains are also another great and affordable way to travel.


COUNTRY INFORMATION - MONEY
What are your monthly expenses?

I live in a 2KK (Which has 2 bedrooms and a common area. The common area has a living room and a kitchenette. We do not have an oven, but we do have a fridge, stove, counter top, and sink.)

RENT & UTILITIES: 19,000 kc total + 2000 kc in utilities (approx. $800 USD total - 2 people)
FOOD: 4,000 - 5,000 kc per month for 2 people (not including eating out) (Approximately $200 USD)
SOCIAL ACTIVITIES/DINNERS OUT: 5,000 - 8,000 per month (Approximately $250-$400 USD)
TRANSPORTATION: I received a metro pass for 12 months which was 3,400 Kc ($142 USD)
PHONE: I typically use WhatsApp or iMessage because I typically always have internet. I also have a plan through Vodafone. I unlocked my iPhone before I came and signed up for the Under 26 Plan. I had to pay 2000 Kc to set it up, but after 3 months, it is used as a credit on my account. With the Under 26 Plan, I get unlimited texting within the CZ, 600 min, and 1.2 GB of Data. After you pay three months, the company will start paying your bill from your credit for the next four months. So essentially you are just prepaying.


How would you describe your standard of living?

Comfortable

In your opinion, how much does someone need to earn in order to live comfortably?

18,000 kc (approx. $745 USD). This number depends on the cost of living. If you rent a room on Flatshare, your rent will be much lower and you will be able to make less and live comfortably.


ADVICE FOR PROSPECTIVE ENGLISH TEACHERS
What advice would you give someone planning or considering teaching abroad? Would you recommend teaching in your country?

My advice would be to do a lot of research before choosing where you want to live. I did a lot of research about the CZ before coming, so I didn't have too many surprises. The only thing that caught me off guard was that when I left the country for the first time I realized how "poor" I am compared to countries on the Euro. I used to be able buy things that I can no longer afford now that I make the Koruna.
An ITA Graduate, Lauren Manderfeld is from New Ulm, MN, with a BA in Elementary Education from Minnesota State University, Mankato. She enrolled in the TEFL course immediately after graduation and then set off to Prague, Czech Republic.
Want to Learn More About Teaching English Abroad & Online?
Request a free brochure or call 773-634-9900 to speak with an expert advisor about all aspects of TEFL certification and teaching English abroad or online, including the hiring process, salaries, visas, TEFL class options, job placement assistance and more.