Teaching English in Prague, Czech Republic: Q&A with Katie Moss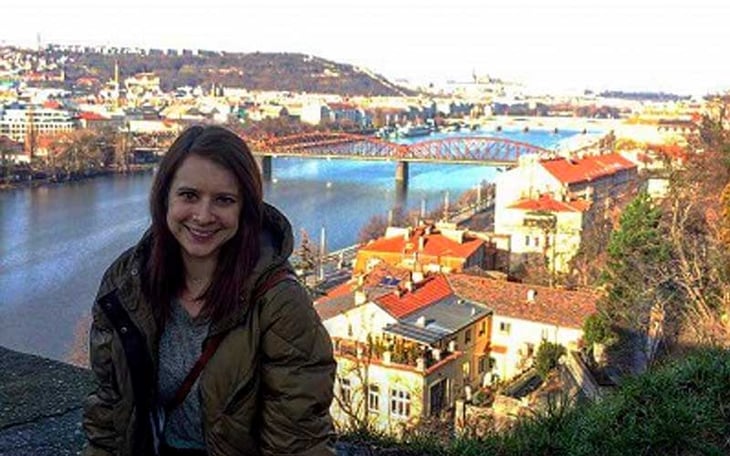 What is your citizenship?
United States
What city and state are you from?
Austin, Texas
How old are you?
24
What is your education level and background?
Bachelor's Degree
Have you traveled abroad in the past?
Studied Abroad
If you have traveled abroad in the past, where have you been?
London, Amsterdam, Scotland

If you have studied abroad in the past, where did you study?
London, England.
What sparked your interest in going to teach English abroad?
Studying abroad in London was an amazing and life altering experience. I fell in love with Europe and caught the travel bug. After I graduated and spent a year in the professional workforce, I became restless and wanted a change of pace. I knew some friends who had taught English abroad in South Korea, Thailand, and China and absolutely loved it. I decided it would be the best way for me to make my way back to Europe and continue to broaden my horizons.
What were some of your concerns before teaching abroad?
The language barrier and financial stability!
What did your friends and family think about you moving and teaching abroad?
Everyone was very supportive and excited for me! Of course my mom was concerned at some points since I was going to be living alone in another country for a year.

Why did you decide to get TEFL certified and choose International TEFL Academy?
I feel as though the certification is a vital part of the decision to teach abroad. If you want to work at a good institution and get paid adequately, you need the certification. I saw the International TEFL Academy online and contacted them for more information. The person who contacted me was absolutely amazing and answered all of my gazillion questions over the phone and through email. He made me even more excited than I already was and assured me teaching English abroad would be a great choice. He is the one who sold me on the TEFL Academy and was the final push I needed to make my decision.
Which TEFL certification course did you take?
Online TEFL Cours
How did you like the course?
The online course was really convenient for me. I was working three jobs, so the flexibility and freedom of the course was perfect for my schedule. The tasks were useful, tactful, and helped enable me to begin creating lesson plans. I was actually very glad there was a practicum portion required, so I was able to get some hands on experience. I was able to work with some amazing refugees in Austin and enjoyed helping and teaching them very much.
How has your TEFL training helped you in your current teaching position?
My TEFL training has helped me immensely in my teaching endeavors. It created a solid foundation of strategies and rules to build from and without it, I would have been completely lost.

Which city and country did you decide to teach English in and why?
I chose to teach English in the Czech Republic in the city of Prague for 4 reasons:
Not a huge language barrie

Located in the heart of Europe; travel opportunities abound
Beautiful
Cheap

How long have you been in this country and how long do you plan to stay?
Since August 2015. I will be here for another two years!
During which months does your school typically hire?
August & February
Did you secure this position in advance of arriving?
I did not
How did you interview for this position?
In-person interview
What kind of visa did you enter on?
Tourist Visa
Please explain the visa process that you went through.
I obtained my Zivno Visa. I worked with a company called Easy Visa that helped me every step of the way and took care of all of my paperwork. The process took about two months and I had to travel to Vienna twice. You are required to have a residence in the Czech Republic and purchase health insurance before you can obtain your visa. The visa is valid for 6 months and then you must re apply. This process is significantly easier and can be done in Prague.
What are the qualifications that your school requires for teachers? Please check all that apply
- TEFL Certification
What is the best way to apply?
- Apply online
- Email
- In-person
Tell us about your English teaching job!

Job 1: Language Company that offers classes in and outside of Prague mainly at public schools.
I worked about 20 hours a week mostly with children and some adult classes mixed in. For 45 Minutes the pay was 245 ($11.50 USD) crowns, for one hour 290 ($13.50 USD). I was not able to save much money after living expenses, but that is also because I still have some bills in the United States I have to pay. Vacation Time is permitted as long as you give at least a month's notice.
Job 2: The pay varies depending on the class. I have one private lesson for an hour and a half a week and get paid 420 crowns ($19 USD). I also taught a group class for a few months for them. It was 3 hours long twice a week for a total of 1400 crowns ($65 USD). The students were 19 year old intermediate students between high school and college. Again they are flexible with vacations as long as you give them notice.
In March, I stopped working at language schools because I had acquired enough private lessons to support myself. I teach mainly adult intermediate to advanced speakers. I charge 330 crowns ($15 USD) for one hour- the more lessons you book, the cheaper it gets! For example if you book four lessons it is 1200 crowns ($55 USD). For an hour and a half I charge 400 crowns ($18.50 USD). Teaching private lessons is what I enjoy most; I really like the one on one nature of the lessons.
How did you find somewhere to live and what is it like? Do you have roommates?
I was looking on many reality websites. bezrealitky.cz was a great website for flats to rent without realtors so you don't have to pay a fee.
I have a roommate, but he is my friend from Texas who also came to teach English in Prague. The flat is very nice and even though the landlady doesn't speak much English, she is very sweet and helpful.

Please explain the cultural aspects, public transportation, nightlife, social activities, food, expat community, dating scene, travel opportunities, etc...
CULTURE: The culture of the Czech Republic is very interesting. When you are more central in Prague, the younger population dominates and everyone is very friendly. The older generation likes to keep to themselves and usually remain pretty quiet but they are all still very nice people! The food is delicious, but there are no vegetables as far as the eye can see. The city is a beautiful place full of history and there are always fun little festivals popping up everywhere!
PUBLIC TRANSPORTATION:

Fantastic.

I feel as though its even better than London. You can get anywhere in the city by metro, tram, or bus. All means of transport come consistently and are very well maintained. Its pretty affordable as well; a month pass for all forms of transport is only about 30 dollars a month. You can also buy transport tickets on your phone, which is great when you are in a hurry. Uber is also here now and taxi cabs are also really affordable. Getting around is never a problem!
NIGHTLIFE:

I enjoy the nightlife very much here.

They have something for everyone - every style restaurant/bar/night clubs. goout.net is a great resource for events happening in Prague, whether it be festivals, exhibits, clubs, or parties.

Dlouha Street is their "downtown area" full of bars and clubs for the younger generation.

EXPAT COMMUNITY: There is actually a pretty large expat community here. There are two different Facebook pages that are completely in English that have people posting questions, concerns, and meet ups. I've met a lot of great people here from all over the world.
DATING SCENE:

I myself think the dating scene is really good here. I have found a partner here that is the most amazing person I could ask for. In general the Czech people are very respectful and even a bit old fashioned, which is a huge change of pace and breath of fresh air compared to the States.

TRAVEL: The Czech Republic is in the heart of Europe, so traveling is cheap and easy! It's only a four hour bus ride to Munich, Berlin, or Vienna. Regio Jet is a great and cheap travel service for buses and trains. You can get pretty much anywhere in Europe for very cheap!
What are your monthly expenses?
Rent & Utilities: 9000 crowns ($415 USD) BUT that is above average for most Expats
Food: Food is very very cheap and very delicious. I spend probably around 2500 ($115 USD) crowns monthly.
Social Activities: 2500 crowns ($115 USD)
Transportation: 800 crowns ($37 USD) - includes taxis every now and then
Phone: 500 crowns ($25 USD)
Internet: 581 crowns ($27.50 USD)
Social Taxes: 2000 crowns ($92 USD)

How would you describe your standard of living?
Great flat. Great night and social life; I break even money-wise.
In your opinion, how much does someone need to earn in order to live comfortably?
You will want to at least make 18000-20000 crowns ($830 - $920 USD) a month.

What advice would you give someone planning or considering teaching abroad? Would you recommend teaching in your country?
Make sure you have plenty of money saved up before you move abroad. Make sure you research your country thoroughly before departure: flats, internet, phone, jobs, culture, visa process.
While I enjoy starting completely knew somewhere and building a life, it can be a lot to deal with and handle if you have never done it before. So be patient with yourself, your new home, and the process of completely changing your life. After about three months, you will have a good footing in your new home, and everything will fall into place. Enjoy the adventure and let the frustrations roll off your shoulders as much as possible.
I would highly recommend Prague! About 40% of the population speaks English, and it is an easy city to navigate. It is absolutely beautiful here with the ornate architecture and many green spaces!

Studying abroad in London was an amazing and life-altering experience for Katie, after all, it's where she fell in love with Europe! After graduation, she spent a year in corporate America but soon became restless and wanted a change of pace. Katie decided getting TEFL certified and teaching English abroad would be the best way to make her way back to Europe and continue to broaden her horizons. She landed a job teaching English in Prague, Czech Republic
Want to Learn More About Teaching English Abroad & Online?
Request a free brochure or call 773-634-9900 to speak with an expert advisor about all aspects of TEFL certification and teaching English abroad or online, including the hiring process, salaries, visas, TEFL class options, job placement assistance and more.
"I chose ITA because it was highly recommended. From the first moment of contact, I felt supported by my advisor and had no doubt that they would provide me all the information and help I needed."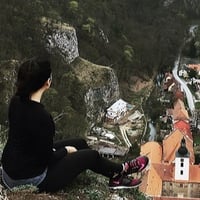 - Cassondra Lopez
Teaches English in the Czech Republic