40+ teachers
Teaching English in Prague, Czech Republic - Mature Teacher Q&A with Jean Willis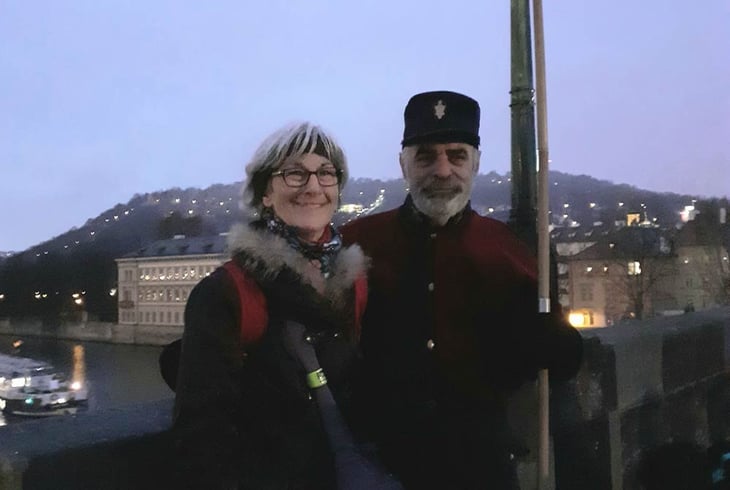 What is your citizenship?
United States
How old are you?
62
What is your education level and background?
Bachelor's Degree - Business Management (Human Resources).
Have you traveled abroad in the past?
Yes - to Thailand, Canada, Mexico, Belize, Guatemala, Honduras, and Italy.
What sparked your interest in going to teach English abroad?
Laid off from a corporate job in November 2018, I took it as a hint from the Universe that my life direction was due for a shakeup. After pondering this, I decided to 'go for it' and live a long-held dream. My dream was to live and work abroad.
At that time, I'd been volunteering in Denver for more than a year teaching English to immigrants and refugees. This volunteer work made Teaching English as a Foreign Language an appealing options when I realized I could do it abroad.
Another plus for this decision was that I enjoy connecting/interacting with people from different cultures and nationalities. I called this my 'Grand Adventure' and yes, some friends and family thought I was crazy. Then as they realized I was serious they came around and wholeheartedly supported me. Having shared it with my friends I was now committed to this choice (the great unknown!) while still unsure if I was up to the challenge. I did internet research and spoke to everyone I knew and met about it and soon discovered I needed to get certified.
What were some of your concerns before teaching English abroad?
My two concerns were that I would be traveling alone and, my age. Traveling alone, because I had heard horror stories which caused me to doubt that traveling alone internationally was a good idea. My age concerns had to do with how different cultures respond to people of a 'certain age'. Meaning, I had grey hair and was proud of it.
TEFL CLASS INFORMATION
Why did you decide to get TEFL certified and choose International TEFL Academy?
A TEFL certification opens doors to teaching positions. I chose International TEFL academy because of their accreditation.
Which TEFL certification course did you take?
I took the Online TEFL class.
How did you like the course?
The online course was difficult for me. While I worked through each unit my scores weren't the highest but after each unit submission my instructor provided feedback that was helpful! For me, re-learning grammar was the hardest part. Admittedly, grammar was not my best subject when I was younger, but I'm happy the course focused on it so heavily. The course prepared me for the classroom.
How has your TEFL training helped you in your current teaching position?
The TEFL training increased my confidence that I could teach English as a foreign language. My students are eager learners!
How long have you been in the Czech Republic and how long do you plan to stay?
As of December 2019, I've been here for 4 months and have not decided how long I will stay.
Why did you decide to teach English in this location?
Because I am of European descent I wanted to teach in Europe. My choice was Prague, Czech Republic.
What school, company, or program are you working for?
I work for Glossa and TeaTime.
How did you secure your English teaching job?
Working with my ITA student advisor I found language schools online and contacted them via email. While I was preparing to leave the USA, I was interviewed via Skype by one language school. Upon arrival in Prague I interviewed at two language schools in person and secured two jobs.
What kind of Visa did you enter on?
In the Czech Republic, you travel to the country as a tourist, get at least 2 jobs, then travel outside the country to apply for the Zivno visa. My visa has been issued.
Tell us about your English teaching job!
I work split shifts 4 days a week working about 20 hours and make around 300 KC (~$13.20 USD) per class. I travel to my students in their offices by walking around the city and using public transportation. My specialty is teaching adults business English onsite. As of today, I my income and expenses are not breaking even but I anticipate be able to in a few months. Fortunately, I have savings to cover my expenses.
COUNTRY INFORMATION
Please explain the cultural aspects, public transportation, nightlife, social activities, food, expat community, dating scene, travel opportunities, etc...

THE PEOPLE OF Czech Republic - Czechs are a reserved people who have lived under communist occupation and are serious when you talk with them. They take pride in their passive civil disobedience. Traditional values and family are very important here.
GETTING AROUND – In Prague you can get almost everywhere by metro, tram and bus.
THE CITY OF Prague - Prague is a beautiful city that is a major European tourist destination and foot traffic is very busy near all the national sites. There are many active international networks, one called InterNations which I have joined. And, several expat communities help 'foreigners' to connect.
FOOD - Food is traditional Czech meaning goulash, meat and potatoes, etc. In addition, I've found excellent restaurants that feature cuisine from around the globe.
TRAVEL – Living in the Schengen Region (allows travel within its countries as if there are no country borders) makes travel around the 20 countries cheap and easy to do. International flights, train and bus service within the region are excellent and can be inexpensive! Teaching English in Czech Republic is equally rewarding and challenging, but if you decide to make it your destination you will be very glad you did! There are many opportunities to teach English here and never enough native speakers to fill the need.
What are your monthly expenses?
In a non-travel month, I spend under $2000 USD. As for my exact expenses, I spend about:

• $820 on rent
• $400 on food
• $150 on social Activities
• $110 on transportation
• $30 on my Czech phone, and $50 on my US phone.
• $125 on Social and Health Insurance

**Note that above dollar amounts are for one person and in USD per month.
How did you find somewhere to live?
I found a studio apartment in the city center by running an ad on a Facebook group. I moved into the apartment 10 days after arriving in Prague – fortunately I have an English-speaking landlord! Housing is most often found by using Facebook groups such as expats.cz.
How would you describe your standard of living?
The cost of living in Czech Republic is approximately the same as in the US, except for beer – it's cheaper than buying water! Not having a car saves a lot of money and makes life easier because the automobile traffic in Prague can be horrendous.
In your opinion, how much does someone need to earn in order to live comfortably?
If you are conservative, you could live comfortably on $1,500 USD per month. I rent a studio apartment in the city center, so my rent is about 1/3 more than other neighborhoods.
ADVICE FOR PROSPECTIVE ENGLISH TEACHERS
What advice would you give someone planning or considering teaching abroad? Would you recommend teaching in your country?
Be prepared for a different lifestyle and do not expect all the comforts of home. For instance, Czech Republic is a country that does not have dryers in their apartments. And, remember, you are living in a foreign country with a different culture and expectations. Also, please keep in mind that it's a good place to teach English and jobs are plentiful.
After being laid off by her corporate job, Jean decided to realize one of her long-held dreams: live & work abroad. She graduated from International TEFL Academy and went on to teaching English in The Czech Republic at the age of 62.
Want to Learn More About Teaching English Abroad & Online?
Request a free brochure or call 773-634-9900 to speak with an expert advisor about all aspects of TEFL certification and teaching English abroad or online, including the hiring process, salaries, visas, TEFL class options, job placement assistance and more.