diversity abroad
Medellín, Colombia English Teaching Q and A with Jessica Stanton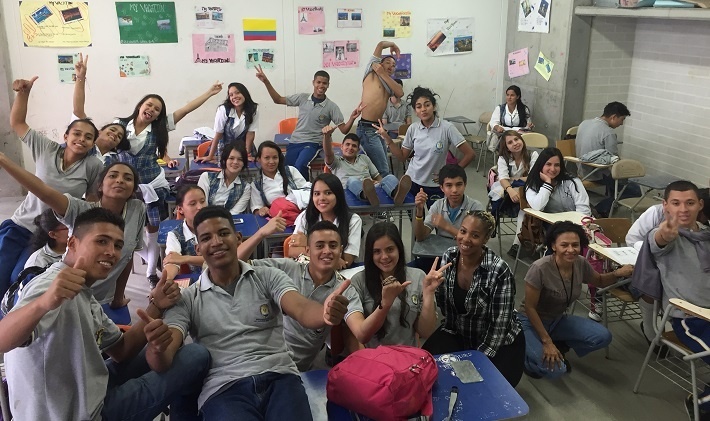 TELL US ABOUT YOURSELF
What is your citizenship?

United States

What city and state are you from?

Charlotte, NC

How old are you?

33

What is your education level and background?

Associate's Degree
Have you traveled abroad in the past?
Some international travel with friends, family, business, etc.

If you have traveled abroad in the past, where have you been?
Just Mexico and Canada.

What sparked your interest in going to teach English abroad?

I wanted to learn a new language, help people, and travel more often.

What were some of your concerns before teaching abroad?

Not being able to communicate, running out of money

What did your friends and family think about you moving and teaching abroad?

My friends were very supportive. My family was scared.

TEFL CLASS INFORMATION
Why did you decide to get TEFL certified and choose International TEFL Academy?

Although I had teaching experience, I didn't have a Bachelor's Degree. I knew a TEFL certificate would put me in a better position for employment. I chose ITA because they had the best alumni assistance, and my advisor Jeff Penick was very helpful.

Which TEFL certification course did you take?

Online TEFL Course

How did you like the course?

The course was concise and gave me all the tools I needed to be an excellent teacher.

How has your TEFL training helped you in your current teaching position?

My TEFL training provided me with the knowledge to create dynamic lesson plans and manage my classroom.

Which city and country did you decide to teach English in and why?

I chose to teach English in Colombia in the city of Medellín. I wanted to learn Spanish and live in a fairly large city .
How long have you been in this country and how long do you plan to stay?

I've been here for almost four months. I love it here, so I have no plans to leave soon.

What school, company, or program are you working for?

I work for Volunteers Colombia/Heart for Change

During which months does your school typically hire?

New teachers begin in January & February or June & July.

Did you secure this position in advance of arriving?

Yes. I went through ESL Starter recruitment agency.

How did you interview for this position?
- Skype/phone interview

What kind of visa did you enter on?

Tourist Visa


Please explain the visa process that you went through.

I applied for my work visa two days before I left the US. Colombia allows US citizens to enter the country for up to 90 days on a tourist visa. I received that visa in Bogotá when I first arrived. During orientation, my passport was taken for about 5 days so that my work visa could be added to it. My work visa expires a few days after the school semester ends.

What are the qualifications that your school requires for teachers? Please check all that apply

Native English speaker

What is the best way to apply?

- Apply online
- Recruiter
Please include any application resources (website, email, etc.) or other information here:

mineducacion.gov.co

Tell us about your English teaching job!

HOURS: I teach 6th, 7th, 10th, and 11th grade, 24 hours a week.
SALARY: The stipend I am paid is 1.500.000 pesos which is about $500 USD per month.
SAVINGS: I'm not able to save a dime. The cost of living is higher in Medellin than other parts of the country.
SCHOOL: I work in a middle and high school that are connected in a very low income neighborhood way up in the mountains.
STUDENTS: My high school students are well behaved young adults. The middle schoolers are much rowdier but they all are generally happy to have a Native English Speaker around.
VACATION: Colombia loves to celebrate everything so we have a lot of vacation days.
Despite living paycheck to paycheck, Medellín is beautiful and offers tons of free concerts and events.

How did you find somewhere to live and what is it like? Do you have roommates?

I had a difficult time finding a permanent place. The program provided housing for the first 30 days in a shared apartment with other teachers. After that I stayed in hotels until I found my current apartment via Airbnb.

I live in a beautiful part of Envigado, a suburb just outside of Medellin, so it was worth the wait. I have the master bedroom in a large 4 bedroom apartment, and it's actually way better than any place I ever lived in the States. It even has a dryer! Very rare here. My rent is $800,000 COP. I live with one girl from Los Angeles, one guy from Belgium, and one guy from here in Colombia. None of them are teachers. :)

On a scale of 1 - 10 please rate your experience with this school.

8
COUNTRY INFORMATION - FUN!
Please explain the cultural aspects, public transportation, nightlife, social activities, food, expat community, dating scene, travel opportunities, etc...

Medellín is the city of eternal spring, so the weather is always comfortable. The city is full of art, culture, parks, and entertainment. There are so many amazing free events. Beer and the liquor of choice here, Aguardiente, is cheap and you can drink openly. You don't need many dollar bills to have fun on any given night.

I've enjoyed lots of concerts, festivals, trivia nights, language exchanges, and of course, salsa dancing since moving here.

There are tons of expats here and the number seems to be growing by the second. It's pretty easy to find another English Speaker to hang out with. Since moving here, I've traveled to Bogotá, Cartagena, Guatape, and Panamá. Inter-country flights are usually less than $100 USD and only take about an hour.

I'm vegetarian so traditional Colombian food isn't my favorite but the fruit here is amazing. Luckily there are a lot of vegan/vegetarian restaurants in Medellín.


COUNTRY INFORMATION - MONEY
What are your monthly expenses?

Rent: $800,000 COP (approx. $270 USD)
Food: $100,000-$150,000 COP per month ($35 - $50 USD)
Social Activities: $20,000-50,000 COP per week ($10-$20 USD)
Transportation: $20,000-$30,000 COP per week ($10-$15 USD)
Phone: $42,000 COP per month ($15 USD)
Travel: Whatever is left. I just blew the remainder of my travel budget savings in Panamá lol.

How would you describe your standard of living?

Awesome

In your opinion, how much does someone need to earn in order to live comfortably?

2 Million COP
ADVICE FOR PROSPECTIVE ENGLISH TEACHERS
What advice would you give someone planning or considering teaching abroad? Would you recommend teaching in your country?

Save as much money as possible. The Euro and USD go far here, but once you run out and have to rely on only pesos, things get very expensive. When looking for housing be sure to ask if you will have access to hot water in your bathroom. This is still a developing country so many residences do not have hot water. Practice Spanish!

Follow Jessica's travels on her Instagram: JayeEllis
Founded in 2010, International TEFL Academy is a world leader in TEFL certification for teaching English abroad & teaching English online. ITA offers accredited TEFL certification courses online & in 20+ locations worldwide and has received multiple awards & widespread recognition as one of the best TEFL schools in the world. ITA provides all students and graduates with lifetime job search guidance. ITA has certified more than 40,000 English teachers and our graduates are currently teaching in 80 countries worldwide.
Want to Learn More About Teaching English Abroad & Online?
Request a free brochure or call 773-634-9900 to speak with an expert advisor about all aspects of TEFL certification and teaching English abroad or online, including the hiring process, salaries, visas, TEFL class options, job placement assistance and more.