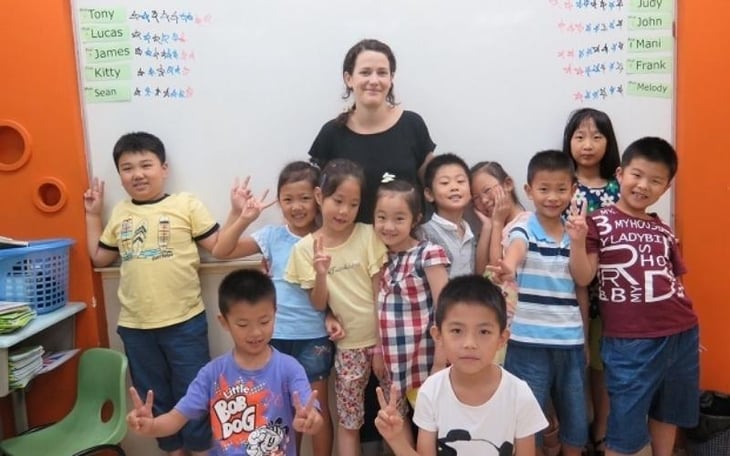 Teaching English in Shanghai, China: Alumni Q&A with Briana Campbell
TELL US ABOUT YOURSELF

What is your citizenship?

United States

What city and state are you from?

Los Gatos, California

How old are you?

27

What is your education level and background?

Bachelor's degree
Have you traveled abroad in the past?
Some international travel with friends, family, business, etc.
What sparked your interest in going to teach English abroad?

I had had a couple of friends that had taught abroad and it sounded like an amazing way to live abroad. I didn't get the chance to study abroad during college and I really regretted it, so this seemed like a great way to both live abroad but also make money at the same time. I went with the goal of saving enough money to travel after teaching, and so it seemed like a great opportunity to both live abroad and save money for a big trip.


What were some of your concerns before teaching abroad?

I was mostly concerned about the job. I had never taught before and considered myself rather shy, so I was worried being a teacher would be difficult for me. The process of finding a job on the internet was also daunting as there were so many resources and job postings and recruiters; it was hard to know the good from the bad. Going into the job was a bit of a leap of faith that it would all just work out.

What did your friends and family think about you moving and teaching abroad?

For the most part friends and family were extremely supportive of my decision. They all thought it was a great growth opportunity, but they did seem a bit apprehensive about the country I had chosen. But overall, I felt it would be a good decision in the end.
TEFL CLASS INFORMATION
Why did you decide to get TEFL certified and choose International TEFL Academy?

I got TEFL certified for two reasons. I felt I would have a better chance getting a job with a TEFL certificate, but I also did it for myself so I would have some idea how to teach since I'd never done it before! I chose TEFL Academy because it seemed like a professional and reliable course.
Which TEFL certification course did you take?

Online TEFL Course

How did you like the course?

Overall the course was good. I learned the basics about teaching and felt there was a lot of resources to help me with the process. I think in the end, I realized online courses aren't the best platform for me. In retrospect I would have preferred an in-person course, but I don't have any regret about it.

How has your TEFL training helped you in your current teaching position?

The TEFL training helped me know what to expect and gave me a lot of ideas for activities and classroom management.

Which city and country did you decide to teach English in and why?

I decided to teach English in China in the city of Shanghai. This was a very difficult decision! I knew I wanted to go to Asia but had a lot of difficulty landing on China. I considered Korea, South East Asia and Taiwan but eventually landed on China because I felt it would allow me to earn a decent living; there were lots of opportunities for work; and it was a fascinating culture that was a nice medium of being developed but still developing.
How long have you been in this country and how long do you plan to stay?

I was in China for one year.

During which months does your school typically hire?

Year round

Did you secure this position in advance of arriving?

Yes

How did you interview for this position?

Skype/Phone Interview

What kind of visa did you enter on?

Tourist Visa

Please explain the visa process that you went through.

I arrived on a tourist visa and about a month after arriving, the school got me a working visa. It was quite seamless.

What are the qualifications that your school requires for teachers? Please check all that apply

TEFL Certification

What is the best way to apply?

Recruiter

Tell us about your English teaching job!

Hours: I work for a language school, so I work weeknights and weekends during the day. I work 30 hours per week, all day Saturday and Sunday and Wednesday - Friday 4 PM to 9 PM.

Salary: I earn 12,000 RMB (approx. $1800 USD) per month.

Savings: I am able to save about $1000 per month. I make a great effort to save each month and have taken up some private tutoring to supplement as well.

Students: The students are children ranging from age 4-14, but most classes are ages 5-8. It's a lot of work working with children this age but overall quite fun.

School: Classes are very regimented and the school has its own curriculum, so I know what i have to teach each day. I just have to come up with a lesson plan.

Vacation: I don't have any paid vacation time besides national holidays, but I am able to take unpaid time off.

How did you find somewhere to live and what is it like? Do you have roommates?

I found a place to live through one of the teachers working at the same company as me but at a different location. He was in my orientation and found a place to live on a French expat website. The other roommates were moving out, so a spot opened up. We live in a four-bedroom apartment, and each room has a different roommate in it. Three of us are teachers at Kid Castle, and the other one is a student.
COUNTRY INFORMATION -
Please explain the cultural aspects, public transportation, nightlife, social activities, food, expat community, dating scene, travel opportunities, etc...

Culture: Shanghai itself is a very exciting city but quite different from the rest of China. Living in Shanghai is an exciting place but also a bit like a bubble from the "real China." Living in Shanghai is great to dip your feet in China. There are parts that feel very Chinese but then there are neighborhoods that are very western if you want to feel like you're home a bit more.

Public transportation: The public transportation is amazing in Shanghai there are 16 subway lines and trains arriving by the minute! You can get pretty much anywhere on the subway and there are also plenty of taxis.

Food: I would say food in China is a HUGE part of living in this country. Chinese love to eat and large banquet type meals are a huge to do! Our school has hosted many banquets that go on for hours and where they keep bringing out food all night long! Shanghai has endless options for food both Chinese and western which is great.

Expat community: There is a huge expat community in Shanghai of both English teachers and also plenty of other professions. Being in Asia there are many opportunities to travel.

Travel in China itself is a huge country with endless opportunities for travel. There are great nearby places like Hangzhou and Suzhou which are beautiful and just a short train ride from Shanghai.
COUNTRY INFORMATION - MONEY
What are your monthly expenses?

Living in Shanghai is more expensive than other parts of China but still quite affordable. It is a city where you can really live like a king or more frugally and save more. There are plenty of things to spend money on but you can also save if you are disciplined. I pay 2800 RM ($420 USD) for rent and about 100 RMB ($15 USD) per month on my phone.
Transportation is quite cheap in Shanghai and can range from 2-10 RMB ($.25 -$1.50 USD) per ride. I would say per month I spend about 200 RMB ($30 USD) on transportation. Food and social activities vary greatly depending on how I spend my money and whether or not I eat mostly Chinese food or western food.
Western food usually is anywhere from 60 RMB to 150 RMB (($8 - $25 USD) and can add up quite quickly. A coffee at a western place is usually about 40 RMB ($5 USD). Chinese food can be quite cheap as little as 10 RMB per meal but can also be more depending on where you go.

How would you describe your standard of living?

I would describe my standard of living as great! I am able to live a very comfortable life and still save. I never feel pressed for money and can spend freely. I really only have to think about money that I want to save each month rather than getting by.

In your opinion, how much does someone need to earn in order to live comfortably?

I would say at least 10,000 RMB (approx. $1500) per month to live comfortably. Most teaching jobs pay at least this so if anything you'd be getting more and able to save.


ADVICE FOR PROSPECTIVE ENGLISH TEACHERS
What advice would you give someone planning or considering teaching abroad? Would you recommend teaching in your country?

I would absolutely recommend teaching English in China. It is a fascinating country with so many opportunities to teach. IT can be difficult choosing where to go but regardless of where you end up it will be an adventure! China is a great country to live in and experience a different culture while also making great money.
Teaching abroad is one of the best things i have ever done and has truly opened my eyes to the rest of the world. To travel to a country is one thing but to live and work and a country is a totally different thing. You see the way other cultures live and realize that there are no good or bad ways just different ways.


Briana is originally from California and took ITA's Online TEFL Course. She then went on to teach English in Shanghai, China.
Want to Learn More About Teaching English Abroad?
Request a free brochure or call 773-634-9900 to speak with an expert advisor about all aspects of TEFL certification and teaching English abroad or online, including the hiring process, salaries, visas, TEFL class options, job placement assistance and more.