Santiago, Chile English Teaching Q&A with Shannon Eres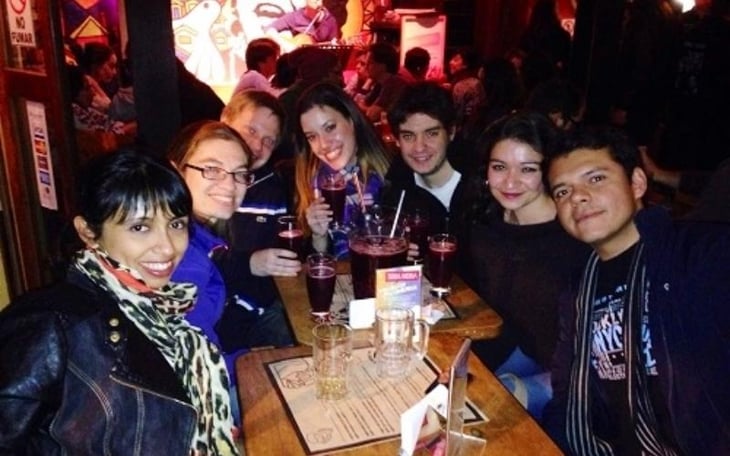 What is your citizenship?
United States
What city and state are you from?
Broomfield, Colorado
How old are you?
27
What is your education level and background?
Bachelor's Degree
Have you traveled abroad in the past?
Studied abroad
If you have traveled abroad in the past, where have you been?
Mexico and Scotland
If you have studied abroad in the past, where did you study?

What sparked your interest in going to teach English abroad?
After studying abroad in a few parts of Latin America, I always wanted to go back and explore other countries in the area. I loved my life in the US, but I knew there was more for me out in the world, more to explore, experience, see and take part in.

What were some of your concerns before teaching abroad?
If I could make enough money to live off of and travel at the same time. I was unfamiliar with the visa process and it seemed a bit complicated to do alone.
What did your friends and family think about you moving and teaching abroad?
They were very supportive because they knew this was a lifelong dream of mine.
TEFL CERTIFICATION CLASS INFORMATION
Why did you decide to get TEFL certified and choose International TEFL Academy?
I decided to get certified at ITA because of the job guidance they provide while/after you're taking your course. It's not like other companies that just offer the certification and leave you hanging. They provide invaluable support for making the leap abroad seem not so daunting. I never once felt alone in the process of making the move from the US to Chile.
Which TEFL certification course did you take?
Online
How did you like the course?
I liked the course, however it was more time intensive than I thought. The instructor provided constructive feedback in a timely manner. The practicum (live practice teaching) was my favorite part! It was finally great to put what I had learn to good use!
How has your TEFL training helped you in your current teaching position?

In Chile, or any competitive job market, you NEED a TEFL certificate. The more hours, the better. I was able to procure several interviews because I had the TEFL certificate with nearly 200 hours. It also gave me the confidence that I could provide the best teaching possible to my students.
TEACHING ENGLISH IN SANTIAGO, CHILE
Which city and country did you decide to teach English in and why?
Santiago, Chile, for its diverse geographic regions, the job market and the culture!
How long have you been in this country and how long do you plan to stay?
I have been here for 10 1/2 months and I plan on staying until at least the end of 2014.

How did you secure your English teaching job?
I sent out several emails to local institutes and dropped off my CV to a few, as well.

How did you get your work visa?
I got my visa with the support of my company, but I completed all the "tramites" by myself. It was slightly daunting to do alone because most of the sites and information is in Spanish and no one in the Extranjería or Registro Civil spoke English. Also, it takes a few months to complete the process. It's not as simple as going to an office and receiving a stamp in your passport.

Tell us about your English teaching job!
I have about 25-30 hours of class-time a week and a few hours of planning and paperwork each week as well. I have graduated into a better contract since I have been with my company for almost a year. It is possible to save a little in Santiago, but the cost of living is higher here than most Latin American countries. I teach business English to professionals in their offices. My classes range from 1-4 students. I have the government mandated amount of vacation time.

How did you find somewhere to live and what is it like? Do you have roommates?
I found my Chilean roommate on compartodepto.com. It is great living with a Chilean because you get to really speak the language and experience the culture!
COUNTRY INFORMATION - FUN!
Please explain the cultural aspects, public transportation, nightlife, social activities, food, expat community, dating scene, travel opportunities, etc. about your country:
Chile is pretty conservative as a country. The Metro works well but at times it is extremely full (e.g., rush hour). The Micros (buses) can be a bit unreliable, but on a good day everything goes well for both methods of public transportation. Santiaguinos like to eat and drink and you can find a lot of great places to eat everything from local favorites to Peruvian food to a great hamburger. Santiago is a great travel hub since it's in the middle of the country and has a great international airport. There are several bus terminals for traveling long and short distances as well.
COUNTRY INFORMATION - MONEY
Rent/utilities- $225,000 CLP (approx. $360 USD)
Food- (groceries/eating out/social fun)- approx $200,000 ($320 USD)
Transportation- $40,000 CLP ($65 USD)
Phone- $10,000 CLP ($16 USD) to add minutes and 3G/month and you can purchase a decent phone for $40,00-$50,000 CLP ($65 - $80 USD) brand new.

How would you describe your standard of living?
Good, but not amazing.

In your opinion, how much does someone need to earn in order to live comfortably?
$600,000-$700,000 CLP/month ($950 - $1115 USD) to allow for a little saving or traveling.

ADVICE FOR PROSPECTIVE TEACHERS
What advice would you give someone planning or considering teaching abroad? Would you recommend teaching in your country?
I would recommend Chile to someone that can speak decent Spanish and has a good amount of money saved up or can live very frugally their first few months. Most teachers get paid once a month by institutes and it takes time to build up a full schedule or find a good balance between a couple of different institutes.

One thing that is not widely known is that Chilean Spanish is very difficult to understand at first and they use a lot of slang. For someone that doesn't speak any Spanish, it could be very difficult to get around at first.



Colorado native, Shannon Eres, got the travel bug traveling in Mexico and Scotland, so when she finished college she looked to expand her international experience by getting TEFL certified and teaching English in Chile.
Want to Learn More About Teaching English Abroad & Online?
Request a free brochure or call 773-634-9900 to speak with an expert advisor about all aspects of TEFL certification and teaching English abroad or online, including the hiring process, salaries, visas, TEFL class options, job placement assistance and more.