Teaching English in Phnom Penh, Cambodia - Alumni Q&A with Joshua Bottorff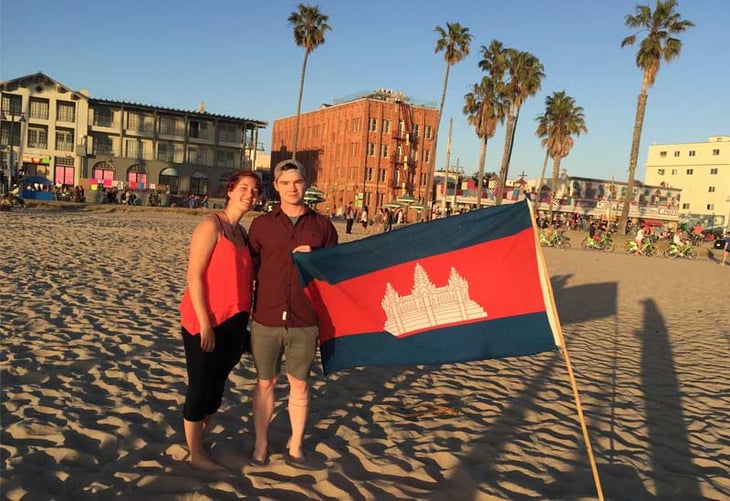 What is your citizenship?

United States

What city and state are you from?

Denver, Colorado

How old are you?

26

What is your education level and background?

Bachelor's degree
Have you traveled abroad in the past?
Some international travel with friends, family, business, etc.

If you have traveled abroad in the past, where have you been?
Central America, Europe, Middle East
What sparked your interest in going to teach English abroad?

Teaching English abroad opens up a life of travel and wonder. I am able to help those who want to better themselves and learn a new skill while pursuing my own worldly goals.


What were some of your concerns before teaching abroad?

My biggest concern was will I be qualified. I want to give my students the best I can. I didn't want to flop the moment I arrived in the classroom.

My second concern was liking the place I chose. I am one of those people who, with more options, has a greater difficulty making a decision.

My last concern was making enough money to sustain myself, which no matter what country you live in, will always be a concern.

What did your friends and family think about you moving and teaching abroad?

My family and friends were very supportive of the idea of teaching abroad. They were not so excited when I mentioned I chose Cambodia for my location. It created a lot of mixed feelings for my friends and family due to Cambodia's recent political issues and past transgressions.
TEFL CLASS INFORMATION
Why did you decide to get TEFL certified and choose International TEFL Academy?

The TEFL certification gave the best opportunity to move and work abroad. I chose the International TEFL Academy because they had the best reviews and results. There was very little bad to be said about the program, and they stood by helping their students get situated abroad.
Which TEFL certification course did you take?

Online TEFL Certification

How did you like the course?

The course was created well. I had no experience teaching prior to this course so it was a struggle at first, but a needed one. I feel very comfortable in the classroom now. The practicum was by far the most useful part of the course. I was able to observe and co-teach at the University of Colorado's ESL Academy. They provided me with the knowledge and skills I still use today.

How has your TEFL training helped you in your current teaching position?

I use my notes from the class pretty frequently. My classroom management and teaching habits are more developed, and I still use the lesson plan outline given to us.


Which city and country did you decide to teach English in and why?

I decided to teach English in Cambodia in the city of Phnom Penh. SE Asia was an area I had yet to explore in my travels. I realized that I could see another part of the world while providing some of the most impoverished countries with the knowledge I had gained. I wanted to give back as much as I had gained.
How long have you been in this country and how long do you plan to stay?

I have been in Cambodia for almost six months now. Originally, I had only planned on staying a year, but now it's looking like maybe two or three.

What school, company, or program are you working for?

I am working for an English Language Program in Rural Cambodia

During which months does your school typically hire?

Year Round

Did you secure this position in advance of arriving?

No

How did you interview for this position?

In-person interview

What kind of Visa did you enter on?

Work Visa

Please explain the visa process that you went through.

My visa process was different than the current policy. Shortly after moving here they changed the visa policy, and now you must obtain a work permit before getting a work visa. I do believe on arrival you can get a 30 day work visa which is the most commonly chosen visa.

What are the qualifications that your school requires for teachers? Please check all that apply

- TEFL Certification
- Native English speaker

What is the best way to apply?

Email
Tell us about your English teaching job!

I work 40 hours a week. My school is very small and poor, so they do not offer a lot of money. I make $800 a month which is very high for them. I am able to save money but only because I moved here with my girlfriend, and she is working at a large international school. Most of my students are under the age of 14 and have had very little English classes prior. The school does not offer vacation time.

How did you find somewhere to live and what is it like? Do you have roommates?

There are so many websites and real estate companies in Phnom Penh that finding an apartment is very easy. I live in a very Western apartment that is a little more pricey than most places. I live with my girlfriend in a one bedroom apartment. Electricity is expensive compared to most countries.
COUNTRY INFORMATION - FUN!
Please explain the cultural aspects, public transportation, nightlife, social activities, food, expat community, dating scene, travel opportunities, etc...

Culture: The culture here is very reserved. Being a Westerner that doesn't speak Khmer makes it difficult to communicate with natives.
Public transportation: There isn't really public transportation. People will offer you rides on their motos or tuk-tuks. Other than that I use an app called PASSAPP which is just like "Uber".

Nightlife: There are plenty of bars and clubs, but I do not drink so I spend most of my nights at home.

Social Activities: There are endless Facebook groups that always have events going on, like special dinners, drinks, games, sales, events, etc.

Food: Cheese is expensive!! Khmer food is very cheap, but there are grocery stores that have most western brands for a little higher price.

Expat Community: The expat community is very active. You will see them owning multiple bars and restaurants. The community is small so everyone knows everyone.

Travel Opportunities: SE Asia is my backyard. You have endless travel opportunities.
COUNTRY INFORMATION - MONEY
What are your monthly expenses?

Rent/Utilities: 600 USD split between 2
Food: 10-15 USD a day
Social Activities: There are a lot of free events
Transportation: 4 USD per working day
Phone: 20 USD a month

How would you describe your standard of living?

I would describe my standard of living to be above average. There is a huge economic gap in this country but the average monthly income is under 400 USD. So I believe I am living well above country standard as are most of the expats here.

In your opinion, how much does someone need to earn in order to live comfortably?

If you have few bills back home and live with a roommate 1500 USD a month will be more than enough to live comfortably.
ADVICE FOR PROSPECTIVE ENGLISH TEACHERS
What advice would you give someone planning or considering teaching abroad? Would you recommend teaching in your country?

I would certainly recommend living in Cambodia. I would just advise you do your own research. Reach out to people prior to moving. I was told that I couldn't apply for jobs here in Cambodia until I was here in person, just to find out that others were hired over the phone or online and had their flights and moving cost paid for. So learn from me and research as much as possible. No two people have the same experience in this country.


Joshua Bottorff is 27 from Denver, Colorado, where he studied biology and sustainability. He served five years in the military and now lives in Cambodia writing proposals.
Want to Learn More About Teaching English Abroad & Online?
Request a free brochure or call 773-634-9900 to speak with an expert advisor about all aspects of TEFL certification and teaching English abroad or online, including the hiring process, salaries, visas, TEFL class options, job placement assistance and more.