Teaching English in Rio de Janeiro, Brazil: Alumni Q&A with Rory O'Neill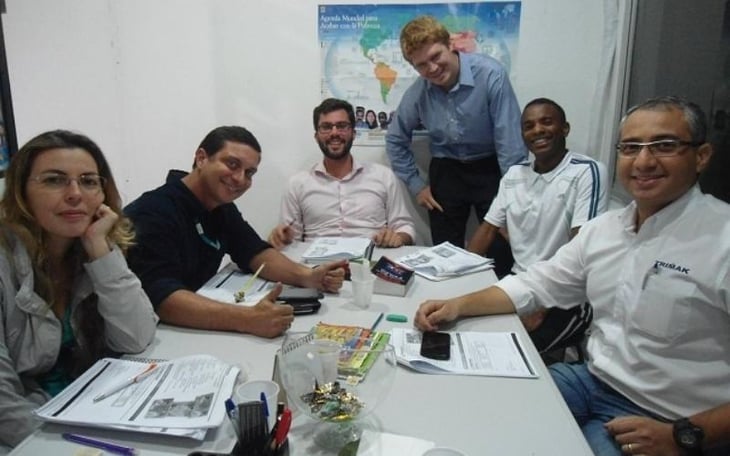 TELL US ABOUT YOURSELF
What is your citizenship?

United States

What city and state are you from?

Silver Spring, MD

How old are you?

26

What is your education level and background?

Bachelor's degree
Have you traveled abroad in the past?
Studied abroad
If you have studied abroad in the past, where did you study?

Buenos Aires, Argentina

What sparked your interest in going to teach English abroad?

I knew that I wanted to spend time living in Brazil, especially considering the World Cup was going to be held there, so I started looking into ways to make a living there.

What were some of your concerns before teaching abroad?

I was concerned about whether I was going to make enough money to live on as an English teacher as well as whether I would be prepared to work as a teacher and create lesson plans.

What did your friends and family think about you moving and teaching abroad?

They were all very supportive of the move, and they were excited for me because they knew it was what I really wanted to do.
TEFL CLASS INFORMATION
Why did you decide to get TEFL certified and choose International TEFL Academy?

I did not have much experience teaching, so I wanted to take a course to make me feel more comfortable as a teacher. After doing some research, International TEFL Academy was the best choice for me.

How did you like your course?

The course did a very good job of preparing me to teach English. The instructors were very experienced and were a great help in preparing me not only as an English teacher. They also gave great feedback when we taught classes as teachers in training and were very helpful in lesson planning.

How has your TEFL training helped you in your current teaching position?

The TEFL course helped me in a variety of ways. From going over grammar points like how to teach the present perfect tense to more general teaching knowledge like how to lesson plan or control a classroom, I gained a great deal of new and helpful information. On top of that, being able to practice teaching on real students in a comfortable environment where you are getting feedback from peers and certified, experienced teachers was invaluable.

Which city and country did you decide to teach English in and why?

I decided to teach English in Brazil in the city of Rio de Janeiro. While studying in Argentina, I visited Brazil during Carnival, and loved the culture and the beauty of Rio de Janeiro. With the world cup approaching in the summer of 2014, I knew I had to live there during the build up and experience the culture and the excitement.
How long have you been in this country and how long do you plan to stay?

I stayed for almost three years, from the beginning of 2014 until the end of 2016.

What school, company, or program are you working for?

I worked for a few companies and then had private students. The best company I worked for was Language Plus.

During which months does your school typically hire?

Anytime, but biggest demand is in February.

Did you secure this position in advance of arriving?

No

How did you interview for this position?

In-Person Interview

What kind of visa did you enter on?

Tourist Visa

Please explain the visa process that you went through.

I got a tourist visa to go down to Brazil and ended up overstaying the visa and stayed in the country on the overstayed visa for three years. I have a lot of friends that did the same thing, the penalty is a fine of 8 reais ($2.40 USD) per day that you overstay, but that caps at 100 days so 800 reais ($240 USD) is the maximum fine, and this fine is only paid if and when you go back to Brazil.

What are the qualifications that your school requires for teachers? Please check all that apply

None of these are absolutely necessary but they can be helpful:

- Bachelor's degree
- TEFL Certification
- Native English speaker

What is the best way to apply?

Email

Tell us about your English teaching job!

In Brazil it is basically a hustle, the harder you work and the better you do, the more you can work. You usually teach adults, and it is mainly one-on-one private classes either at their office or at their home. At first, most people work for multiple companies that find students for them to teach. These companies usually pay 30-40 reais ($9 USD) per hour, with 35 ($10.50 USD) being the normal rate. It will take a few months to build up a schedule full of students. 15-25 hours per week is generally a manageable schedule where you can make enough to live on. Because you are traveling to different neighborhoods to teach different classes, doing 5 hours of class in a day could mean you are out of the house for 10 hours, so obviously it is also important to manage your schedule in terms of convenience of the classes.

Once you establish yourself as a teacher you can find your own students, usually through word of mouth, and charge them your own prices. Friends of mine charged anywhere from 50-100 reais ($15 - $30 USD) per hour for private classes, I usually charged 65-70 ($20 - $22 USD). 3000 reais ($910 USD) a month is a good initial goal to have to be able to live comfortably, but it may take six months or more to make up to that level. Once you have mostly private students, it is possible to make closer to 4000 or 5000 ($1200-$1500) a month.

How did you find somewhere to live and what is it like? Do you have roommates?

I lived in a hostel for the first few months before I found an apartment. The most popular website to find an open room is easyquarto.com.br, and there are also many sites on Facebook for people looking for rooms. I ended up finding an entire apartment to rent with some friends on alugatemporada.com.br, and when the friends moved out, I rented out the other rooms. In the beginning I lived in the same room as a friend to save money.
COUNTRY INFORMATION - FUN!

Please explain the cultural aspects, public transportation, nightlife, social activities, food, expat community, dating scene, travel opportunities, etc...

Social Activities: There is a wide variety of social activities to do in Brazil, so there is something for everybody. The country is huge and certain regions have different cultures, values, and geography. There are pristine beaches, breathtaking mountains, the Amazon rain forest, big cities, and much more.

Nightlife: What they have in common is that Brazilians know how to enjoy life and party. From street parties, live music, dancing, to parties targeting foreigners and tourists, to big clubs, there are plenty of options. Brazilians are also usually very friendly and outgoing, so it is not hard to make friends.

Expat community: In Rio at least, there is a large expat community that you will inevitably meet.

Public transportation: The bus system and metro in Rio can be crowded, but it is easy to navigate.

Food: The staple cheap meal is a plate that comes with a meat, rice and beans, and salad.

Travel opportunities: Traveling within the country is relatively cheap, and you can usually take off as much time as you want as long as you inform your students.
COUNTRY INFORMATION - MONEY
What are your monthly expenses?

Rent/utilities: usually between 1000-1500 reais ($300-$450 USD) per month for a room in an apartment with a few roommates
Food: cooking almost every meal: 800 reais ($240 USD) per month
Social activities: night out: between 50-100 reais ($15-$30 USD) per night out
Transportation: Around 400 reais ($120 USD) per month taking bus and metro except occasional taxi late at night
Phone: 60 reais ($18) a month for plan
Travel: 200-300 reais ($60 USD - $90 USD) round trip for many in-country flights if bought in advance

How would you describe your standard of living?

Comfortable standard of living. Good apartment in nice, but not fancy neighborhood (Botafogo).

In your opinion, how much does someone need to earn in order to live comfortably?

3000 reais per month ($900 USD)


ADVICE FOR PROSPECTIVE ENGLISH TEACHERS
What advice would you give someone planning or considering teaching abroad? Would you recommend teaching in your country?

The first few months will have a lot of up and downs... some of the best days and weeks, and maybe some of the worst as well. There will be days when it feels like everything is going wrong, but if you keep an open mind and stay patient, it will be an experience that you will never regret. I was planning on staying in Brazil for six months, and I stayed for three years because I enjoyed it so much. I would definitely recommend it as a great place to teach abroad.
Rory is from Maryland and took ITA's Online TEFL Course. Rory decided to teach English in Rio De Janeiro, Brazil.
Want to Learn More About Teaching English Abroad & Online?
Request a free brochure or call 773-634-9900 to speak with an expert advisor about all aspects of TEFL certification and teaching English abroad or online, including the hiring process, salaries, visas, TEFL class options, job placement assistance and more.