Teaching in the Age of Coronavirus - A Moroccan Story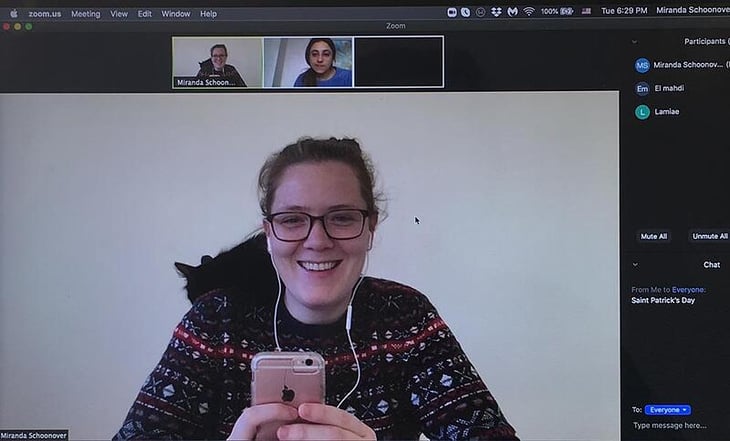 It is April 3rd, and I am sitting in my sun-filled apartment in Rabat, Morocco. It has been 2 weeks since Morocco implemented a confinement protocol. Everyone is required to stay home unless their job is deemed "essential". All schools, restaurants, cafes, non-essential stores, and mosques are closed until further notice. All medical offices are only taking emergency and critical appointments. It is a strange time to be a teacher, and an even stranger time to be an expatriate.
My name is Miranda and I chose to stay in Morocco during the Coronavirus pandemic. I have been in Morocco for 10 months and have been teaching with my current school for 7 months. When the emails were sent out that the American government had set up final flights to allow Americans to leave the country before airspace was officially closed, there was no doubt in my mind I was staying. There are many things that make living in Morocco difficult, but this is where I belong right now. After delving in deeper to the option of returning to the US, I decided that since the number of COVID-19 cases were lower here in Morocco, and the country was already in confinement, it would be safer for me to stay here than to brave several airports and planes in an attempt to get back to a place that has a higher probability of getting sick. So, I stayed.
I was very lucky in that the school that I teach for had already trained all teachers on how to use an online meeting application in the event that schools would be closed. So, when the announcement was made that all schools, preschools, and nurseries would be closed beginning March 22nd, we were prepared to move online. Of course, it still took time. We started with our adult classes, then our teens, and finally this week we began kids classes, which has been interesting!
We are all still adjusting to teaching and learning online. My adults are finding it hard to attend classes since they are at home with their children. They are doing the best they can, and as a teacher I try to offer as many solutions as I possibly can to ease the transition for them. As for my teens and kids, their normal schools have also started teaching online, and so we are competing for time slots. The moroccan school system is quite rigorous, and many of the teens are finding it hard to balance all the school work they receive from their normal school as well as English class. For this, I try to make English class as fun and interesting as possible, so that even though we are learning, they don't feel like they are "in school". With the kids the issue is attention span. Our normal 2 1/2 hour classes have changed to 1 hour, twice a week. The hope is that they will be able to focus for an hour, and that gives us time to at least teach one language point and play a game or two. It has been a huge change for all of us, but the teachers at my school have really banded together. We are constantly sharing new games, websites, and resources we have found that might help our fellow teachers in their online teaching pursuits. My heart has been warmed by all the encouragement, assistance, and love my fellow teachers have offered, and I feel privileged to teach with such an amazing group of individuals.
The confinement period has been difficult. I live alone in my apartment and I haven't seen anyone I know in person since the confinement began. Here in Morocco, we are permitted to go outside for groceries, prescriptions, and critical appointments with a special permit. This paper is issued to one or two people in a household (depending on size, needs), to limit the amount of people who are going out. There are police checkpoints stopping cars to ensure that they have a legitimate reason to be out and about. There is also a curfew in place from 6pm to 6am. If you are seen out during this time, you will be stopped by police and fined. The government has issued a tentative end date of April 20th, but this is dependent on how the situation evolves over the next few weeks. It has been a struggle to only see and talk to people virtually, but I have people who check in with me everyday and have a chat. It is also a relief to see my students. Teaching, even online, gives a sense of normalcy to the days.
To pass the time, I have been doing lots of things. I have several books to read and have found some public domain books online to add to my list. I have also been trying out new recipes, most recently I made homemade tortillas! Playing with my young kitten leads to hours of entertainment. She and I go out on my terrace and play in the sunshine every afternoon. Speaking of the terrace, there are two boys who live one building over from me. I can see their terrace from mine and we sometimes play together. They think its fun to play and talk with the "pale" foreigner, and I enjoy some light-hearted, childish play. Online games have been fun as well, and a great way to interact with friends and family when you've run out of things to say, but don't want to be alone just yet.
Here in Morocco, there is a large sense of community. People take care of each other here, and hospitality is a cornerstone of this culture. People have been helping whenever possible. Neighbors eat dinner "together" by gathering on the roofs of their buildings at certain times to eat. Roofs have also been a way for people to join together in prayer since all mosques are closed. People are donating clothes, food, and empty buildings to those in need. Even my school set up a fund for families that have lost work due to this pandemic. Teachers donated what they could spare, and the school matched our donations. Then, our teachers identified families in their neighborhoods that were in need. So far we have raised 44,800 moroccan dirham which is around $4,000 USD. This may not seem like much but it is a HUGE amount. Many families can survive on a measly 1,000 dirham ($100 USD) per month. This money has been distributed to 27 families in our communities so far, with several more families on the list for the next few days. I am beyond humbled by the people I work with and their willingness and desire to help our community during this time.
COVID-19 has changed all of our lives. There has been a lot of negativity, but I am so glad to have found little rays of sunshine hiding in the corners of this life-altering event. I will continue to teach. I will continue to grow. And through everything I will hold on to the fact that this will end, and we will be a stronger, closer, and more caring community because of it.
---
For more comprehensive information regarding your TEFL options during COVID-19, please read Coronavirus FAQs: TEFL & Teaching English Abroad or Online - What Are My Options?
Watching a video more your style? It's OK, we've got you covered! Check out our video addressing the issue below:
Miranda is originally from Kansas City, Missouri. After graduating with a Bachelor's Degree in International Business, she held many jobs and traveled to several countries. After six months working as an Au Pair in Toulouse, France, Miranda headed home to work in the corporate world. All too soon, her love of travel and exploration could not be ignored so she left behind her management position to earn her TEFL Certification through ITA. At completion, Miranda boarded a plane to Morocco where she has been teaching ESL for the last nine months.
Want to Learn More About Teaching English Abroad & Online?
Request a free brochure or call 773-634-9900 to speak with an expert advisor about all aspects of TEFL certification and teaching English abroad or online, including the hiring process, salaries, visas, TEFL class options, job placement assistance and more.