teach english online
Country Hopping While Teaching English Online - Alumni Q&A with Isabel Baez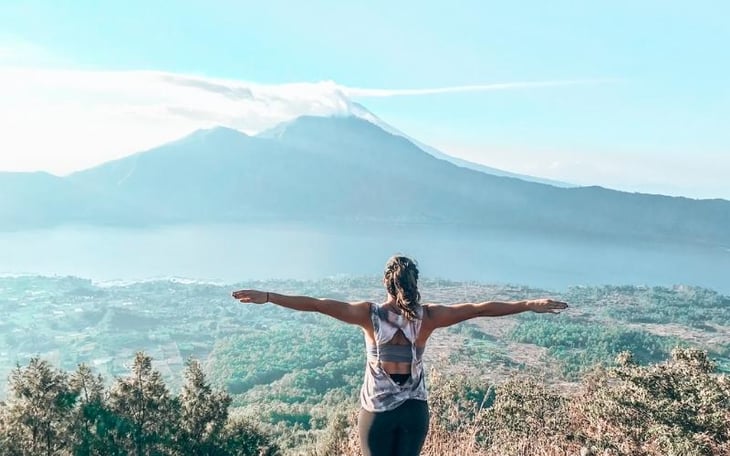 What is your citizenship?
United States
What city and state are you from?
Tampa, FL, USA
How old are you?
28
What is your education level and background?
Bachelor's Degree.
Have you traveled abroad in the past?
Some international travel with family and friends.
Where did you travel to?
Before moving abroad, I visited Singapore, Indonesia, Spain, Italy, Mexico, and Portugal.
What sparked your interest in going to teach English abroad?
Escaping the 9-5 and four walls everyday. I have always had a passion for helping, coaching, and teaching young minds. I did some teaching state-side before I realized I wanted more. I wanted to be able to touch the lives of kids in other countries where English is not their first language.
What were some of your concerns before teaching abroad?
Being an American. Not all countries love foreigners and at the time before I met my boyfriend I was a single white/hispanic female traveling alone. I found myself wondering if I would make friends easily. I am introverted and love "me time" to recharge. I wasn't so sure how that would work out being in a foreign country all alone. I also found myself wondering how easy it would be to speak another language. Would I dive right into the culture and my surroundings or would I need to take extra classes?
What did your friends and family think about you moving and teaching abroad?
Some thought I was out of my mind! Others thought it would be the best experience of my life. Most were concerned with me traveling all alone. The world can seem like a small place when you grow up in a small town. Almost every person asked the basic questions. Why Bali? How will you communicate with us back home? How will you drive? What will you do once your are there? It's not safe. How will you save money on a teacher's salary while traveling?
TEFL CLASS INFORMATION
Why did you decide to get TEFL certified and choose International TEFL Academy?
I decided to get TEFL certified because I wanted to be able to travel abroad while teaching. Getting certified allowed me to travel the world while doing what I love, teaching. I actually ended up switching to International TEFL Academy after putting a $1,000 downpayment on a different school in Spain. Why? Well the answer is simple; after speaking with my advisor (Doug) I knew it was the right choice. I was given the opportunity to do the course online while working my full-time job. During that time I was laid off and my advisor was right there to help me and offer some suggestions (online teaching). Best decision I have ever made.
Which TEFL Certification course did you take?
I took the online TEFL course.
How did you like the course?
The course was extremely helpful. There were a lot of videos throughout the units. For me this was a huge plus. My professor laid everything out that was required and the platform was easy to navigate. If you had a question it was easy to get in contact with your professor. The tasks themselves can be difficult at first for those that have never taught before. But there are tools that are there to help you succeed. Whenever you are in doubt, ask!
How has your TEFL training helped you in your current teaching position?
My TEFL training set me up for success. Mainly, lesson planning. We all know that one teacher that dreads lesson planning. That's me! Until this course I was a bit scattered brained. The issue wasn't planning. I can plan for days on end. This course really outlined what a successful lesson plan should look like and how to execute. Most importantly, it showed me that it's ok not to follow exactly as it shows on paper. Some days will be chaotic and your kids will knock you off balance but there is always tomorrow. My TEFL training helped me with TPR. I didn't realize that a huge chunk of my online teaching skills would benefit from these three words. Game changer!
How long have you been abroad and how long do you plan to stay?
I began country hopping while teaching English online in 2018. I started in Canggu, Indonesia, but am currently in Lisbon, Portugal. I had planned to stay in Canggu for 6 months but was only there for 3. I change locations every 3 months.
Why did you decide to teach English online from this location?
To be honest this was rated the #1 spot for Digital Nomads and what better way to start my journey abroad then to be among other like minded individuals.
What school, company, or program are you working for?
I teach English online with VIPKID.
During which months does your school typically hire?
Year-round.
Did you secure this position in advance of arriving?
Yes.
How did you interview for this position?
I had a Skype/Phone interview.
What kind of Visa did you enter on?
Tourist.
Please explain the visa process that you went through.
When entering Bali you get 30 days on arrival with an American passport. You can purchase an additional 30 days upon arrival at the airport when you arrive. We went with this option.
What is the best way to apply?
Online. You'll need a Bachelor's Degree and a TEFL Certification.
Tell us about your English teaching job!
I work for an Online company, VIPKID. This is the one that I found to be the best out of all the online companies. It's flexible, better compensation, I AM MY OWN BOSS. I can make my own schedule within the given times that are available (8:30AM BJT- 9:30PM BJT). Vacation can be taken whenever you want but keep in mind that when you are not working your are not getting paid. :)
Pay Rate: $8.50 per 25 minute class (other teachers make more/some make less). The more experience you have, the better. The highest pay rate I believe is $10. You get a bonus each month $1 for every class finished on time and $1 if you teach more than 45 classes in a month. Here is a break down: I taught 111 classes last month. In bonuses alone, I got $111 for "Participation Incentives" and also $111 for "Finished Classes" in addition to the per-class pay rate.
The students I teach range from 4-12 years of age. It varies each class but I teach 1-1 classes, levels 2&3.
COUNTRY INFORMATION
Please explain the cultural aspects, public transportation, nightlife, social activities, food, expat community, dating scene, travel opportunities, etc...
We are currently in Lisbon. The culture here is rich and full of life. In the streets of Lisbon you will find many tourists down by the city center. Many people from all over the world are spellbound by the energy of the city. You have artists performing, vendors selling items, children playing in the parks. The city itself is surrounded by a lot of history. You find yourself stopping at every door or tile to take a picture. There is a mix of new and old. Public transportation is available, Uber, bus, metro, trolly, your own two feet. All are pretty easily accessible. I have had some of my top rated meals in this city compared to other cities in Europe. If you wander around the city you find many coffee shops with other like-minded expats. I am loud when I teach so I prefer to sing my ABC's in the comfort of my apartment where I can't disturb anyone else.
What are your monthly expenses?
These totals are for 2 people per month since I live with my boyfriend:
Rent: $1000 for two people Split $500
Phone: $30
Food: $300-450 (estimate) we workout and try to eat healthy meals (WE EAT A LOT)
How did you find somewhere to live?
I typically stay in an AirBnB for a week or two until I find a permanent place. This helps me get to know the area better and find the right fit. It isn't always perfect but its something I have played around with the last year. While staying in the AirBnB I will search Facebook groups for rental listings and contact the owners directly to see if they can offer a discount for longer term. I also have worked out deals with AirBnB hosts. Most of the time they say yes if you are staying for an extended period of time. I search for "superhosts" these seem to be a better fit for what I personally look for in a place. My boyfriend and I live together without roommates. We like our privacy and love to cook so we figured for now we will stick to our own place.
How would you describe your standard of living?
Comfortable.
In your opinion, how much does someone need to earn in order to live comfortably?
$1,500 USD per month.
ADVICE FOR PROSPECTIVE ENGLISH TEACHERS
What advice would you give someone planning or considering teaching abroad? Would you recommend teaching in your country?
Don't be afraid! It is scary, it is uncomfortable at first. BUT it is the most rewarding experience you will ever have. Plan for 6 months to a year. Save as much money as you can. I saved $6k before I left to get me started. I met my boyfriend right before I left and he took the leap with me. If there is one thing I can tell past Isabel it would be to let go of the fear. Everything ends up shaking out you just have to embrace the ride.
Isabel is 28-years-old and originally from Tampa, Florida. Isabel took ITA's 11-week Online TEFL Course and is now teaching English online and country hopping around the world and has lived in places like Indonesia and Portugal.
Want to Learn More About Teaching English Abroad & Online?
Request a free brochure or call 773-634-9900 to speak with an expert advisor about all aspects of TEFL certification and teaching English abroad or online, including the hiring process, salaries, visas, TEFL class options, job placement assistance and more.