Teach English in the World's Richest Country: Qatar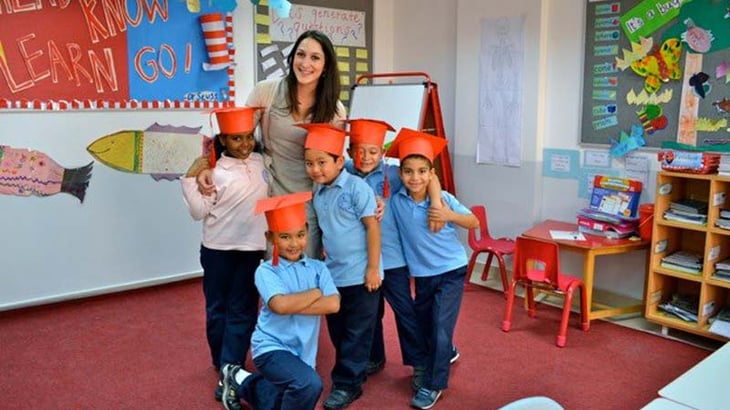 Destination 2022: Qatar
Want to teach English in the world's richest country?
According to the CIA World Factbook and Forbes, the Arabian nation of Qatar holds the title of the "richest country of the world," boasting an annual average per capita income of $103,768.60. For a little perspective, that's more than double the average annual per capita income in the United States!
Ruled by the House of Thani for nearly 150 years and independent since only 1971, this small nation with a population of less than 1 million is located in the Persian Gulf on a small peninsula surrounded by Saudi Arabia, Bahrain and the United Arab Emirates(U.A.E.). Rich in oil and natural gas, (Qatar possesses more than the 15% of the world's proven gas reserves!) the nation has rapidly emerged as a center of international commerce, culture, architecture and cutting edge technology at the crossroads of Asia and the Middle East. Qatar has even become an international capital of sport and will become the first Arab nation to host the World Cup in 2022!!! Wow!!
Not bad for a small country that several generations ago was little more than a collection of provincial ports and fishing villages.
Interested now? Well, if you are thinking about teaching English in the Middle East, Qatar offers a fantastic combination of world class shopping, traditional Arab culture, exquisite international cuisine, and a diverse expatriate community that speaks to Qatar's rising reputation as a center of international trade, diplomacy and trade.
Great Salaries & Fantastic Travel
Those teaching English in Qatar enjoy some of the highest salaries in the world for English teachers worldwide and often receive benefits like free airfare and housing. Many English teacher in Qatar make enough to save $1,000 - 2,000 a month or more after expenses. In addition, the nation's location makes it a great base for international travel to the Middle East, the Indian subcontinent, East Africa, and even Europe. English teaching jobs in Qatar are concentrated in the capital city of Doha, one of the most modern and fastest growing cities in the world.
World Class Architecture along Al Corniche in Doha
A stroll along this 4-mile thoroughfare overlooking the Indian Ocean provides stunning views of one of the world's most impressive skylines, where futuristic architecture is contrasted with a never-ending procession of dhows, traditional Arabian sailing vessels that recall Qatar's rich maritime heritage. This popular meeting point is a perfect occasion to enjoy traditional refreshments, including tea with milk, Arab coffee and ice-cold fruit juices!
The Beautiful Beaches & Fish Markets of Al Khor
To discover Qatar's maritime roots, head to the port of Al Khor. Once little more than a pearl fishing village, this emerging city retains its identity as regional port known for its beautiful white beaches, super fresh seafood, and surrounding mangroves and gardens offering world class bird watching. Al Khor provides a welcome respite from the fast-paced hustle and bustle of Doha and is home to a variety of elegant resorts that combine modern amenities and comforts with traditional architecture and charm. If you're looking to rough it a bit, camping is also an option.


Shopping in Souq Waqif
Shopping time!!! One of the most popular shopping districts in Doha, the historic markets of Souq Waqif capture the traditional charm of Arabia yet offer modern amenities and technology. From spices and perfumes to gold and textiles, Souq Waqif is the place to go for souvenirs and household goods to give your home a touch of Middle Eastern flair. When you need a break from shopping, enjoy a traditional cup of tea, Arabian snacks and even a water pipe in the one of the area's many inviting cafes.
Desert Camping along the Beach of Bir Zekreet
A dream destination for those who love camping, sleeping under the stars and desert safaris, Bir Zekreet offers a sublime combination of stunning beaches, sand dunes, and fungi-shaped limestone formations that have inspired the nickname, "The Land of the Desert Mushrooms"! You'll need a four-wheel drive to reach this desert paradise and may want to hire a guide as well.
Learn Arabic and Discover Traditional Arabian Culture
Qatar may be one of the most modern, high-tech countries on earth and Doha is certainly one of the most cosmopolitan cities anywhere, but the nation also offers opportunities for those teaching English in Qatar to delve into traditional Arabian culture and tradition. It also provides a perfect opportunity to learn Arabic, one of the world's most important and historic languages.
Witness the Future of Sport as Qatar Prepares to Host the World Cup 2022!
You will have to see it to believe it. One of the most fascinating aspects of living and teaching English in Qatar in the coming years is to observe this small, yet highly motivated nation as it prepares to host the world's largest and most popular sporting event - the FIFA World Cup in 2022.
Hosting an event of such magnitude presents major challenges even to the largest nations on earth like the U.S., Russia and Brazil, and as the first Arab nation, and the smallest country ever selected to host the World Cup, Qatar is anxious to show that it is up to the task. While the event is still eight years off, Qatar has embarked on an unprecedented $200 billion program of building new stadiums, hotels, restaurants, airports and other attractions and infrastructure to accommodate those who will visit the nation during the World Cup 2022 and beyond.
While virtually the entire nation will undergo a makeover to some degree, the show case landmarks will undoubtedly be the state-of-the-art stadiums. Groundbreaking technology will be employed to the protect the players and the fans from Qatar's 120 degree summer temperatures while at the same time incorporating innovative designs and comforts. Fans will arrive the Al Shamal Stadium by water taxi and enjoy spectacular views of the Arabian Gulf from the seashell-shaped Al Khor Stadium. Meanwhile, Al Rayyan Stadium will feature a 420,000 square-foot high definition digital media facade that will wrap around the perimeter of the stadium so that you can watch the football both inside the stadium and out. Wow! Take that, Jerry Jones!
Related Articles:
Founded in 2010, International TEFL Academy is a world leader in TEFL certification for teaching English abroad & teaching English online. ITA offers accredited TEFL certification courses online & in 20+ locations worldwide and has received multiple awards & widespread recognition as one of the best TEFL schools in the world. ITA provides all students and graduates with lifetime job search guidance. ITA has certified more than 40,000 English teachers and our graduates are currently teaching in 80 countries worldwide.
Want to Learn More About Teaching English Abroad & Online?
Request a free brochure or call 773-634-9900 to speak with an expert advisor about all aspects of TEFL certification and teaching English abroad or online, including the hiring process, salaries, visas, TEFL class options, job placement assistance and more.