Teach English in Prague, City of a Thousand Spires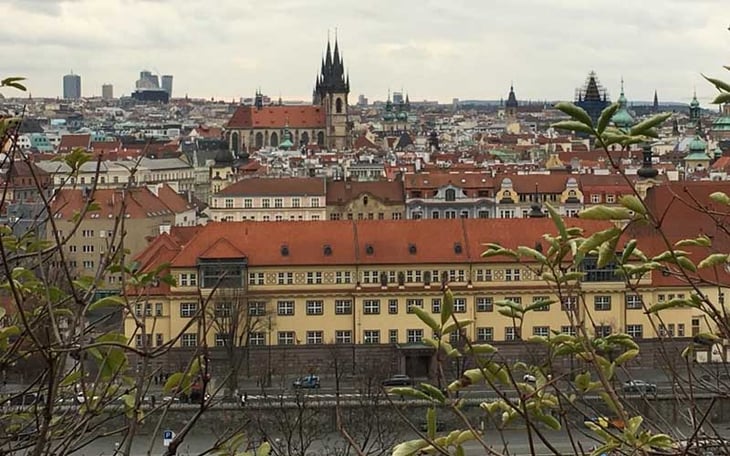 A city of both antique Bohemian and contemporary European charm, Prague - the capital of the Czech Republic begs a postcard from almost every angle. Throughout it's 1,100 year history, Prague has been a political, cultural and economic center of Europe. Unlike most major European cities, Prague managed to survive the devastation of both World Wars largely unscathed. Tourists today have the chance to observe the city much as it was centuries ago, when Kafka roamed the streets of New Town and kings lived in the formidable castle atop Petrin Hill. An ever-changing combination of old and new, Prague promises to impress first-time visitors and frequent travelers alike. One of the top job markets in the heart of Europe, teaching English in Prague provides a great opportunity to immerse yourself in the vibrant culture of one of the most beautiful cities in the world.
Prague is the embodiment of romance, from its red-roofed apartments and hidden gardens down to its cobblestoned streets. The city itself is surprisingly compact, split in two by the Vltava River. The name "Prague" is derived from an old Slavic root, praga, which means "ford", referring to the city's origin at the river's crossing point. Growing up from its medieval roots, most of the action is concentrated within a relatively small radius.
At the center of it all is the original Old Town, or "Staré Město". In the summer, open-air cafes fill the square, in the winter there is a Christmas market, and throughout the year tourists gather en masse to watch the infamous "Astrological Clock" chime hourly and reveal 12 medieval carved apostles. Follow the crowds out onto Charles Bridge, the link between Prague's two halves. Similar to the neighborhoods along the Seine River dividing Paris, Old and New Town comprise Prague's Right Bank while the "Mala Strana", or "Lesser Town", forms it's liberal Left Bank. The Charles Bridge, a destination in itself, is framed by Gothic gateways on either side, and lined with beautiful Baroque statues of saints. Mingling amongst the tourists is worth it here, if only for a superb view of Prague Castle. The largest ancient castle in the world, it spans the length of seven football fields.
With nearly 600 years of construction untouched by natural disaster or war, architecture buffs will surely appreciate the staggering variety of building styles present in Prague, often even on a single city block. In this city it's not uncommon to see a Cubist-style hotel wedged between two Art Nouveau-era restaurants. The oldest surviving structures in Prague date back to before the 10th century, though the area was first settled during Paleolithic times.
A visitor to also Prague encounters some of the richest and best-preserved examples of Jewish history on the continent. Josefov, the Jewish Quarter, contains the Jewish Museum, a complex consisting of four synagogues and the somber-but-spiritual Old Jewish Cemetery. A moving testimony to the appalling crimes perpetrated against the Jews throughout history, this museum holds artifacts from across the whole of Central Europe.
Home to numerous hole-in-the-wall pubs and breweries, Prague is rightfully known for its Pilsner and Budvar beers as well as it's potent absinthe. Street vendors sell delicious Czech-style hot dogs and mulled wine, while dessert typically consists of crepes or fruit dumplings. Tearooms, serving assorted teas from around the world, can also be found in abundance, oftentimes tucked inside an obscure courtyard.
The city's complex maze of hidden passageways and dark alleys can be a challenge for some, while being an exciting game for others. This casual jumble of attractions is part of Prague's unique appeal- without a detailed map, it can be difficult to retrace your own steps. Just outside the city are a range of accessible day-trip destinations. Buses and trains are relatively inexpensive throughout the Czech Republic, and are capable of reaching even the smallest towns and villages. A number of Europe's best cities are within reach of Prague. The world-famous spa town of Carlsbad is approximately two hours away, while the former Austro-Hungarian capital, Vienna, Austria, is a mere four.
John Bentley is Co-Founder & Senior Writer for International TEFL Academy (ITA), the world leader in TEFL certification for teaching English abroad. A graduate of Harvard University and the Medill School of Journalism at Northwestern, John is a recognized expert in the field of TEFL. His articles have appeared across the field's top websites, including GoAbroad.com, StudyAbroad.com, InterExchange, GoOverseas.com, Adventure Teaching, & many others. He has also spoken as an expert on Teaching English Abroad & TEFL certification at major conferences like MeetPlanGo and Lessons from Abroad (LFA) in Portland & San Diego.
Want to Learn More About Teaching English Abroad & Online?
Request a free brochure or call 773-634-9900 to speak with an expert advisor about all aspects of TEFL certification and teaching English abroad or online, including the hiring process, salaries, visas, TEFL class options, job placement assistance and more.