teach english online
A Review of ITA's 30-Hour Specialty Classes with Lisa Juettner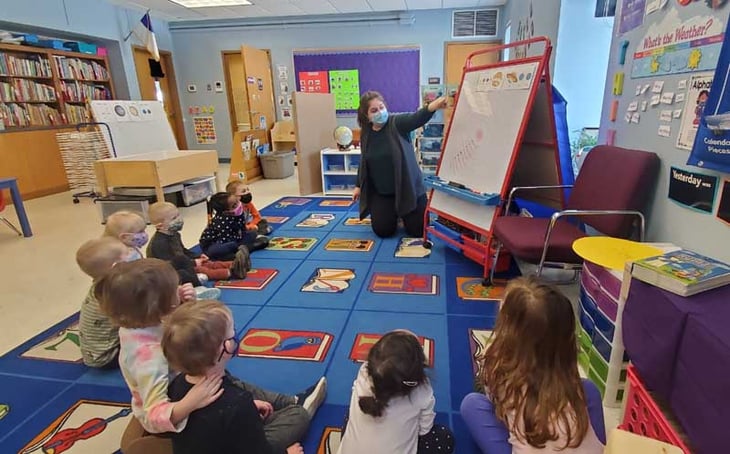 What is your citizenship and where are you from?
I'm a US citizen and I'm from Elk River, Minnesota, USA.
How old are you?
31.
What is your education level?
Bachelor's Degree.
Which ITA Specialty Class did you take?
I took the Teaching English Online, Teaching Business English, and Teaching English to Young Learners Specialty Classes from April 2020 to May 2020.
What motivated you to enroll in these Specialty Classes?
I wanted to know more about these topics, especially teaching online since I had only planned on teaching in person. I felt that these additional courses would supplement my knowledge from the main TEFL course and help boost my resume for the hiring process.
What did you enjoy most about your Specialty Classes?
I enjoyed learning more about teaching young learners, particularly the activity ideas where the teacher and students can be creative. I am a very creative person, and I have so many ideas to bring to the classroom.
What stood out to you in your Specialty Classes that set it apart from what you learned in your standard TEFL course?
The Teaching English Online course was especially helpful for me since I am not that great with technology. I learned how to make an intro video, which helped me when I had to make videos for two online teaching platforms later.
Did you take your Specialty Classes while taking your standard TEFL course or after?
I took my Specialty Classes after my TEFL course.
How many hours per week did you dedicate to your Specialty Classes?
I spent 15-20 hours per week studying for the class and working on the assignments, all while working full-time as an Office Manager during quarantine.
Did you buy the textbooks for your Specialty Classes?
Yes, I bought the textbooks for each course. I studied each page and highlighted key points throughout. The books were very useful during the classes and continue to be useful long after the classes have ended. I refer back to the books every so often to refresh my memory and review ideas that I have not already employed in the classroom.
Was the weekly peer participation in the course helpful?
Yes. I liked the community aspect of the courses, especially since I was home during quarantine. I got to read content from the other teachers, provide feedback, and learn from the feedback they provided me.
Where do you teach English online from?
I teach English online from my home in the USA.
What company do you teach online with?
I currently teach with Whales English and VIPKid. After completing my courses last year, I was an online tutor for two eight-year-olds from the Ukraine in May-June 2020.
Tell us about your online teaching job!
Since both companies are based on Beijing time, I wake up at 4 a.m. to teach from 5 a.m.-7 a.m. 6-7 days per week. I teach 8 hours each week with Whales English and plan to add more hours soon. Their schedule is fixed and the contract is for one year. I teach up to 6 hours per week for VIPKid on the days I am not working for Whales English. VIPKid's schedule is flexible and their contracts are in 6-month increments. There is no minimum amount of hours required for VIPKid, but Whales English requires a minimum of 8 hours each week.
Did you talk about your Specialty Class training during a job interview?
Yes, I listed the additional courses on my resume and mentioned them in my online interviews. Since I was hired by the first two companies I applied with, I'm assuming it helped my chances of getting hired. It certainly didn't hurt to have the additional courses on there!
Did your TEO Specialty Class help prepare you for online teaching?
Yes, definitely. I hadn't planned on teaching online, but then COVID hit at the end of my first week in Chicago where I was taking the 4-week TEFL course in person. I had to finish the rest of the course online at home, and I had my first experience teaching online through the practicum. When I lost my job in December 2020, I applied to and was hired by two online teaching companies. I started training on the platforms and taught my first class by the end of January. The more classes I teach, the more comfortable I get on the platforms. I am glad I took the Specialty Classes right after my main TEFL course because they helped develop the skills I need every day teaching online.
How has the knowledge from your Specialty Classes been incorporated into your online teaching?
The Specialty Classes laid the foundation for the additional training I received from the two online companies I work for now. The trainings make much more sense to me now, and it's almost like a review since I learned many of the topics last year. Now I use the online teaching techniques in classes every day, some of which can be used for in-person classes as well. Last month, I started volunteering in person at a pre-school where a friend of mine works as a teacher. I used scaffolding techniques in a space-themed lesson just last week! The kids loved the lesson I planned. That was an amazing feeling.
What do you enjoy most about teaching English online?
The kids. I didn't know how teaching online would go and was really nervous about it. I just decided to go for it and do my best. One of my trainers always says, "effort over outcome," because no lesson is going to go exactly as planned. The best part of teaching is when you see that the material you are teaching the students suddenly clicks and they smile because they understand it. The games and scaffolding techniques can be so fun, both for the students and the teacher.
Is there anything you wish you were made aware of prior to taking your Specialty Class?
I really struggled with figuring out how to film the intro video for the Teaching English Online class. My smart phone and computer were both old, so I ended up recording myself via Zoom by scheduling a meeting just for myself.
Would you recommend fellow ITA students/grads take the Specialty Classes?
Yes. I'm glad I took the additional courses. If you are looking to expand your knowledge on any of the topics, I highly recommend taking the courses. I was able to complete the courses while working full-time because I dedicated 15-20 hours total each week in the evenings and on weekends to the courses.
Last note: Since I am planning on teaching English in Germany and I have experience in business, I also took the Teaching Business English course to add it to my resume. Teaching Business English is popular in Germany, so I am hoping that will help me stand out among the other applicants. I am more confident in my ability to teach the material now than I was before taking the course.
Lisa Juettner is a 31-year-old from Elk River, Minnesota with a BA in Marketing Management from the University of St. Thomas. She was an Office Manager before deciding to change careers and pursue teaching. She plans to travel to Thailand and Germany to teach English abroad.
Want to Learn More About Teaching English Abroad & Online?
Request a free brochure or call 773-634-9900 to speak with an expert advisor about all aspects of TEFL certification and teaching English abroad or online, including the hiring process, salaries, visas, TEFL class options, job placement assistance and more.