Packing Tips for Teaching English in Phnom Penh, Cambodia
Written By: Kate John | Updated: June 28, 2022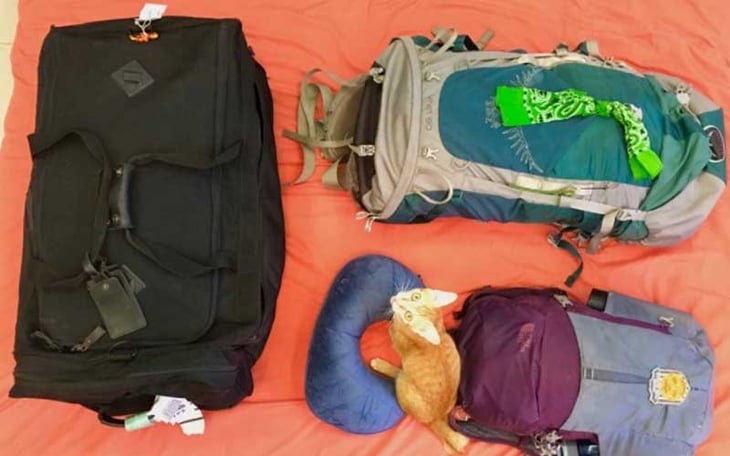 So, you've decided to move to teach English in Cambodia - Hooray! You'll be off to the "Kingdom of Wonder" in no time, but oh gosh! What should you bring? What should you wear? Well, everyone packs differently.
One thing that always puts me off are those Pinterest posts featuring the one carry-on suitcase that somehow magically contains 7,000 color-coordinated outfits for all types of weather. Come on, it's just not realistic. It can be hard to figure out what to bring when moving abroad if all you ever see when you look online is aimed towards backpackers. That being said, it is nice to have some guidance beforehand. I would have appreciated knowing what sorts of things would be daily staples, and which would gather dust on my shelves. However, before I get into the nitty-gritty, there are a few things to consider when packing for Phnom Penh.
Firstly, if you're going to teach anywhere you should always dress professionally. The expectation from many schools is slacks for men and something modest for women (photo for reference). Asian cultures value modesty in general, and Cambodia is no exception.
This brings me to the second consideration, Southeast Asia is hot! Phnom Penh's average daytime temperature is 87 degrees Fahrenheit but will reach 95 pretty frequently. This is going to make putting on that cotton skirt or blouse that much harder. So, while keeping it professional is culturally appropriate, it doesn't always feel weather appropriate. Feel free to load up on tank tops or shorts for weekends and nights out.
Lastly, Cambodia is a developing nation. They have a much cheaper market value on items than we do in the States. If you forget any clothing, they will certainly have it here, and for a much cheaper price. Many large clothing retailers have their factories in Cambodia, and it is pretty easy to get garments that could have gone to Gap, H&M, and the likes for fractions of their normal price. So, don't stress the packing too much.
No one knows what you need better than you. However, I can recommend bringing some things to save yourself hassle while here. While clothing is cheap and abundant, it can be difficult to find your size. I wear a medium in most American stores but here I am oftentimes an extra large. If you wear a size that is difficult to find in the states, it will be difficult to find it here too. When I was packing for Phnom Penh I made a choice I am very happy with, to bring a lot of shorts and work out clothes. They are made to collect sweat, which really helps here.
Another thing I am happy to have packed is pictures. My boyfriend and I wanted our new home to feel cozy, so we printed out a couple hundred regular sized photos at Walgreens and brought those to help spruce up the traditional expat apartment. It's cheap and easy but makes a world of difference! It works out great because they pack down so small and don't bend like posters, but still cover our walls with things that bring us joy. Since Cambodia is so different from anywhere in the US, it is nice to have a bit of home with us.
I'm all for bringing all the things you need, but there are some things I really would recommend leaving behind. Anything incredibly heavy is going to be a burden to you. Most airlines have some sort of baggage restriction. We brought all of our stuff in a large duffel bag, our backpacking bags, and a small carry-on backpack. Distribution was necessary because the airline we flew required no bag be over a certain weight. You may find yourself needing to cut some things out.
Things I definitely wouldn't bring include winter weather clothes. It's always hot here, and you will never wear it. Unless you're planning on doing a lot of traveling to places farther from the Equator than Phnom Penh, it will just be useless. The only jacket I would recommend is a rain layer, nothing with padding or warmth. I also recommend leaving behind anything that needs to be dried with a traditional dryer. Some of my clothing really loses its shape after a few wearings, and I need to toss it through a dry cycle to get it back to normal. That's all well and fine, but there are no dryers in Cambodia so it is out of the question. So, if you have clothes you need to dry, or that require special treatment, those are also best left behind. Don't worry it's hot enough here your clothes will dry in a matter of hours outside.
All-in-all, keep it simple. You can find most toiletries, clothes, food, and household items here. Just bring what you need to live your daily life. Whatever will make you feel comfortable and keep you from getting homesick. Also, look into forums if you have any questions that were not covered here. Someone has probably had the same query as you.
After volunteering for a year in the Denver Public School System, Kate felt like she needed a change. She and her boyfriend both got TEFL certified and set off on an adventure of a lifetime in the Kingdom of Wonder. Since then Kate has written extensively about her life teaching English in Cambodia as one of ITA's Writing & Content Ambassadors.
Want to Learn More About Teaching English Abroad & Online?
Request a free brochure or call 773-634-9900 to speak with an expert advisor about all aspects of TEFL certification and teaching English abroad or online, including the hiring process, salaries, visas, TEFL class options, job placement assistance and more.