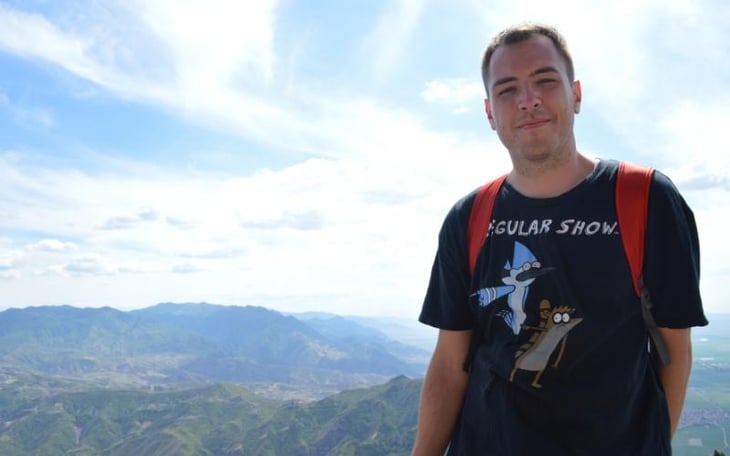 No Fear: From Ohio to Beijing
I had the ticket in my hand. Toledo to Beijing, 26 hours from door to door. I had never lived outside my hometown in my life, and now I was moving across the world to teach English in China.
When my brother dropped me off at the airport. When I passed security at the airport. When we took off. When I landed in Beijing and when I picked up my luggage. Throughout the entire journey, I only had two words on my mind: NO FEAR!
If you think you will have a bad time, you will ruin any opportunity put in front of you and that is no way to travel.
Like a dog on the street, I had this idea in my head that everyone around me could smell my fear. They could sense that moment when I was uncomfortable with the food in front of me. Bewildered by the new scenes and atmosphere, and trying to harken back to stereotypes I had seen on the news back home, I just tried to make sense of where I was.
I had committed to myself that I would not be a tourist, simply passing by, refusing to accept what was in front of me knowing I would be leaving eventually. This journey was going to last years and years, and I needed to commit with every inch of my body. No fear.


After being dropped off at the hotel, I was left alone for 18 hours to sleep and adjust. I wandered out into the streets of Beijing at 6:30 AM looking for breakfast. No one was on the street, I found out later Chinese business hours are pretty strictly 7:30 AM to 8:30 PM. A few stray dogs wandered about, and the pollution was so thick I felt like I was the newest resident in Silent Hill. I found a lone street vendor a few blocks away. I saw some people walking away with bags of something. No fear.
I held up my index finger; he smiled and pointed at a piece of bread and a hot dog. Being a vegetarian, I pointed at the hot dog and shook my head, he smiled again and said "OK!" He fried up some cabbage and egg on the bread and packed it into a plastic bag, I handed him my red 100 RMB note, and I had bought my first meal in China. It was damn good too. A pickled cabbage egg sandwich of sort. This would turn into my breakfast for months on end. So far I was doing pretty good.
When I started looking for an English teaching job at a school in Beijing, I was given directions around town with landmarks marking where to turn. I got lost on my first attempt, but a taxi got me where I needed to go. Every day got a little easier. My first demo class with a school didn't go the best, and my agency recruiters were a little disappointed, but I knew my only option was to dust myself off and keep going.
Over the next week, I knew I knew I had to go out on my own. I ate anything put in front of me and was never disappointed. The big step was going to be going out at night and taking the subway on my own. No fear. I made it to the Western District, met some people, spent some money, learned a lot, and was asleep in my hotel a few hours later. This was working. Silent Hill was becoming my own little play land as if I had found the code to lift the fog.
After a month I had found my job at an amazing kindergarten; my Dutch coworker became my best friend, and we would share beers on the street every night laughing at the world. I met an amazing girl that would become my wife over time, and now, after almost a year, I can honestly say moving to China is the best decision of my life.
The opportunities for new jobs are so abundant I have to turn them down on a weekly basis.
I like to think I have integrated quite well. I don't know the language, but I can order food, hold a conversation, and laugh with a taxi driver about the size of our bellies. I love playing Mahjong with my coworkers, but they're a little less excited to play once they find out how good I am at it. Life in China is rewarding and eye opening every single day. I owe it all to refusing to allow myself to be shocked or scared when I see deep fried squid on every corner street vendor's table, or being offended when I'm asked how much I earn.
If I were going to choose one aspect of life in China that I hope never to pick up, it is definitely the way people drive. I will be getting a Chinese driver's license soon, and I am terrified at what might happen. Chinese driving is absent of "right of way" laws. Cars careen from lane to lane with no blinkers; don't stop when exiting parking lots, and honking is code for "I will hit you". U-turns are legal almost everywhere, and it would seem brake pad manufacturers must be rolling in the dough the way people slam on them. I guess I'm allowed to have a fear of a bus turning right into me knowing that he will win that game of chicken.

Westerners who move about the world knowing in their head that their foreign experience is only a vacation, and that they will return to the land of Taco Bell, local sports teams, and traffic laws that make sense, will miss out on the true foreign experience. I hate vacations of one or two weeks when I know I want to live somewhere for months or years on end. Immersing myself in cultures is the most rewarding and awakening feeling I can find in this world. If over a billion Chinese people can make sense of this culture, I think I can survive. Never have fear.
After earning his TEFL certification from International TEFL Academy, Steven moved to China in 2014 to work as an ESL teacher. Since then he has begun traveling the world, got married, and has worked in universities, public schools, private tutoring, and every other teaching setting imaginable in China.
Want to Learn More About Teaching English Abroad?
Request a free brochure or call 773-634-9900 to speak with an expert advisor about all aspects of TEFL certification and teaching English abroad or online, including the hiring process, salaries, visas, TEFL class options, job placement assistance and more.