diversity abroad
Teaching English in Medellin, Colombia: Alumni Q&A with Tara Ashraf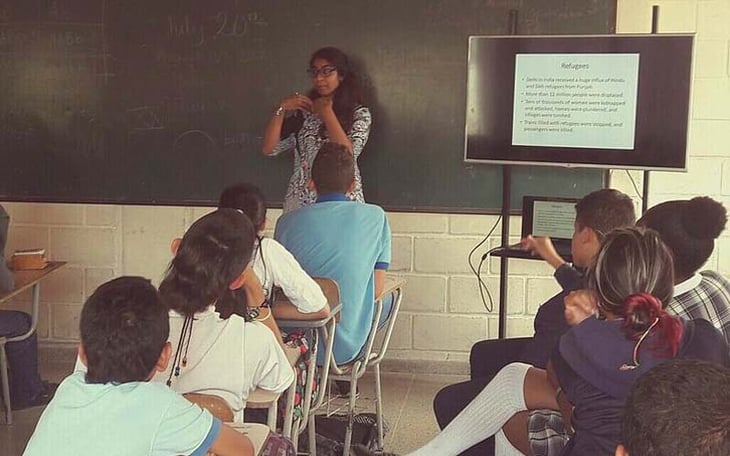 What is your citizenship?
United States
What city and state are you from?
Buffalo, New York, USA
How old are you?
30
What is your education level and background?
Master's Degree or Higher.
Have you traveled abroad in the past?
I studied abroad in Spain and have traveled to Turkey, Italy, England, Mexico, Morocco, and Pakistan.
What sparked your interest in going to teach English abroad?
From a very young age, I travelled with my family (I was six months old the first time I ever flew) and learning about other cultures and countries. I've always wanted to teach abroad, and thought it was "off-limits" to someone like me who wasn't a teacher by training. But until I took the TEFL course, I thought I couldn't do it!
What were some of your concerns before teaching English abroad?
I'd never been to South America, let alone lived there. I was extremely concerned about going to a new place and living somewhere far away from my family.
What did your friends and family think about you moving and teaching abroad?
At first, my family was very apprehensive, citing history as their reasons for feeling unsure about Colombia in particular...
Why did you decide to get TEFL certified and choose International TEFL Academy?
I chose the International TEFL Academy because I liked the blend of creating curricula and developing lesson plans and working hands-on. I loved that it was a recognized institution and sought to make good teachers not just instructors.
Which TEFL certification course did you take?
I took the Online TEFL class.
How did you like the course?
I loved the course and found it really helpful to pull from when it came to the classroom.
How has your TEFL training helped you in your current teaching position?
When I taught in Colombia, it felt like every day brought something new. Classes were cancelled or timings of classes were rearranged and shifted. Also, a HUGE difference was the level of students' interest/engagement. While I know I was a bit of a geek in school and loved to learn other languages, it was harder to engage these students in learning English when many of them were not ever going to leave the country. I pulled from my lesson plans to make the classes more interactive and required more collaboration between students, which certainly helped.
How long have you been in Colombia and how long do you plan to stay?
I taught English in Medellin, Colombia. I moved over in mid 2017 and stayed there for six months until the end of 2017.
Why did you decide to teach English in this location?
Close to home but in a country where I was already fluent in the native language.
What school, company, or program are you working for?
I went through a program - Institutional Educativa Monseñor Victor Wiedemann, Hearts for Change.
During which months does your school typically hire?
I'm not sure.
Did you secure this position in advance of arriving?
Yes.
How did you interview for this position?
I had a Skype/phone interview before arriving.
What kind of Visa did you enter on?
A tourist 6 month visa.
Please explain the visa process that you went through.
I Skype-interviewed with the organization, Hearts for Change, which had an agreement with my graduate school, American University. I spoke about my TEFL certification, previous tutoring experience, the TEFL course, and my interest and passion in working with children. I shared my preferred age and grade/class levels.
What are the qualifications that your school requires for teachers?
Bachelor's Degree, TEFL Certification, and you must be a Native English Speaker.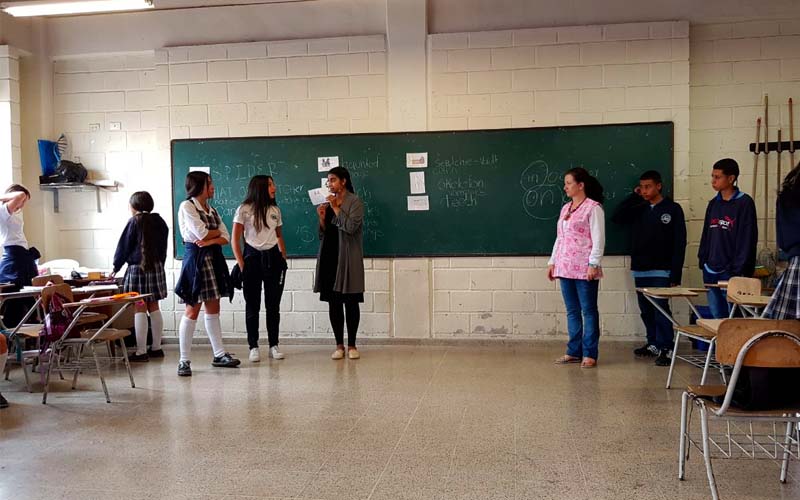 What is the best way to apply?
In-Person, here.
Tell us about your English teaching job!
I LOVED it! I taught grades 8-11 officially and even picked up additional shifts. My school was in a rural neighborhood, and the students all lived around the area. So I saw them quite often, and ended up providing some small lessons to people in the community.
Please explain the cultural aspects, public transportation, nightlife, social activities, food, expat community, dating scene, travel opportunities, etc...
HUGE ex-pat community but I mostly hung out with my students and other co-teachers outside of the classroom. I really appreciated the program I went down with pulled from a variety of countries and teaching levels; many of us had never done it before but had travelled so we ended up traveling around Colombia together as well. I lived around my school, and was able to get to know my students better that way. I loved being able to be there for them and their families, and to get to know the staff as well.
What are your monthly expenses?
Rent ~$100 USD; food was about ~50; bought a cell phone down there.
How did you find somewhere to live?
The program coordinators suggested I reach out to a co-teacher who taught at the school, who rented an apartment nearby. I ended up renting from him with my husband (I was a newlywed when I went down there!).
How would you describe your standard of living?
Lived in a spacious 2 bedroom and even had room for people to come stay, which we had a few visitors while we were down there.
In your opinion, how much does someone need to earn in order to live comfortably?
We ended up making enough money that we barely dipped into our savings!
What advice would you give someone planning or considering teaching abroad? Would you recommend teaching in your country?
I would highly recommend teaching in Colombia, I loved it so much. If people are to teach abroad, they should understand there are weird cultural factors (for instance, for Colombia, there are A LOT of national holidays) that play a role in your experience. But if you go along for the ride, and you take advantage of those times, you will be able to see a very different part of the world! I've already been back to visit this year and hope to every few years.
From a very young age, Tara has had the opportunity to travel with her family and learn about new cultures and countries. She had always wanted to teach abroad but thought it was off-limits to someone like herself who had no educational background in teaching. When she realized she could get TEFL certified and teach abroad, she was sold. She spent six months teaching English to grades 8-11 in Medellin, Colombia
Want to Learn More About Teaching English Abroad & Online?
Request a free brochure or call 773-634-9900 to speak with an expert advisor about all aspects of TEFL certification and teaching English abroad or online, including the hiring process, salaries, visas, TEFL class options, job placement assistance and more.