lgbtq+
LGBTQ&A: Teaching English Online from Mexico with Robert Blackie
What is your citizenship?
USA
Where are you from?
Springfield, Massachusetts
How old are you?
40
What is your education level and background?
Master's Degree
Have you traveled abroad in the past?
Yes, I've traveled to England, Holland, Luxembourg, Russia, Canada, Mexico, Colombia, Brazil, Uruguay, Argentina, Bahamas, and Nicaragua.
What sparked your interest in teaching English abroad?
I am a 40 year old former corporate professional with a background in Urban Planning and Economics. I have always had a passion for travel - as a kid I would visit my grandparents every summer and we would travel around the country in their travel trailer. Although I did very well working in corporate America, I never felt happy or satisfied and became deeply depressed. I realized that all the money and material possessions in the world wouldn't make me happy - I needed to get back out and travel the world. After walking past the ITA headquarters in Chicago on my way home from work every day, I attended an info session and have never looked back - I consider it the best decision of my life.
What city and country did you decide to teach English in?
I am currently teaching English in Mexico City, Mexico, but will be moving to Puerto Vallarta, Mexico in July.
What did your friends and family think about you moving and teaching abroad?
My mother was apprehensive. She couldn't understand why I would leave a well-paying job at a prestigious company to teach English, but she eventually came around and knows that you have to do what makes you happy. Life is too short to be miserable! My little sister was just excited to have a brother she could visit in a foreign country and brag to her friends about. My friends were unhappy. I have a close group of friends in Chicago and I think they were sad and disappointed that I had decided to leave the nest, so-to-speak. But you have to do what's best for YOU, and true friends will understand that. Distance doesn't have to entail losing your friendships, and I still maintain close ties with them to this day, after over two years of living abroad.
What were some of your concerns about teaching abroad?
The language barrier and ability to support myself comfortably while staying on top of my student loan debt. I was also worried about losing contact with my friend and being unable to make new ones while traveling abroad.
Were there any LGBTQ+ friendly resources you found helpful when deciding which country to move to?
Mexico City has a fantastic gay scene that I was familiar with already when I visited in 2010. I didn't use any specific resources other than Google really. Everything one needs to know can be easily researched online nowadays, in my opinion.
Please give your thoughts on dating abroad.
When I moved to Mexico City at the age of 38, I had never had a long-term serious relationship. I had always been too focused on my job or education. Once I arrived in Mexico City, I signed up for Tinder and already had Grindr, both of which are very popular in Latin America. I know that Grindr generally thought of as a hook-up app in the U.S., but in Latin America you can meet guys there for dating and romance as well as options in Latin America are more limited for the locals. I met my current boyfriend of nearly two years now on Grindr and we now travel together. I have been able to greatly improve my Spanish thanks to him and he has helped me to become a better person overall. I found it much easier than dating back at home because I think back home (in the big cities, at least) we take for granted the opportunities to meet other gay folk and almost suffer from inventory overload. Many seem afraid to commit to one person because they think they may lose out on meeting someone better, so we get stuck in this treadmill of endless meaningless dating. I found men here to be much more interested and assertive. They make a much greater effort to show their interest and they don't take you for granted. It's not everyday they get to go on a date with an American!
Was there anything about being a member of the LGBTQ+ community abroad that was unexpected?
You know, as a gay man who was quickly approaching the age of 40 when I moved to Mexico City, I felt as if the door on my dating life was closing rapidly. In Chicago, I felt that I was already past-prime and nobody wanted to waste time talking to someone my age. I wasn't young enough, or burly enough, or hairy enough, or skinny enough, or blonde enough, or rich enough - I mean, the list of expectations and requirements was just never-ending! So I arrived in Mexico City expecting the same. But it wasn't the case - when I walked through gay neighborhoods or went to gay bars, heads TURNED and guys of all ages and walks of life seemed actually INTERESTED. All the other things didn't seem to matter - they just wanted to get to know ME. And the relief of the burden of all that social baggage that I had for so long saddled on myself while living in Chicago was so incredibly unexpected and welcomed.
Did being a member of the LGBTQ+ community have an impact on where you decided to teach English?
Yes, absolutely. I chose Mexico City in large part because it is famous for being very gay-friendly (by Latin-American standards) and has lots of bars, clubs, and other gay venues where one can meet other LGBTQ+ people. It is not at all unusual seeing gay couples holding hands or even kissing openly in certain areas. And the LGBTQ+ population in Mexico City is HUGE. There is someone for everyone if you're willing to put in a modicum of effort.
Did you come out while living abroad? If so, how did your host country and experience influence that decision?
No.
Tell us about finding your community abroad.
In Mexico City, it's pretty easy since the gay community is so visible there. Ground Zero is the Zona Rosa, and just walking around that area you will see and meet many other LGBTQ+ people. Again, looking up bars, clubs, and bookstores online is a huge help and I would pour over reviews and photos to get an idea of the type of venues they were. I also found a gay health clinic which I went to to try and refill my PreP prescription, but at the time it hadn't yet been approved in Mexico.
What are some of your most memorable experiences teaching English abroad?
My mom came to visit me and my boyfriend in Mexico City and we took a hot air balloon ride over the pyramids of Teotihuacan in Mexico. It was incredible! I also attended my first gay wedding in Puerto Vallarta, Mexico which was also absolutely beautiful and memorable. I did get held up at knife-point while shopping in a market in Mexico City and lost my cell phone, but was able to fend him off and prevent him from getting my wallet. Whether or not that was a dumb decision is another matter.
Did you have any difficult conversations abroad about being a member of the LGBTQ+ community?
Not yet!
Did you find that locals had any stereotypes? Or did you have any stereotypes about the locals?
The locals definitely have a stereotype that I think permeates much of Latin America - that all gay men are effeminate and like to dress like women, wear makeup, etc. Even my boyfriend, who was raised in a very poor part of the city, held on to these beliefs until he met me and my gay friends from America (he has met most of them by this time). Of course, the LGBTQ+ community is extremely varied and diversified, and though we may take that knowledge for granted in the U.S., it's not as well understood in Latin America. Also, if you're older like me, be prepared to fend off the American sugar daddy stereotype, unless that's your intention.
Were there any cultural boundaries you found to be different than your home country? If so, please explain.
Marriage is taken much more seriously here. I remember on a date I make a passing joke about getting married, and my date was not at all pleased. I never made another joke about marriage again. Of course, the language barrier is extremely daunting. Unless you want to sequester yourself in a bubble of English-speaking expats, tourists, and other teachers, I highly recommend studying the language of your host country. Even a little goes a long way in meeting locals and enriching your experience traveling abroad. Lastly, things move slower here. I have had to greatly increase my level of patience while living in Latin America. Whether it's waiting to check out at a grocery store, going to a bank, or just buying street tacos, everything here moves much slower and concepts of time are much more malleable than in the U.S. Nobody and nothing is on-time and appointments and deadlines are more or less just conceptual ideas.
What are your thoughts on safety in your host country abroad, as a member of the LGBTQ+ community?
This will vary widely based on where you are, but in my experiences I have felt very safe. If I am with my boyfriend it is not uncommon for someone in a passing car to scream a gay expletive, but it doesn't phase me and I have never been physically threatened. Of course, I am ALWAYS vigilant of where I am and the people around me. I won't hold my boyfriend's hand if we are in an empty, less touristy area. Have spray on hand - I do when I need to walk alone in an unfamiliar area or at night) and you should be fine.
Have you participated in any Pride celebrations abroad?
Yes - I attended the Mexico City gay pride parade last year! It is a SEA of people - almost too chaotic for my liking. The boundary between the parade and the spectators is just theoretical - it really blurs completely at some places. The parade passes along the grand Paseo de la Reforma in the center of Mexico City and is full of energy, floats, and fun. It terminates at the Zocalo where there is a stage and concerts. If you're single, you won't be for long!
Have you had any weird or funny questions from locals?
Most with regards to the United States, not being a member of the LGBTQ+ community. I lived in a nice middle-income neighborhood outside of the tourist areas and I would always get questions about living in the United States and what it is I am doing in Mexico (and now, Colombia). People are genuinely curious and very kind and talkative. If they speak some English they will try very hard to use their English when speaking with you! With Covid-19, here in Colombia many people have been asking me about how it has been affecting the U.S. They ask me why I did not go back to the U.S. and I explain my reasoning to them. They also do NOT shy away from political discussions, so be prepared!
Do you have any advice for people planning to move abroad to teach English?
Don't feel the need to live in the thick of the gay scene. In Mexico City especially, there are high gay populations who live outside of Zona Rosa, and in neighborhoods that you wouldn't expect it. Public transportation is abundant and Ubers are cheap - save yourself a ton of money on rent and try to find a place to live in some of the more low-key, middle-income neighborhoods in the city. Chances are, people you meet in these neighborhoods will be genuinely interested in speaking to you as you very well may be the only foreigner in the neighborhood. Remember - Google is your best friend. Look up gay bars and read the reviews to get an idea of the scene on offer. Don't be afraid to use apps to meet people, but ALWAYS meet people in a busy public place like a cafe or bookstore. LEARN THE LANGUAGE! For roommates, you can use the website DaDaRoom. I found my gay first roommate on the site and it helped me transition to my new city.
Do you have anything else you'd like to share?
I recommend teaching English online as the income potential is far greater and you will be able to live without a roommate and very comfortably, if that is your preference. When I first moved to Mexico City, I rented an AirBnB for a couple months from a gay guy who had a room to rent in a nice area. Then I used DaDaRoom to find a more long-term gay roommate. Once I was established and had more income, I moved out on my own by renting long-term through AirBnB and continue to do so now. With the virus and collapse in demand for travel, you can bag some HUGE discounts in airfares and lodging. I got a gorgeous 2-bedroom in Puerto Vallarta, a 10 minute walk from the beach and boardwalk, for half price! Plus with AirBnB you have some protection in case something goes wrong, and you don't need to put down a security deposit or co-signer (called a Fiador which is often needed, especially in Mexico but also in Colombia). If you have the money, attend a Spanish school while you are abroad. It is a great way to meet new people and learn the language at the same time!
---
Additional LGBTQ+ Resources:
ITA LGBTQ+ Video Library - Interviews and Instagram Takeovers from the LGBTQ+ alumni sharing their experiences of teaching English abroad.
ITA LGBTQ+ Blog Hub - Read stories, Q&A's, and more from LGBTQ+ alumni all around the world.
Having grown up in Massachusetts, Robert moved to Chicago in 2011 to pursue his Masters of Urban Planning and Policy from UIC, gradating in 2013. Upon graduation, Robert co-founded a gym supplement company in Curitiba, Brazil with a couple of friends that same year. In 2014, Robert returned to Chicago to work full-time, eventually landing a lucrative position with the prestigious real estate development firm. However, he never forgot about his true passion, and his desire to see the world only grew stronger with each passing day. Coincidentally, Robert lived down the street from ITA's Chicago headquarters and he would frequently pass their offices in his daily commute. One day, Robert noticed a sign on the ITA office's window for an open house and decided to attend. It was a decision that would change his life, and almost one year to the day of attending the open house, Robert received his TEFL certification and has never looked back. Robert has taught English online from Mexico City, Mexico; Medellin, Colombia; and will be teaching in Puerto Vallarta, Mexico starting in July, 2020.
Want to Learn More About Teaching English Abroad & Online?
Request a free brochure or call 773-634-9900 to speak with an expert advisor about all aspects of TEFL certification and teaching English abroad or online, including the hiring process, salaries, visas, TEFL class options, job placement assistance and more.
"I was also blown away by positive reviews from alumni. And the job assistance has proven invaluable. I love that ITA offers so many resources, manuals, and webinars that make the job search process a lot less scary."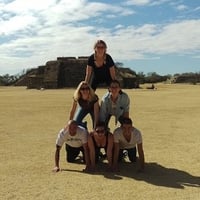 - Caroline Cassard
Teaches English in Mexico