lgbtq+
LGBTQ&A: Teaching English in Ho Chi Minh City, Vietnam with Travis Bruce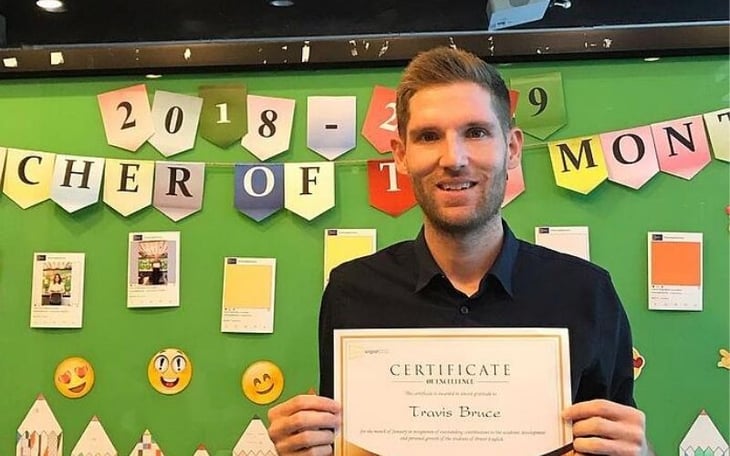 What is your citizenship?
USA
Where are you from?
Santa Clarita, California, USA
How old are you?
32
What is your education level and background?
Bachelor's Degree
Have you traveled abroad in the past?
Yes, I'd been to India, Taiwan, Vietnam, Cambodia, Thailand, Sri Lanka, and the Maldives.
What sparked your interest in teaching English abroad?
At home I felt like I was stuck in a rut. I was unhappy with my work-life balance and I desperately needed a change. After doing some research, I learned that by teaching English in Vietnam I'd be able to work much less than I did back home while still being able to save quite a bit of money.
What city and country did you decide to teach English in?
I am teaching English in Ho Chi Minh City, Vietnam.
What did your friends and family think about you moving and teaching abroad?
All of my friends and family were extremely supportive of my decision (with the exception of my sister). My sister had some reservations and wanted to remind me that I still had a life back home in the States. I think her biggest fear was that I was trying to "run away from my problems" or that something bad could happen. I understood her reservations and appreciated her honesty but I reassured her that this was the right choice for me.
What were some of your concerns about teaching abroad?
Probably my biggest concern was not seeing my family for an extended period of time. I left a few days after my Grandma's 97th birthday and my biggest fear was that I wouldn't see her again. Fortunately, I booked my Summer trip back home and am looking forward to spending a lot of time with her.
What resources did you find helpful when deciding where to go?
I found ITA's resources to be quite helpful. Additionally, I was pleasantly surprised to see a handful of Facebook groups for expats living and working in Vietnam.
Please give your thoughts on dating abroad.
I'm open to dating abroad although I haven't entered a serious relationship yet.
Was there anything about being a member of the LGBTQ+ community abroad that was unexpected?
Not necessarily. I guess I still get confused when locals ask me about my thoughts on women when, at least in my opinion, I'm not very "straight-acting."
Did being a member of the LGBTQ+ community have an impact on where you decided to teach English?
Of course! I would never move to a country where homosexuality was illegal. I was lucky in the fact that the country I wanted to live in, Vietnam, does not punish homosexuality.
Did you come out while living abroad? If so, how did your host country and experience influence that decision?
I came out 13 years before moving abroad!
Tell us about finding your community abroad.
In Vietnam there's a huge expat community so it's quite easy to find LGBTQ individuals (whether on Facebook or by going to establishments that are frequented by expats). For me, the hardest part is finding locals who are LGBTQ. While there are gay bars/establishments here, it seems that many locals stay closeted due to societal/familial pressure.
What were some of your most memorable experiences teaching English abroad?
I absolutely love seeing the smiles on my students' faces every single day. No matter how stressed I may be and no matter how badly I think my lesson is failing, I try to think of my students' and their genuine optimism.
Did you have any difficult conversations abroad?
Probably the most difficult conversation I had was with two nurses at a hospital while I was getting a health check for my work permit. They had asked me what medication I was on and I said "PrEP" which is a preventative HIV medication. As soon as they heard the word "HIV" they immediately started speaking to each other in Vietnamese while giving me glances. One nurse then interrogated me by asking "Why are you on this? Who prescribed this to you? Are you high risk?" It made me feel very uncomfortable. I tried to answer their questions as calmly as possible but it did unnerve me. Fortunately, it didn't interfere with my health check or my work permit (which I was afraid it would).
Another difficult conversation I had was to a woman who I believe wanted to become romantically involved with me. Over text I told her that I was gay but she pretty much dismissed it. I think that was either because she thought I was joking or because there was a Google translation error and I used the wrong Vietnamese word. In the end, I kind of decided to avoid her since I didn't want to have this conversation again.
Did you find that locals had any stereotypes? Or did you have any stereotypes about the locals?
I thought that Vietnamese locals would absolutely hate Americans because of the Vietnam War. However, I was pleasantly surprised to find nothing but kindness and adoration from every local that I met.
Were there any cultural boundaries you found to be different than your home country? If so, please explain.
There are a some different different cultural boundaries here but none of them bother me too much. For example, I find many locals to be quite forward and honest.
What are your thoughts on safety in your host country abroad, as a member of the LGBTQ+ community?
I feel completely safe and comfortable here in Ho Chi Minh City. I'm not sure about living in some of the smaller cities up north but I haven't heard of any bad stories from any of my friends.
Have you participated in any Pride celebrations abroad?
I haven't participated in any pride celebrations abroad but I would love to if they popped up!
Have you had any funny or weird questions from the locals?
I get a lot of funny questions about Donald Trump after I introduce myself as an American. I usually just laugh and indulge whatever random questions I get.
Do you have any advice for people planning to move abroad to teach English?
There are so many resources here in Vietnam for expats who want to live and work here. There are many Facebook groups so it's extremely easy to reach out and obtain information beforehand. You can live an extremely comfortable life here but I would also say that it is quite easy to get distracted. Because alcohol is so cheap and accessible here, it is very easy for someone to get swept away in a nonstop party lifestyle.
Therefore, I think it's crucial for someone to really think about what their goals are before coming here and to stay focused. That said, Vietnam is a wonderful country and I think more people should come and see everything that it has to offer.

Want to watch more videos and read more articles from LGBTQ+ alumni that are teaching English abroad? Check out our LGBTQ+ Resource Hub!
Travis is a 32 year old that hails from Santa Clarita, California. While he has a Bachelor's Degree in Art, he's spent the past 12 years working in Special Education. Working with individuals with disabilities and developmental delays has been an incredible experience for Travis and has prepared him for this new chapter of his life; teaching English abroad.
Want to Learn More About Teaching English Abroad & Online?
Request a free brochure or call 773-634-9900 to speak with an expert advisor about all aspects of TEFL certification and teaching English abroad or online, including the hiring process, salaries, visas, TEFL class options, job placement assistance and more.