Is Teaching English Abroad Right for You?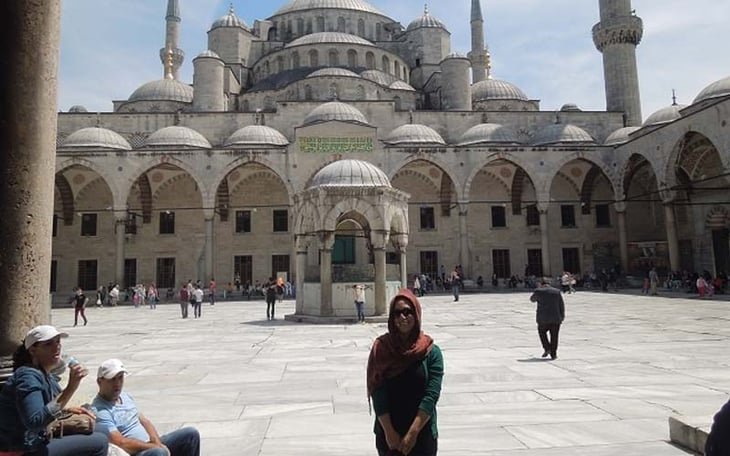 As a two-time study abroad alumni, I was always on the lookout for ways to get back to Europe. I searched high and low for any opportunity that would take me abroad - Peace Corps, WWOOFing, couchsurfing, etc. But after all the time, money, and studying, I couldn't justify moving back to Europe without a professional reason. So I decided to go to graduate school in Europe and spent another four years abroad. After graduation, I worked for a while. But once my work contract ended, again, I was left with the task of figuring out how I could stay in Europe...but I came up short and returned to the US.
Deciding to Teach Abroad
After my first study abroad experience, I had heard of people teaching English abroad, but never considered it as a real option because "It wasn't professional enough", or "I didn't know how to teach", or "I didn't want to work illegally", or "I was afraid of what my friends and family would say". These were all legitimate fears, but sadly I let them prevent me from taking the leap and teaching abroad. It wasn't until nearly a decade later that my husband and I were considering our future and decided to take a chance. So we enrolled in International TEFL Academy's Online TEFL class and began learning about teaching English abroad—both the academic and practical sides of things.
For starters, we had no idea that you could have a job lined up and actually sign a contract before leaving home. We also didn't know that it would easy for a couple to find jobs teaching adults. And we certainly did not expect the entire process of getting certified to our first day of teaching to take less than five months. Just after Halloween, we decided to enroll in a course and were in Turkey by Valentine's Day.
What is teaching English abroad like?
Your experience teaching English abroad will depend on the country where you teach, the school where you work, and the levels and ages of your students. In many cases, you will work in a typical classroom. In others, you may give private lessons or teach online. Research your options to learn more!
During our year in Turkey, we not only traveled and learned about the local people and culture, but we had opportunities to develop professionally. We attended conferences, networked with people from around the world and even managed to save up enough money to pay off a significant portion of our debt. It was a wonderful experience that proved all my previous fears false.
Life After Teaching Abroad
Today, I write this article from our apartment... in Sweden! That's right. Who knew that teaching abroad in Turkey would lead us here? But it did! During our time in Turkey, my husband and I reevaluated our plans, reviewed our financial situation and decided to move to Sweden to pursue more of our goals.
Is Teaching Abroad Right for You?
Teaching English in Turkey fit in well with our professional and personal goals, but is teaching English right for you? Here are a few questions to answer before enrolling in a course:
Why do I want to teach abroad? - Do you want to work full-time to gain professional experience or are you trying to work part-time to supplement other work? Would having a stable income from teaching abroad allow you the freedom to start your own business? Knowing the answer to the 'why' of teaching abroad will help you identify which work contracts will make you truly happy. For example, we worked nights and weekends but worked fewer hours than our counterparts who worked Monday - Friday for more than 40hrs a week. For us, this was ideal considering our lifestyle and purpose of teaching abroad.

Will teaching abroad add to my life or will it help me run away from something? Sometimes you are bored at home and feeling uninspired. There's nothing like a short (or long) trip overseas. But making an intentional move to a country to teach English is different than just going so that you don't have to be where you currently live. So think about your 'why' but also what you gain from teaching abroad.

Hint: If you're running away from something, it will be there when you get back.

How can I maximize my experience abroad? - Will you try to learn the local language? Will you improve your public speaking skills? Think about how this experience will enhance your resume. You don't want to waste an incredible opportunity to improve yourself personally and professionally.

Do I want to teach adults or children? - This was a deciding factor for us as my professional training is in adult education. I personally enjoy getting to know students and engaging in conversation that offers an opportunity for the students to practice, but also allows me the chance to learn something too. Some people love working with kids and are energized by their curiosity. You'll be spending a lot of time with your students, so think carefully about it. And if you're not sure, use your practicum (required by all TEFL certification courses) to experience life inside a classroom of adults and a classroom of children.

How much money do I need to earn to live comfortably? - Depending on your lifestyle and the local cost of living, you may need more (or like in our case, less) money abroad than you currently need to live comfortably. Keep this in mind before accepting any job.

Pro Tip: Consider taking on private students to supplement your income. Although we didn't need to do this, the money was too good not to. So we saved that money and now are more financially secure in (very, very) expensive Sweden.
The happiest teachers I've met abroad are the ones who have considered all aspects of teaching abroad and how it will impact their life, both while abroad and afterward. So before making the investment of getting certified, consider these questions. Then, enroll, get hired and start changing lives.
Pouneh Eftekhari, an American turned Europhile, has traveled to over 25 countries and lived in six (USA, France, Spain, Denmark, Turkey & Sweden). She is obsessed with food and travel and enjoys exploring new places near and far. Today, Pouneh and her husband live in Sweden where her husband studies and she runs her online business, Longing to Travel.
Want to Learn More About Teaching English Abroad & Online?
Request a free brochure or call 773-634-9900 to speak with an expert advisor about all aspects of TEFL certification and teaching English abroad or online, including the hiring process, salaries, visas, TEFL class options, job placement assistance and more.