tefl certification
International TEFL Academy Wins Recognition as Best TEFL Certification School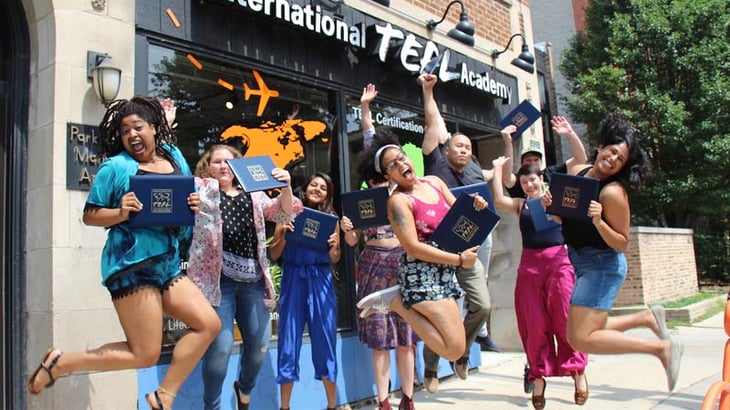 International TEFL Academy (ITA) staff, students and alumni are proud that ITA has received multiple awards & widespread recognition as one of the best TEFL schools in the world for offering TEFL certification for teaching English abroad & teaching English online. In January, 2021, ITA was recognized for the third year running as the "Top Rated Organization for TEFL Certification" & "Top Online Program for TEFL Certification" by GoAbroad.com.
Since the beginning of 2019, ITA has been named the #1 TEFL school by GoAbroad.com and GoOverseas.com across a range of awards categories for TEFL certification, including #1 Best Online TEFL Course and #1 Best In-person TEFL Class (ITA Chicago TEFL Class) by GoAbroad.com. ITA's Online TEFL Class also received recognition as the top-ranked Online TEFL class in several categories of the GoOverseas.com Community Choice Awards for TEFL Certification as well.

About GoAbroad.com & GoOverseas.com
Both GoAbroad.com & GoOverseas.com have been cited by sources such as USAToday and the New York Times as two of the most credible online portals for information and listings for all types of "meaningful travel," with each providing thousands of listings and articles for opportunities for teaching abroad, TEFL certification, study abroad, volunteering and other work abroad programs. These include thousands of user-generated reviews for International TEFL Academy and many other schools and programs. See International TEFL Academy reviews on GoAbroad.com & ITA reviews on GoOverseas.com.
GoAbroad.com top Rankings for International TEFL Academy
International TEFL Academy Founder & President Bruce Jones accepting the GoAbroad People's Choice Award for Best International Education Organization from GoAbroad.com Director Megan Lee.
GoOverseas.com Rankings for International TEFL Academy [Community Choice Awards]
#1 Top TEFL Course Providers: Instruction

#1 Top TEFL Course Providers: Job Assistance

#3 Top TEFL Course Providers: Support

#3 Top TEFL Course Providers: Academic Rigor

About International TEFL Academy
Since 2010, International TEFL Academy has certified and assisted 25,000 people from all backgrounds to gain employment teaching English abroad in 80 countries worldwide. ITA offers accredited TEFL certification classes online & in 25 locations worldwide (Teaching English as a Foreign Language). Students receive comprehensive pre-enrollment guidance & access to thousands of articles, videos, alumni stories & other resources to learn about job markets & the process of moving abroad. All graduates receive lifetime job search guidance, including personalized assistance from ITA's Student Affairs experts, in addition to access to alumni networks of more than 25,000 graduates across the globe.
Additional Awards & Recognition for International TEFL Academy in 2018 - 2019
These rankings come on the heels of International TEFL Academy winning the 2018 People's Choice Award for Best International Education Organization at the GoAbroad Awards for Innovation in Meaningful Travel reception. The award was announced in Philadelphia, PA on May 31, 2018 at the NAFSA International Conference and Expo, the world's largest conference for international education with more than 10,000 attendees from more than 100 countries.
ITA also was a Finalist for Innovation in Alumni Engagement Award - In addition to winning the People's Choice Award, International TEFL Academy was one of five organizations nominated for the "Innovation in Alumni Engagement" award.
The International TEFL Academy ranked in the INC. 5000 as one of the fastest growing small companies in the U.S.!
International TEFL Academy made the shortlist of

Lead5050's Women in Education Awards 2018 in 2 categories: ITA was nominated for the Enlightened Employer Award & our Director of Studies, Betsy Devine, was nominated for Academic Director of the Year.
In past years, ITA has received nominations for GoAbroad awards in Alumni Engagement (2017), Philanthropy (2016) and the STA Start the Adventure Award (2016), an honor for an individual most influential in international education, ITA Founder and President, Bruce Jones, was the nominee.
John Bentley is Co-Founder & Senior Writer for International TEFL Academy (ITA), the world leader in TEFL certification for teaching English abroad. A graduate of Harvard University and the Medill School of Journalism at Northwestern, John is a recognized expert in the field of TEFL. His articles have appeared across the field's top websites, including GoAbroad.com, StudyAbroad.com, InterExchange, GoOverseas.com, Adventure Teaching, & many others. He has also spoken as an expert on Teaching English Abroad & TEFL certification at major conferences like MeetPlanGo and Lessons from Abroad (LFA) in Portland & San Diego.
Want to Learn More About Teaching English Abroad & Online?
Request a free brochure or call 773-634-9900 to speak with an expert advisor about all aspects of TEFL certification and teaching English abroad or online, including the hiring process, salaries, visas, TEFL class options, job placement assistance and more.