teach english online
How to Setup a Classroom for Teaching English Online While Traveling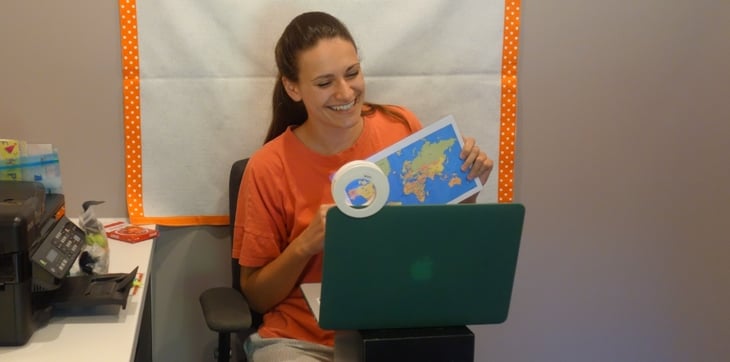 When I was a classroom teacher in the States, I spent way too much time (and about 30% of my annual salary) at IKEA. I loved organizing my classroom because I had so much stuff. So many scissors, glue sticks, resources, books, and binders upon binders full of worksheets - all mine for the using. It was amazing. And I had IKEA to help me contain it all.
Now that I'm teaching English online while traveling full-time, I've had to cut back. No more closets, color coordinated and perfectly organized (that is, until a darling student tries to go find a pack of notecards for me and in thirty seconds everything is in the wrong place and covered in a fine layer of glitter). No more filing cabinets where I obsessively store each and every worksheet I've ever assigned in case I need it again. No more skeletons and globes and plate tectonic modules and solar system dioramas (I was a science teacher. Pluto is a planet). Now, I'm the teacher version of a minimalist. And it's actually quite nice.
For me, having an easy classroom set up that isn't bulky is extremely important. Have any of you ever traveled in Europe during winter? All those winter coats are bulky and I already look ridiculous with my college hoodie strapped to my backpack with one enormous rubber band I found in the German dollar store. So here are the components of my lightweight, efficient classroom.
My Background
I use a 3'4" by 2'6" piece of felt (see I even measured it for you!) that I decorated with ribbon and "VIPKID" written in felt letters. It folds down so nice and small that I hardly notice it in my bag. It is light enough to be hung with command strips on pretty much any surface. You can decorate it as much or as little depending on your style, or you could just leave it blank. Either way, I recommend having something of about this size or bigger in case you end up in place without a clean wall for a background. Remember to bring a ton of command strips because you will have to re-hang your background every time you switch locations.
Tech Requirements
My poor old laptop. When I first started this job, my bulky laptop was on it's last leg. Guys, it was a 2009 Macbook. I'm amazed it held on as long as it did. That bad boy took me all the way through college and three years of teaching middle school. It had seen some stuff. And it was not prepared for me to be live-streaming with China for like, six hours on end. So after I got this job and realized this was, in fact, going to be a thing and a profitable one, I invested in a newer model. I'm not saying you have to go out and buy a new laptop (please don't unless you have to), but if yours is old and struggles with things like Skype, being used for long periods of time, or turning on, it might have a hard time supporting online teaching.
Depending on your company, you might need to use headphones with a special look. With VIPKID, I've been able to use my Apple headphones with the microphone and they work just fine. When I first started, I bought a pair of over-the-head headphones with a microphone attachment that looked really cool (well, cool for a telemarketer) but they just didn't work as well as my Apple ones. The Apple ones are smaller and easier to take on the road without worrying about them breaking.
WiFi - depending on where you are, you might want to invest in a phone with hotspot capabilities in case there is a problem with the WiFi. So far, this hasn't been a problem for me because I've been house sitting and the internet in a home is typically more reliable than the internet in a hotel or hostel. If you are somewhere where the internet might be questionable, having a backup source of WiFi is a smart idea.
Rechargeable selfie ring light - So much of language acquisition, especially at its early stages, is seeing how letters and sounds are formed. Students need to be able to see your mouth moving to mimic what you do. They also want to see your pretty face, you stunner you! Having good lighting makes your setup look more professional so invest in a selfie ring light or other portable light source so you aren't lugging hotel lamps across the room like I had to do in Scotland.
3D Props and Teaching Aides
Again for space reasons, I don't have a ton of 3D props. My favorites are a set of finger puppets I got from IKEA (I couldn't fully turn my back on IKEA now could I?) and two sets of flash cards - one with the alphabet and one with wild animals. I grabbed mine from Target in the back to school dollar bins they have every August, but you can find similar ones on Amazon for cheap.
[Read More: 6 Essential Supplies & Classroom Props for Teaching English Online]
Laminated 2D Props
Fire up your laminator and head to Google images! Print out the following pictures on nice cardstock and you will have the (very flat) world at your fingertips. Since they are paper and flat, all these props will slide neatly into a ziploc bag. Perfect for travel. Please note, some of these props are VIPKID specific (for example, there is an upper level with a unit about Peru, hence the Peru flag). The topics your company covers might be different and require some different print outs.
2D shapes (circle, half circle, quarter circle, triangles, rectangles, squares, trapezoids)
Flags for China, America, Peru, Japan, India, Brazil, and any other country that your lessons reference
Map of China
Map of the USA
Map of the world
Car, plane, bus, subway, train
Amusement park rides (ferris wheel, roller coaster, swing ride)
Small Dry Erase Board
Four dry erase markers
A Laminated "Year at a glance" calendar with all 12 months
A laminated weekly calendar that clearly says the 7 days of the week
A Laminated 2 sided hand-drawn reward system (side one: draw teeth on a happy face, side two: add fish to a fishbowl)
Fruits, vegetables, popular foods
Football, soccer ball, tennis racket, other sporting images
Pictures of American holidays and Chinese holidays
Birthday pictures, birthday cake, birthday candles
An old boarding pass and train ticket (with my last name crossed out, for teaching about travel)
An envelope with a letter inside (great for teaching about mail, the post office, sending letters to friends, communication, etc)
Some different coins and a $1 bill (For teaching about money)
A picture of my family and my pets
Examples of Me Teaching in Different Places
So what does all this look like in practice? Here's an example of my set up in a house sitting location around Europe! It isn't always glamorous, but rest assured it's worth it!
Nicola is an Atlanta native who loves teaching, budget travel, and guacamole. She holds BA's in Anthropology and Sociology from the University of Georgia and a Masters in Education from Francis Marion University. Nicola has spent the last couple of years teaching English online while house-sitting her way through Europe, Asia, and Latin America. When she's not busy teaching or drinking coffee in cozy cafes, Nicola enjoys writing about her travels on her blog.
Want to Learn More About Teaching English Abroad & Online?
Request a free brochure or call 773-634-9900 to speak with an expert advisor about all aspects of TEFL certification and teaching English abroad or online, including the hiring process, salaries, visas, TEFL class options, job placement assistance and more.