teach english online
How to House Sit Your Way Around Europe While Teaching English Online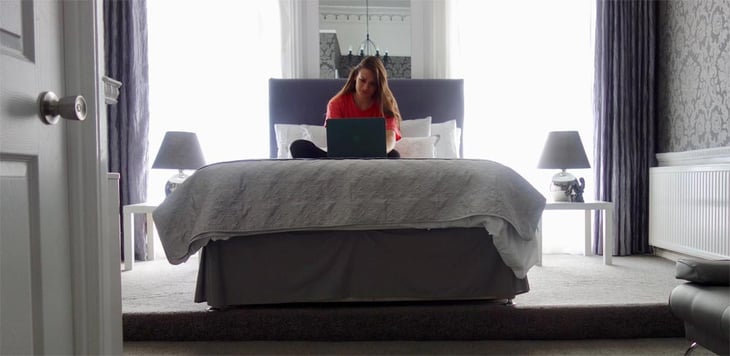 So you're interested in house sitting your way around the world while teaching English online? I don't blame you. This lifestyle is flipping awesome. As a house sitter, you get to live in someone else's house while they are away. You take care of their home and pets in exchange for free accommodation. As an online ESL teacher, this means you can work from anywhere in Europe or the world. Combining the two allows you to teach while living cheaply anywhere in the world!
Here's how to get started.
Step 1: Get a Job Teaching English Online
It is extremely important to get your online teaching job lined up before you start house sitting. House sits come and go each day. There are thousands of listings at any given time. Your online teaching job is how you will fund this whole adventure so that should be the first thing you address. Even though your accommodation is free with house sitting, you will still have other travel expenses. For this reason, I strongly recommend that you start teaching English online before you move abroad and house sit.
Hot Tip! The vast majority of online teaching employers require a TEFL certification. Here is a full listing of accredited TEFL certification classes offered by International TEFL Academy.
I work for VIPKid and I have had a great experience. Their platform is user-friendly, the company is well-organized, and they always pay on time. The VIPKid application process is a long and complicated road, but well worth it at the end. [VIPKid is just one of hundreds of online schools available - view ITA's teach English online Employer Index].
A quick breakdown:
a) Apply Online:
The VIPKid online application is very straight forward. On their website, you will answer questions about yourself like highest level of education, experience teaching, and native language. Make sure to include any experience you have working with children, even if it isn't in a traditional classroom setting. Tutoring, parenting, baby sitting, and camp counseling are also valid experience. Also, mention that you are TEFL certified, as this will give you an edge. Your online application will be reviewed very fast - sometimes within the hour. If you meet the initial criteria, you will be able to sign up for an interview.
b) Interview:
In the interview stage you have two choices; you can either teach a shortened lesson to an interviewer who is pretending to be a 5 year old student, or you can record yourself teaching the shortened lesson and submit the video. The option you choose depends on your preferences - there is no right or wrong choice. You will be given the materials to prepare for your interview in advance. Interviewers like to see that you are familiar with the company and practices, so review all the material they give you. Consider wearing an orange shirt (VIPKid's colors) and hanging a kid-friendly academic background behind you during the interview. You also want to make sure that you have a working headset with microphone and webcam.
c) Mock Class:
If you do well in the interview, you will be invited to sign up for your first mock class. In this class, you will teach a full lesson to a mentor teacher somewhere in America. Your mentor will stop you periodically and provide feedback. The mock class is extremely helpful since teaching online is quite different from teaching in the classroom. Like with the interview, you will be given several hours worth of preparation materials. Review all of them. Watch the demonstration videos they give you so you know what they are looking for. Familiarize yourself with the rubric. If you do very well in the mock class, you will be accepted as a teacher and sign your contract. If you have some areas to improve, you will complete a second mock class with a different mentor teacher to practice some more. This is very common - I had to do two mock classes before I was accepted and I'm thankful because the feedback was so valuable!
d) Contract:
Ahh, yes, the paperwork phase! After successfully completing one or two mock classes, you will upload documentation of your degree, TEFL certificate, teaching certificate (if you have it) and any other necessary information. You will also create a profile that parents will see when they select a teacher for their child. You want your profile to be professional but also kid-friendly so parents choose you!
e) Start Teaching:
Even though the hiring process takes time, it is all worth it when you see your first eager student. Open up your schedule as much as you can at the beginning to gain experience and followers. Having regular students makes it easier to get booked fast.
I've enjoyed my time with VIPKid, but I understand that it might not be everyone's cup of tea. If VIPKid isn't the right fit for you, check out the ITA Alumni Online English Teacher Discussion Group on Facebook. You can find recommendations for other online English companies and tips for getting hired.
Step 2: Become a House Sitter
As a house sitter, you live in someone's house for free while they are away. In exchange for free accommodation, you are responsible for taking care of their pets and ensuring everything in the house is kept in good shape. House sitting is a great option for travelers who are also teaching English online. Let's be honest, hostel internet sucks. Hotels might have slightly better connections, but living in a hotel long term can be expensive.
Enter house sitting. The internet in a person's home is often far superior to anything you would get in a hotel or hostel. In addition to good internet for working, you get your own space, you have a kitchen to cook in, and you get to spend time with cuddly furry friends! Since house sits are available all over the world, you might end up seeing places you never considered before. You also get to see them through the lens of a local.
Here is how to get started house sitting:
a) Make an Account on a House Sitting Website:
There are several big sites out there to check out and each one has an annual fee. This fee is to ensure that everyone on the site is serious about house sitting. All the sites will allow you to browse for free, so take a look at the sits offered on each site before signing up.
Here are some of the big names:
→ TrustedHousesitters (This is the one I use)
→ Nomador
→ Mindmyhouse
→ HouseCarers
→ HouseSitMatch
Location-specific sites:
→ Aussie House Sitters
→ House Sitters UK
→ House Sit Mexico
→ House Sitters America
You can also check out Facebook for house sitting opportunities. Groups like House Sitting Cafe often have listings go up and there are destination-specific pages where homeowners can find sitters.
b) Make a Profile:
Include pictures of you with animals and be specific about your pet experience. Give details about yourself so homeowners know more about the person that will be living in their house.
c) Apply Liberally:
If you see a listing that looks awesome, chances are other people thought it looked awesome too. When you see a sit you like, apply immediately. It can be competitive, so I always recommend casting a wide net and applying to lots of different house sits. Use the filter function on the house sitting websites to sort by location, date, or type of pet.
d) Visa Reminder:
Remember to check the visa requirements for each country you apply in. You will most likely be traveling on a tourist visa, so make sure you can stay in the country for the full duration of the house sit. If you have to apply for your visa before traveling, make sure you have enough time to get your visa before your sit starts.
e) Skype With the Homeowner:
When you hear back from a home-owner, offer to Skype before committing to the sit. Skype is a great way to meet your host, see the home, see the pets, and ask questions before you fly across the world.
Always ask about the pet routines, house rules, and internet speed. Have the homeowner run an Internet speed test with www.speedtest.net to make sure their internet is fast enough to teach online [Read more - Basic Requirements to Teach English Online]. Also, make sure to ask when your host wants you to arrive and when they will be returning. Often, the homeowner wants you to arrive the day before so they can show you how everything in the house works and help you get situated.
d) Commit to the Sit:
After you have spoken on Skype and ironed out the details, it's time to book your flight! If you were communicating with more than one homeowner, make sure you let them know that you have committed to another job. Your adventure is about to begin!
Step 3: Continue House Sitting
House sitting operates on trust. If you are a trustworthy and responsible house sitter, you will have no problems finding additional sits. Many sites use a rating system where your host can review you as a sitter for other potential homeowners to see (similar to that of Airbnb). Follow these steps to ensure you earn the highest rating possible.


a) Follow Their Pet Care Instructions Carefully:
The pets should be your top priority. Caring for pets should be a huge perk of the job, not a burden. When the homeowner gets home, they will expect to see their pet happy, healthy, and comfortable.
b) Communicate Regularly:
Establish the best way to communicate with your host and update them often. Send pictures of the pets, the garden, the sun set, anything you can to indicate that all is well at their home. If something comes up or you have a question, ask them directly.
c) Leave the Home in Excellent Condition:
The day before the homeowner returns, I spend the whole day cleaning. Take care of the yard, wash all sheets and towels, leave the kitchen spotless - clean to impress!
d) If You Had a Good Time, Leave Your Host a Good Review!
Other house sitters can see these reviews so it is a nice gesture to leave one.
If you make a good impression, there is a good chance your host will reach out to you again in the future. Finding a good house sitter can be time consuming. If you do a good job, you could be invited back next time they travel.
With a little planning and a lot of flexibility, anyone can teach English online while house sitting their way around the world!
Nicola is an Atlanta native who loves teaching, budget travel, and guacamole. She holds BA's in Anthropology and Sociology from the University of Georgia and a Masters in Education from Francis Marion University. Nicola has spent the last couple of years teaching English online while house-sitting her way through Europe, Asia, and Latin America. When she's not busy teaching or drinking coffee in cozy cafes, Nicola enjoys writing about her travels on her blog.
Want to Learn More About Teaching English Abroad & Online?
Request a free brochure or call 773-634-9900 to speak with an expert advisor about all aspects of TEFL certification and teaching English abroad or online, including the hiring process, salaries, visas, TEFL class options, job placement assistance and more.