diversity abroad
How I Went From Teaching English in Vietnam to Trading Stocks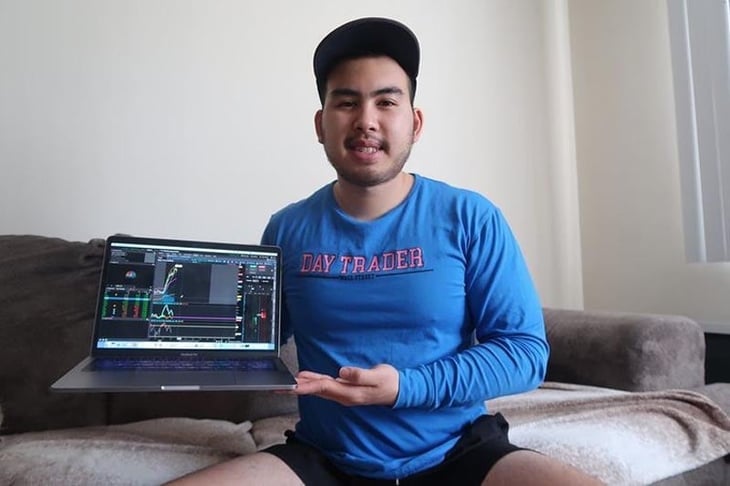 In 2016 I had a 24-hour layover in Japan. When I landed in Tokyo, I wasted no time and took the high-speed train down to Shibuya to visit the world's busiest and wildest intersection. I began my night people-watching in a Starbucks that overlooked the crossing. As I was watching, I saw a group of tourists driving in a real-life Mario Kart. From there, I found myself in Yakitori Alley, a hidden and crowded alley, filled with mini bars and restaurants. As the night came to a close, I asked a local to take a photo of me for Snapchat. In the caption I wrote, "I will live here one day."
In December 2017, I received my TEFL certificate from the International TEFL Academy. By the end of December, everything was set in stone. I had accepted a one-year contract to teach English at an Eikaiwa in Kashima, Japan, a rural city to the East of the country. My experience in Japan was short-lived as I ended up in a state of depression. I soon learned that living in the countryside of Japan was not a good fit for me.
I won't go into much detail as it's a bit personal, but to make things worse, my company threatened to sue me after I had told them I wanted to prematurely terminate my teaching contract. After chatting with other teachers, they informed me it was just a scare tactic and let me just tell you, I almost decided to stay because of it!
I departed Japan in May of 2018. The flight I boarded wasn't bound for America though, it was bound for Vietnam. As the plane took off, I was filled with guilt, remorse, and regret. I thought to myself, "I can't believe I gave up on my students, I let my coworkers down… I should've just stuck it out."
As my plane approached the terminal, I eventually stopped overthinking. Outside the airport doors were a bunch of families eagerly awaiting the arrival of their loved ones. As I walked out, I saw my aunties, uncles, and hundreds of other people. I was greeted with smiles, hugs, kisses, and a traditional Vietnamese feast when I arrived home. Soon the negativity faded, I knew Vietnam was the place of second chances. A place where I can reinvent myself and strive to be better and do better than in the past. With my family behind me, I knew this time would been different.
I chose Vietnam because it was my parent's birth country - because I wanted to get a better understanding of my roots. Not only that, I chose it because I wanted to make up for lost time with my family. By the way, my Vietnamese was terrible at the time so it gave me a good opportunity to brush up on the language. Overall Vietnam was an ideal place for me to live and here are a few reasons why:
Living in Vietnam is pretty inexpensive on an expat salary. During my stay, I worked at an academic academy and also tutored English on the side. My salary was anywhere from $1,800 to as high as $2,200 USD per month. After all my expenses were paid, I was able to save roughly $1,000/month. With this amount, I was able to send money home to pay off my student loans.


Vietnam is home to some of the most breathtaking and extraordinary landscapes I've ever seen. Some of the well-known destinations are Ha Long Bay, Golden Hand Bridge in Da Nang, and Sapa. If you lived in Ho Chi Minh City and wanted to visit these well-known destinations, you could easily do so without breaking the bank. It's simply a great place to unwind and relax.


The people in Vietnam are some of the most hospitable people in the world. Have a flat tire on the road? Strangers will run up to you to help you. Do you have trouble understanding documents in Vietnamese? No problem… a local will run off to find their friend who speaks English to help you translate. Overall, their acts of kindness and generosity had made my stay in Vietnam pleasant.
Anyways, I could go on and on about this. If you want to learn more about Vietnam, you can find me on Instagram here.
It has been a year and three months since I left Vietnam. With the COVID-19 pandemic starting in March, there was a lot of doom and gloom in the air. In order to cope with it, I started to re-watch all of my travel vlogs. Watching these videos helped me relive some of the better days in my life while also giving me a sense of hope for better days to come.
Oh man, there are just so many wholesome moments in those videos. There's a video of our family welcoming my baby cousin, Ivan, into the world. There's a clip of me and my friends storming the streets of Vietnam in celebration of the country's soccer championship. Then there are clips of my students… a bunch of high-spirited and focused individuals who were determined to learn English and have fun doing it.
Before the whole world went into lockdown, I was getting ready to move to New York City for the start of a new life and a career in television production. Just when I was about to pack my bags and leave Chicago, the pandemic hit. New York City was the epicenter of COVID-19 and with rising cases, I knew it was too dangerous to go there. My dream of living and working there was dashed.
As the weeks went by, jobs were hard to come by. Many companies weren't hiring at the time and the future seemed very grim. During that time, I was teaching English online and that was my primary source of income. I couldn't imagine being jobless at that moment and was very lucky at the time (thank god for technology!).
That was when a bell rang in my head. I asked myself, "Other than teaching English online, what other skills can I learn during this pandemic that can give me time freedom, location freedom, and a modest income?" That was when I thought about learning how to trade in the stock market.
Day trading is simply buying a stock at a lower price and selling it at a higher price for profit. Traders take advantage of price fluctuations throughout the day to make a profit. A lot of people would say trading is just gambling but that's only true if you approach it blindly.
As a trader, you have to spend lots of time doing technical analysis (TA). TA is just the process of analyzing stock data by examining the price action, patterns, and trends of a stock. By performing TA, you can predict the direction of the price, where people tend to buy and sell the stock, and where you will enter and exit the trade. For example, if you buy $1,000 worth of Apple stock and you see it has the potential to go up 5% and it does, you just made $50. Now not every day in the stock market is a green day. Losses are inevitable but the goal by the end of the week is to end in the green.
I started to learn how to trade in March of 2020. It was not until the middle of July when I became a consistent trader. Today, I am proud to say that I have grown $12,000 into a little over $20,000. During my time as a trader, I've realized my passion isn't in TV productions anymore… it's trading. I've realized the 9-5 gig isn't for me. Trading has allowed me to spend more time with my family, more time doing the things that excite me – the things that make me live. I can't say that would've been the case if I had worked a 9-5 job in TV production.
So what's in store for me in 2021? Well… this year I want to turn trading into a business. I'm currently in the process of creating an online course about it and by the end of this year, I plan to either move back to Vietnam or to Europe. After moving back from Vietnam in 2019, all the things I had planned to do with my life didn't happen. If there was no pandemic, I probably would've been telling you a story about my life in New York City (I'm glad that's not the case). All of this was unexpected but it has led me to a good place in my life. Life really does work in mysterious ways…
If you have any questions about teaching English in Vietnam or life after returning home, you can reach out to Kenny on Instagram here: @nguyening.without.borders.


Kenny Nguyen is from Chicago, Illinois. After a short stint in Japan in 2018, Kenny decided to move to Vietnam and teach English in his parent's birth country. After moving back to Chicago in 2019, Kenny is now trading stocks and hopes to open an online business one day.
Want to Learn More About Teaching English Abroad & Online?
Request a free brochure or call 773-634-9900 to speak with an expert advisor about all aspects of TEFL certification and teaching English abroad or online, including the hiring process, salaries, visas, TEFL class options, job placement assistance and more.