How Coming Home During COVID-19 Made Me Appreciate My Time Abroad More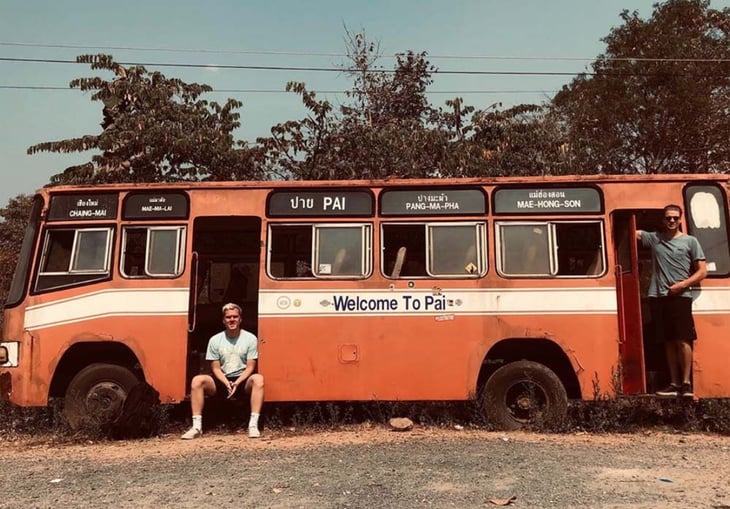 "I'm nervous that I'm going to get back home and this is all going to feel like a dream" is the exact quote that I said to my friend Devin right before I left Chiang Mai, Thailand. It has been just over two months of being back home, so I feel that I have had enough time to conceptualize the good, the bad, and the ugly of coming back to America during a global pandemic.
It was in late February when I made the decision to drop all of my plans and come back to the States. Everything in Chiang Mai was still fairly normal, though there was a noticeable lack of tourists walking the streets. The school that I had been teaching science at had announced that they were closing down early. At this point, I had set plans to travel from Thailand to Taiwan, Australia, Vietnam and Europe between March and May, so it was either I risk traveling, or just go home. The news seemed to be getting worse each day and numerous countries had started to discuss shutting down their boarders, so I quickly bought my ticket and headed back to Chicago.
I usually pride myself on handling situations that require transition, but this was a new type of stress. Having to pack up my apartment, say goodbye to my friends, my students, and the city that I felt comfortable enough to call my home, all within three days was one of the hardest things that I've had to do. It wasn't until I was at Chiang Mai Airport when I finally had the chance to sit down and process what was actually happening. I was aware that I was overwhelmed with emotions, but I knew that I had to come up with a game plan to keep me from going crazy on the 24-hour journey home. One of my childhood friends who lived in Mozambique gave me some really good advice and that was to manage my expectations. So, I tried my best to do that. I knew it was going to be a rough entrance back to a Chicago winter. I knew reverse culture shock was going to be an obstacle. I knew that I was coming home to a different version of America and that everyone would be transitioning into a new normal. I knew that I needed to be patient with myself, my loved ones, and society as a whole.
Amidst all the chaos, I was determined to come back with my head held high. I needed to use the life lessons that I gained from teaching abroad to better myself and those around me. That was the whole purpose of living in a different country to begin with, so I couldn't let quarantine distract me from that. With a ton of trial and error, I realized that I needed to get back in the habit of journaling. Writing is an act of self-reflection that helps us to better understand who we are in the moment and where want to go in the future. Instead of focusing on the negative, I just spent my time and energy writing about all of the brilliant experiences that I had. I reflected on my first few weeks of finding a job, apartment, and city to live in. I wrote about how fortunate I was to have friends and family come visit me from America. I talked about my students and how much they benefited my overall experience. I talked about the food, community and the beauty of Thai culture. I wrote about my motor bike. I talked about the weekend trips I'd take with my Chiang Mai friends. But most importantly, I wrote about the relationships, old and new, that helped me get this far. All of these things and more have massively contributed to who I am today, and I couldn't be more thankful for that. Coming back home during COVID-19 made me realize how fragile time is and how important it is to take advantage of opportunities that challenge us.
Quitting my cushy tech job to teach abroad was the biggest risk that I have taken thus far but was the best decision that I've ever made. It helped build the confidence to achieve things that I didn't think were in the cards for me. Living in a foreign place teaches you about the world, yourself, and humanity. It can be lonely, scary, and defeating. But that's the point, right? Why do something big if it's not going to push yourself out of your comfort zone?
Writing this article serves as a bit of a time stamp for me. It took me a little while to write because I wasn't sure where to begin, however, my goal of this is to encourage like-minded people to follow their dreams and continue to move forward.
Patrick Dowd is 26 from Chicago, IL with a BS in Communications & Marketing from Southern Illinois University. He worked in the technology industry for 4 years before teaching English abroad in Thailand. He just committed to the University of Southern California to earn a Master's Degree in Education. His other passions include Mexican food, his longboard, and anything about Chicago. He completed his TEFL with the ITA Online class.
Want to Learn More About Teaching English Abroad & Online?
Request a free brochure or call 773-634-9900 to speak with an expert advisor about all aspects of TEFL certification and teaching English abroad or online, including the hiring process, salaries, visas, TEFL class options, job placement assistance and more.