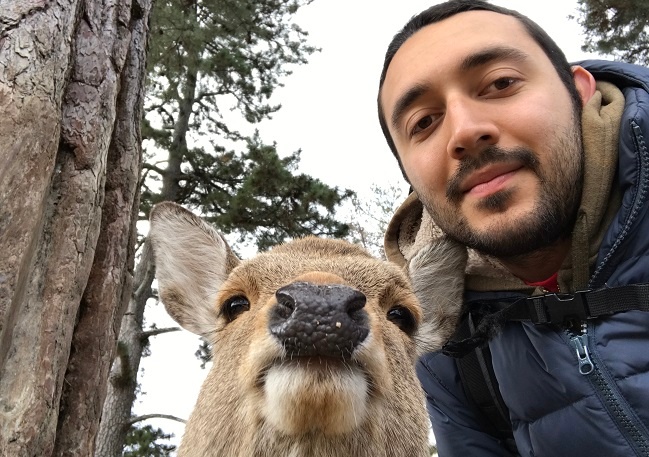 My Journey to the Land of the Rising Sun
By: Matthew Barge
Last year I had the life changing experience of teaching English in Turkey. After my contract in Turkey was coming to an end, I had to think about what I was going to do for the following year. I didn't see myself moving back to the United States and finding a typical job back in my home country. There is so much more to see and experience in the world and I want to see and experience as much as I can while I can. So I thought about what other parts of the world I would like to see. I then thought about teaching English in Japan.
I have always wanted to travel to Japan because I think Japan has a very fascinating culture and history. However Japan is far away and to be honest, I feel like I probably would have been too lazy to make a trip all the way to Japan just for pleasure. So that meant working and living in Japan would be a great way to get me to go. I had already gotten TEFL certified with the International TEFL Academy by taking their online TEFL class, so I was able to reach out to the Student Affairs office at ITA in order to get started with my plan to find a job in Japan. I looked at a number of companies in Japan to work with and eventually decided to work with Peppy Kids Club. A couple months after I was offered the job with Peppy Kids Club, I was on my way to Japan. I first landed in Nagoya, Japan.
Immediately there were some differences I had to get used to. For example Japan is the first country that I have been to where people drive on the left side of the road instead of the right side as they do in the United States. Even now after a few months, I still sometimes make the mistake of walking over to the driver's seat of the car when someone offers me a ride. My initial two weeks of training with Peppy Kids Club were quite intense. My schedule was packed with enormous amounts of information, workshops, demo lessons and practice teaching. Once all of that was over, I was sent to my placement in Higashi-Hiroshima, which is a city about a half hour train ride from Hiroshima city. Hiroshima prefecture is in my opinion a really nice part of Japan located almost at the bottom of Honshu Island.
Being in southern Japan meant that the winters are very mild but I have been told that the summers are going to be very hot and humid. Higashi-Hiroshima itself is famous for sake production and the city holds an annual sake festival every October. Hiroshima city is a large urban center and it's hard to tell that it was once the victim of one of the two atomic bombs the United States used on Japan in WWII. However in Hiroshima there is the Peace Memorial Park, which was built as a memorial of the atomic bomb that was dropped on the city. There is also a domed building known as the Atomic Bomb Dome, which was a building that had been partially destroyed by the atomic bomb and left in ruins to serve as a monument and is now a designated UNESCO World Heritage Site. Not too far away from Hiroshima is the island of Miyajima, known for its beautiful temples and deer, which roam the town streets and allow humans to come close.
I am very much enjoying my job at Peppy Kids Club. I work a few hours in the evenings about four to five days a week and the students are great. I teach students between the ages of two and seventeen years old. Teaching the young learners in my opinion can be a lot of fun. While I have been in Japan, I have also explored other cities and towns including Nagano, Kyoto, Osaka, Nara, and Himeji.
So far one my favorite experiences in Japan has been traveling to Nagano to see wild Japanese macaques up close bathing in hot springs. Overall I have really enjoyed my time in Japan and I am glad I came here. The local people in Japan are very friendly, polite, respectful, and helpful which results in many positive interactions. Japan is a country that was so much to offer and discover as it is full of beautiful gardens, temples and shrines. I would definitely recommend anyone to teach English here in Japan.
Matthew Barge is 23 from Rhinebeck NY, U.S.A, with a B.A in fine art from MCLA.
After graduating from university, he decided to pursue a career teaching English
overseas. Matthew started out teaching English in Turkey for a year and is now
teaching English in Japan. To learn more about his adventures teaching English abroad, check out:
Founded in 2010, International TEFL Academy is a world leader in TEFL certification for teaching English abroad & teaching English online. ITA offers accredited TEFL certification classes online & in 25 locations worldwide and has received multiple awards & widespread recognition as one of the best TEFL schools in the world. ITA provides all students and graduates with lifetime job search guidance. ITA has certified more than 25,000 English teachers and our graduates are currently teaching in 80 countries worldwide.
Want to Learn More About Teaching English Abroad?
Request a free brochure or call 773-634-9900 to speak with an expert advisor about all aspects of TEFL certification and teaching English abroad or online, including the hiring process, salaries, visas, TEFL class options, job placement assistance and more.