Finding Housing for Teaching English in Ho Chi Minh City, Vietnam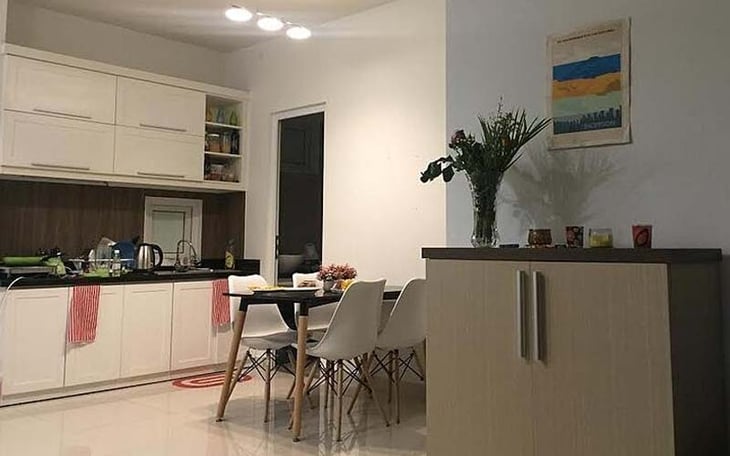 When I first moved to Ho Chi Minh City, Vietnam with my partner, we were a bit overwhelmed by our options. With so many diverse neighborhoods and the fact that the city itself is so vast, it's hard to choose where to live.
At first, we settled on a more centrally-located place in District 1 within a shared house; both of us were living in one small room which wasn't conducive to our relationship after some time. However, we chose to stay there for about three months as the price was right $150 USD each per month and the location was beyond ideal.
Both of us were hesitant to live anywhere outside Districts 1, 2 or Binh Thanh as we wanted to ensure we stayed near the city center as both of us work there. After scouring Facebook groups and Craigslist, we actually found our lovely little haven in none other than District 4. To be honest, I wasn't as keen on living in District 4 in the beginning, but I'm so happy we do! Here's a bit more insight into our apartment to give you an idea of what to expect.
Here's a glimpse into my apartment
One of the cool things about this place is that it's situated right above a health food store. I am a bit of a nutrition nut, so it was a bit serendipitous when I discovered this perk. The store shares a space with our mini 'parking lot,' which is just a small hallway where us tenants park our motorbikes. This space is quite cumbersome; I'd like a montage of my face every time I fall over trying to get my bike up the narrow ramp. Unlike the high rises nearby, we don't have an elevator – which is totally fine as we're only on the fourth floor and it's a good incentive to stay a bit more active.
Our apartment is much more spacious than our previous one. Not only that, but it was built in 2017 so everything is brand new. It's a one-bedroom flat with a large balcony, two bathrooms, a dining area and a living area. The desk is perfect for writing during my downtime and the floor to ceiling windows allow natural light to pour in. Our doors are made with double-glazed windows, which does help keep some of the sound out on the weekends. Due to the fact we live in a pretty 'local' part of town, our neighbors love to sing karaoke at random hours at the top of their lungs, so we're grateful for a bit of soundproofing!
How much does my apartment cost in Ho Chi Minh City?
Together, the two of us pay $550 USD total per month ($275 USD each) for this space. While it is a bit more expensive than our initial spot, we are grateful to have separate areas so we can do our own thing when needed. There are apartments available about the same size as ours that cost a bit more (roughly between $650 and $800 USD) throughout town, and they include luxury pools and on-site gym access. We have a super chilled out public pool with lots of green space nearby that we use on the weekends, so at the moment we're fine with this price. Plus, we have the opportunity to go to a friend's house if we want a different pool spot.
What did I have to buy when I moved into this apartment?
While we didn't have to purchase much, we did manage to get a few things to make ourselves comfortable. We bought:
Cutting board

Set of knives

Toaster over

Silverware container

Extra silverwear

Mugs

Pictures to hang on the walls

Flowers & vases

Bath mats

Dish towels

Bedspread

Cleaning supplies*



*Although we have a cleaning lady, we still clean up after ourselves and like to have basic items like Windex on hand.
The apartment came with sheets, pillows and lots of storage space. Not all apartments come with bedding though; it's extremely expensive here. I would be prepared to factor that into your budget just in case!
While some of the items we purchased aren't completely necessary, I've found that after four years of living abroad, I've accepted that I need these types of amenities if I want to feel comfortable in my own home. Luckily, you'll be able to sell them to other expats coming as you're going on Facebook or Craigslist. Worth the investment, in my opinion!
Is this a typical Ho Chi Minh City apartment?
I would say both our first apartment in District 1 and our current flat are what I would consider typical. While there are larger, more luxurious villas on the market, it's not common that teachers are living in them. As I mentioned before, many expats are living in District 2 in apartments similar to mine, but paying a bit extra for a pool and gym. It's all about what you're seeking and what you find within your budget.
When is the best time to start looking for a Ho Chi Minh City apartment?
I'd say that apartments are available pretty consistently throughout the year; the city is developing so quickly and expats are always coming and going. With that said, I would avoid moving to the country during the Tet holiday, more commonly known as the Chinese New Year as things will be shut down.
If you're thinking of moving here, I highly recommend it! Hopefully this clarified any questions you may have. Best of luck and happy apartment hunting!
Laura is a Pittsburgh, Pennsylvania native who recently moved back to Chicago after teaching English abroad for nearly six years in both South Korea and Vietnam. During her time abroad, Laura served as an ITA Ambassador providing a wealth of knowledge and content to our alumni and prospective students. A natural helper and leader, she's currently in the process of earning her Masters in Counseling Psychology.
Want to Learn More About Teaching English Abroad & Online?
Request a free brochure or call 773-634-9900 to speak with an expert advisor about all aspects of TEFL certification and teaching English abroad or online, including the hiring process, salaries, visas, TEFL class options, job placement assistance and more.