COVID-19 & Chiang Mai - In it For the Long Haul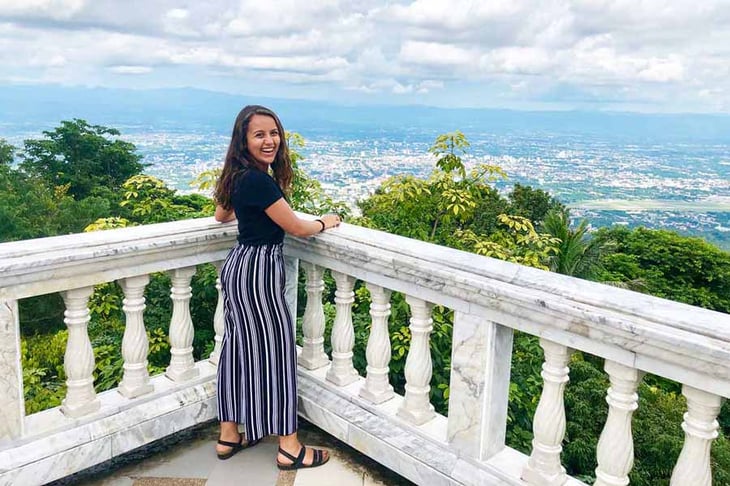 I would be lying if I said getting daily emails from the United States Embassy saying, "leave now or stay abroad indefinitely" in bold red lettering isn't unsettling. But, alas, I've chosen to stay here in Chiang Mai, Thailand for a couple of different reasons.
The logical standpoint – I wasn't planning on going back to the U.S. anytime soon. I have family coming to visit later in the year, and my school graciously gave me a work visa that is valid until 2021.
I'm safe and healthy here. I feel very well taken care of because everyone looks out for each other. My family is also safe and healthy back in the U.S..
There comes a point where using the word "abroad" begins to feel funny. I've been here for eight months, and I have a great job, I have great friends; this is my second home.
COVID-19 began to impact my school, I-Genius Education, awhile ago. Since it's a language institute, students and parents get to choose when they go to classes, or when their kids go to class. In early January, I had a class of 30 students, and then by March, the same class had only two students left.
The Government officially shut down all educational institutions on March 18th. We have both private and group classes at our school, so we recently started teaching our private students online. We might transition to online learning with group classes depending on what happens in the next few days. Everything is a big question mark right now.
Prior to all of this, I had been teaching English online as a side hustle, but now I've completely opened up my schedule. I'm looking into joining a second online company as well.
Overall, my experience in quarantine has been okay. My friends here are in the same boat, so we're all in it together! I am lucky enough to have a secure support system both here in Chiang Mai and in the U.S.
Like everyone else, for the first few days, I really didn't know what to do! I'd consider myself fairly extroverted, so Chiang Mai is like a dream come true. Everyone is friendly, and there is always some event or meet-up going on here. I definitely miss that! I also live by one of the busiest intersections in town, so this recent and current tranquility is very eerie – especially because we now have a curfew in place.
However, even if I could go to work or do something fun, the smog in Chiang Mai is hitting its peak right now, so I sincerely wouldn't do much outside anyway. Yes, I'm choosing to live in the most polluted city in the world during a global pandemic – if that doesn't tell you how happy I am here, I am not sure what does. As it stands, everything is supposed to reopen again here by April 16th. Fingers crossed people get healthier and that it happens!
Honestly, language learning is my passion – whether I am a teacher or a student. If I'm not teaching English, I'm either practicing Thai, Spanish, or Arabic. I've always known about online websites for people learning English – but I just discovered that there are tons of equivalents for people learning other languages. Travel will always be part of my life so I'm really trying to brush up!
I KNOW you have the time - get your TEFL certification during quarantine and then meet me out here in Chiang Mai!
---
For more comprehensive information regarding your TEFL options during COVID-19, please read Coronavirus FAQs: TEFL & Teaching English Abroad or Online - What Are My Options?
Watching a video more your style? It's OK, we've got you covered! Check out our video addressing the issue below:
Rose became obsessed with learning about other cultures ever since she visited EPCOT's World Showcase in Disney World at 6-years-old. She completed her TEFL certification through ITA and graduated from university in 2018. Rose moved to Thailand in 2019 and has been living out her dream of teaching abroad since! She lives in Chiang Mai, where she teaches English to children and adults at a language institute. When she's not teaching, you can find her writing, hiking around northern Thailand, going to meet-ups, and having in-depth conversations about Harry Potter.
Want to Learn More About Teaching English Abroad & Online?
Request a free brochure or call 773-634-9900 to speak with an expert advisor about all aspects of TEFL certification and teaching English abroad or online, including the hiring process, salaries, visas, TEFL class options, job placement assistance and more.