Teaching English in Cologne, Germany - Alumni Q&A with Kristen Bryk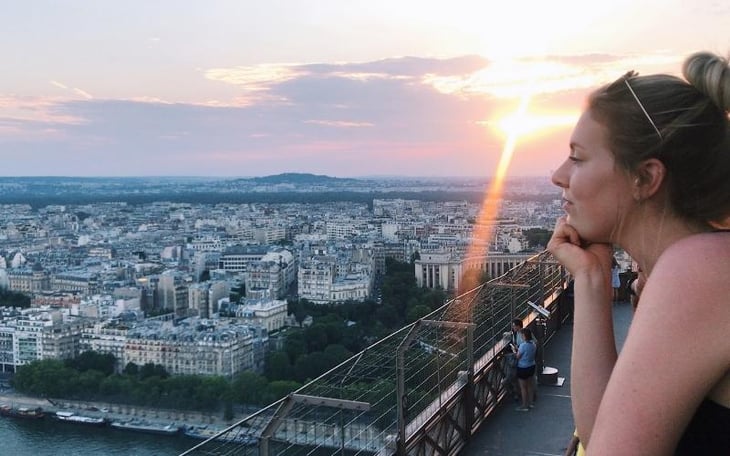 What is your citizenship?
United States
What city and state are you from?
Newton, Pennsylvania, USA
How old are you?
23
What is your education level and background?
Bachelor's Degree.
Have you traveled abroad in the past?
Yes - to Mexico, the Dominican Republic, Jamaica, Italy, and Turks & Caicos.
What sparked your interest in going to teach English abroad?
I had the desire to travel after finishing my undergraduate studies and this seemed like the most flexible and affordable way to do so.
What were some of your concerns before teaching abroad?
I felt like I had a never-ending to-do list that was impossible to complete because every thing I had to complete, was dependent on something else I had to do first. I felt overwhelmed and unsure of where to even start since I was taking a unique path and planning my flight, my living accommodations and my job almost completely on my own, with some help from ITA, but it felt like I was taking a new path that not many people had taken before. I was worried most about the Visa process because of how specific and tedious it was, but with a lot of research and patience and taking things one step at a time, I was able to get everything sorted and organized for a very smooth transition.
What did your friends and family think about you moving and teaching abroad?
Overall, everyone was extremely supportive and very excited for me. A lot of people assumed I was going through a specific program with everything already planned and organized for me and were surprised when they learned that was not true. My parents were a little nervous to have me moving so far and into a different time zone without knowing anyone in or having ever been to the country I was planning to move to for a year, but they were very supportive and are now thrilled that I have figured it out. My friends and family are also so glad to have a reason to come to Europe and travel to multiple countries.
TEFL CLASS INFORMATION
Why did you decide to get TEFL certified and choose International TEFL Academy?
I knew a surefire way to get hired as a TEFL teacher was to have a certificate from a reputable source and after a lot of research, found International TEFL Academy to be one of the most highly regarded institutes. The access to hands-on advisors from the very beginning as well as an expansive alumni network were also extremely appealing to me.
Which TEFL certification course did you take?
I took the Online TEFL class as I was finishing up my Undergraduate courses in Pittsburgh.
How did you like the course?
The course was informative and doable with a full-time student undergraduate course load. I enjoyed the lessons and the assignments and loved that I could see the applicability and usefulness of every task.
How has your TEFL training helped you in your current teaching position?
My TEFL training has given me a lot of confidence as well as the tools I need to be a TEFL teacher. As someone with no solid teaching experience or education training except for TEFL, I felt more than prepared to go into curriculum building and teaching as soon as I received my certificate.
How long have you been in Germany and how long do you plan to stay?
I am teaching English in Cologne, Germany. I originally planned to stay in Germany for one year, but it will be exactly one year on September 6, 2019 and I am planning to stay for at least another year.
Why did you decide to teach English in this location?
I have always felt a draw to Germany, rooted in a curiosity for the culture, the language and the people as well as the central location and accessibility to travel throughout Europe. I didn't know much about the specific German cities and didn't have an idea about which one I wanted to live and teach in, until I met someone from Cologne while I was living in Pittsburgh and she told me about how open-minded and welcoming the people of Cologne are and how accessible and simultaneously comfortable and exciting the city is, which convinced me it was the right city for me.
What school, company, or program are you working for?
I work for Tandem Language School in Cologne, teaching German adults in the evening. I also work online for VIPKID, teaching children in China one-on-one.
During which months does your school typically hire?
August and September for Tandem, and year-round for VIPKid.
Did you secure this position in advance of arriving?
No, I applied, interviewed for and acquired both of these jobs from Germany.
How did you interview for this position?
I had an in-person interview.
What kind of Visa did you enter on?
I entered on a tourist visa and eventually attained a freelance visa.
Please explain the visa process that you went through.
I had 3 months on my tourist visa to acquire two letters of intent from German employers in my field (Teaching English). I applied for a year long freelance visa at the end of November (right before my tourist visa expired) and then had to wait a VERY long time to actually acquire the visa. The paperwork and forms that went into applying for the freelance visa were very detailed and tedious and frustrating to complete; however, I did a lot of research and eventually received my visa in June 2019. In the seven months I was waiting after applying for it, but before receiving it, I was not able to travel outside of Germany, which was a bit frustrating, but granted me the motivation to explore a lot of the country and put down roots in Cologne, making it really feel like my home.
What are the qualifications that your school requires for teachers?
Bachelor's Degree and you must be a Native English Speaker.
What is the best way to apply?
Via email.
Tell us about your English teaching job!
For Tandem, I just emailed the information email I found on the website acquiring about job vacancies. For VIPKID, I applied through the online teacher portal.
My teaching job at Tandem in Cologne is part-time and I only teach an average of 2 classes (2-3 hours each) per week. I am responsible for creating my own curriculum, so I put in about 2-3 hours of preparation for every class. I was unable to be paid for this work while I was waiting for my visa, so my primary income for those 10 months came from my online teaching. I taught about 20-25 hours/week for VIPKID, which ended up being about 9am-3pm with the time difference (the kids in China take classes when they get home from school) and each class is 25- 30 minutes long. I make a base pay of 8 USD/class plus an extra $1-2 for starting and finishing the classes on time, which comes out to about $18-20/hour. I made enough with just VIPKID to completely support myself, pay my rent and all of my bills as well as do some traveling and save some money to pay taxes at the end of the year. The money I make from Tandem now is solely for saving.
Working online with VIPKID has been a great experience because it is very flexible in that I am in complete control of my schedule. If I have plans to travel, I don't open any slots during that time, but if I have a lot of free time, I can teach up to 11 classes a day.
COUNTRY INFORMATION
Please explain the cultural aspects, public transportation, nightlife, social activities, food, expat community, dating scene, travel opportunities, etc...
Cologne is a very unique city in Germany because its people are extremely open-minded, welcoming and kind, especially to foreigners. I have had no trouble making friends or meeting people here and everyone is always extremely kind and excited to invite me to join them in whatever dinner or weekend plans they have. There are countless unique and wonderful bars and restaurants all over the city that are always full of smiling faces and easily accessible no matter what part of the city you live in. Whether you enjoy getting a beer at a kiosk and hanging out outside casually or partying at a club with great techno music until 8am, Cologne has awesome options for all of the above and more.
There are also tons of great and inexpensive food options for almost anything you are in the mood for. German food is hearty and cheap and will definitely leave you feeling satisfied. There is also a great Italian food selection as well as tons of Asian restaurant options. The food is diverse and generally very affordable, so you can eat out a few times a week without breaking the bank.
Social media and apps have been my social life savers since I moved here. Facebook is a great tool for finding awesome events around the city all year round and there are almost always festivals outside with food, drinks and fun things for sale, every weekend, especially when the weather gets warm. Dating apps like Tinder and Bumble are very commonly used here and Bumble BFF is a great way to find friends early on, especially if you are searching for other expats to explore the city and travel with.
Public transportation in Cologne and all of Germany is extremely accessible and affordable and very easy to figure out, especially with the help of Google Maps. Once you figure it out in one city and know what kind of ticket works best for you, you will have no problem getting around any other German city (and most other European cities). After about 4 months here, I bought a cheap, used bike at the weekly bike market and have since used that to get almost everywhere. With a bike, you can get essentially anywhere in the city in less than 30 minutes.
What are your monthly expenses?
Rent: ~$700/month (this is on the pricier end, but worth it for the fully furnished apartment and the great location).
Food: ~$100-200/month depending on how often I eat out (I only spend about $30-50/week on groceries)
Social activities: ~$50-100/month
Transportation: ~$0-20/month
Phone: $20/month
Travel: Varies, but transportation around Europe as well as hostels and Air BnB's are extremely affordable. I use Omio.com to find the cheapest bus, train and flight options and Hostelworld.com to find the most affordable places to stay.
How did you find somewhere to live?
I got very lucky with the connection I found in Pittsburgh because she posted on Facebook asking if anyone in Cologne needed a roommate and I got connected with my current roommate. I moved in and my apartment was fully furnished she was extremely welcoming and kind and we have loved living together for the past year. I have an American friend that has moved around Cologne a few times in the past year and, while the housing market is extremely competitive, you can get lucky with finding a good flat share or subletting situation through Facebook or WG-Gesucht (a housing app for major cities in Germany).
How would you describe your standard of living?
I came from a very comfortable living in an affluent east coast American suburb and was ready for an adventure. I live in a very nice apartment with a big room and a balcony and am willing to have a more expensive rent to have a comfortable home. However, I live very simplistically: I don't spend a lot of money on food or social activities, though I love to find affordable ways to have fun on a regular basis. I have really pared down my wardrobe and eliminated a lot of unnecessary possessions to live the simplest life possible and reduce those expenses. I also eat very simply and stick to the same basic groceries every week, occasionally buying some special "treats" like smoked salmon or ingredients to make a chocolate zucchini cake. Overall, I like to live comfortably an simply, spending my money on traveling and entertainment in the most affordable ways possible.
In your opinion, how much does someone need to earn in order to live comfortably?
1200-1500 USD/month.
ADVICE FOR PROSPECTIVE ENGLISH TEACHERS
What advice would you give someone planning or considering teaching abroad? Would you recommend teaching in your country?
Do it! Do it on your own and trust that you have the confidence, strength and capabilities to do it and do it well. I would definitely recommend teaching in Germany and specifically Cologne. It is a bit more difficult to find teaching jobs in Cologne, but teaching online is a very viable option before you find a solid in-person teaching job and obtain your visa, especially if schedule flexibility and traveling are priorities. Germany is one of the few countries in the EU where you can obtain a freelance visa, which grants you the ability to work as an English teacher for almost any company and is easily extendable, so even though it takes a while to get, it is very valuable once you have it.
Kristin is from Pennsylvania and took ITA's Online TEFL Course. She has been teaching in Cologne, Germany for over 2 years.
Want to Learn More About Teaching English Abroad & Online?
Request a free brochure or call 773-634-9900 to speak with an expert advisor about all aspects of TEFL certification and teaching English abroad or online, including the hiring process, salaries, visas, TEFL class options, job placement assistance and more.