Classrooms Around the World - Teaching English in Suzhou, China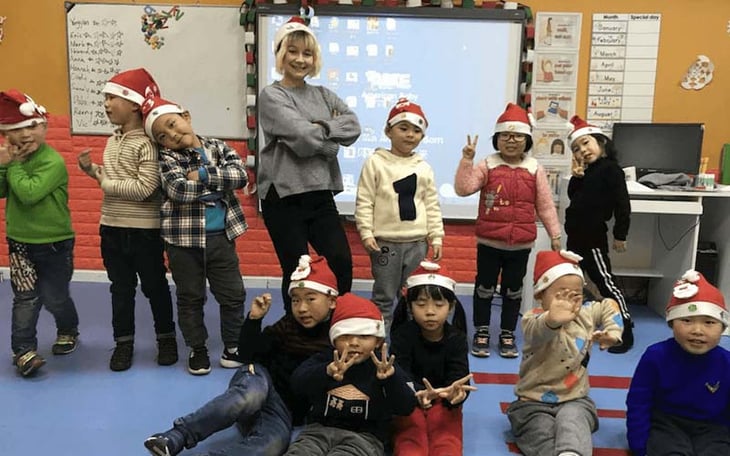 My experience as an ESL instructor has been a journey. In every country and with each age group, there is a different classroom dynamic, and I must continually adapt my teaching style to fit the needs of my students in the classroom. I teach for my students. My lessons cater to their specific needs and interests. No matter what challenges we may face together in this classroom learning experience, my students know that I will always be there to support and guide them along the way.
In my past TEFL experiences, I taught at public primary schools and worked a typical 9am-5pm job. I had 24-30 students per class and found it difficult to connect with each individual student during class. I wanted an experience where I could have more 1-on-1 with my students and could help each student to improve and develop confidence in their English. I wanted to be in an environment where students were more motivated to learn and where classes are a choice. Public school wasn't facilitating the learning environment I wished to have in my classroom, and I received little feedback regarding my teaching. It wasn't helping me to move forward as a teacher.
So, I decided to change gears. I realized that working at a language training center was the best way to do this. Initially, I felt that I was going in over my head in this decision. I had my doubts. I had never taught pre-school ESL students full-time. I had also heard horror stories regarding training centers in China, and ex-pat teacher friends constantly warned me to be cautious. It was enough to make me anxious and to second-guess my decision for some time.
However, upon doing research; accepting a job offer at a reputed Chinese training center; and adjusting after initial training, I grew more comfortable teaching at a training center. I can now say that my current experience teaching at an ABIE (American Baby International English) Center has been my most enriching TEFL experience thus far.
At my current school, an ABIE training center, students are ages 3-11, but I typically teach students aged 3-5. I teach a maximum of 12 students per class, so I really have the chance to get to know my students and can form my lessons to meet their specific interests and needs. I teach 7 different groups of students for a maximum of 84 students. I see each group of students 3 hours per week, so each student has ample time to practice English and I am able to see progress more readily in all of my students.
Not only have I seen exponential improvement in the English ability of my students, but I have also seen a change in myself as a teacher. Teaching at a training center has helped me to hone my teaching skills and to find new ways to present material. I'm always prepared to change gears if the attention of the class flows elsewhere and design my lessons to cater to the specific interests and learning styles of my students. Class time is not only about learning English, but also about my students having fun and developing confidence in a foreign language. I believe in a hands-on approach to learning and always try to get my students moving, creating, and experiencing with language.

In the Pre-K ESL classroom, lessons don't always go as planned, and my students always keep me on my toes with their big personalities and curiosity. I never know what to expect. This makes for a more interesting teaching experience and for many candid moments in the classroom. Their 100 watt smiles and constant energy is contagious and always leaves me energized and ready to give more. My students are still learning how to learn, and I aspire to not only help them grow in all areas of their lives within the ESL classroom and beyond.
As a teacher, I want to help my students to achieve their dreams and to go forward confidently and with compassion and respect for others. I believe that educating future generations to be tolerant provides for a more just and accepting society. As an ESL instructor, I serve as a window to the world for my students and as an ambassador for my country. I believe that teaching English as a second language, lays the foundation for a more peaceful world. It is peacekeeping in its own right. It all starts in the classroom.


I took a leap into the unknown deciding to teach at a language training center, and looking back, I wouldn't change my decision for the world. Although this journey has its ups and downs, my experience as an ESL teacher at a training center has been my best experience thus far. I have more free time to study Chinese and to travel. I have small classes and can truly connect with my students. My students are motivated and I'm able to see continual progress in their English ability. This keeps me more motivated as a teacher and keeps my students and their parents motivated to review and to continue practicing English outside the classroom. Finally, the feedback I have received as a teacher has helped me to become a better teacher and to always consider what I can do better for my students.
This journey has just begun, and it's difficult to know what the future holds. However, with the fulfillment and joy which comes from teaching ESL, I feel that the future will be bright and beautiful for me and my students.
Upon graduating from College in 2014, Amanda received her TEFL certification from International TEFL Academy and began teaching English in France. A few years later, and a Fulbright grant under her belt, she went on to teach English in South Korea, and then Suzhou, China, where she became one of our 2018 Alumni Content & Writing Ambassadors.
Want to Learn More About Teaching English Abroad & Online?
Request a free brochure or call 773-634-9900 to speak with an expert advisor about all aspects of TEFL certification and teaching English abroad or online, including the hiring process, salaries, visas, TEFL class options, job placement assistance and more.