Cambodia Rising - My TEFL Experience in Phnom Penh
Written By: Kate John | Updated: June 28, 2022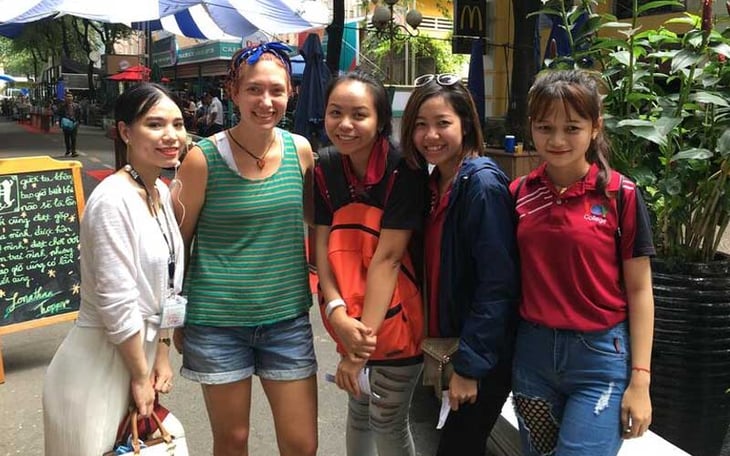 Cambodia really is the Kingdom of Wonder. It is difficult to imagine life in another country from within the sphere of America. I wasn't sure what it would be like, because I had no frame of reference before arriving. I had no idea there was so much mobility in Cambodia, so much opportunity for teachers. I love teaching, and I really work hard to be a good teacher for all my students. That said, I am transitioning out of the classroom, not teaching English anymore.

I have started to write curriculum. While I don't want to reduce my teaching time, I am excited about this new opportunity. It's really engaging to be able to create useful learning activities for my students to benefit from. Having taught here, earned some of the unique challenges Cambodian students face, I am now able to work on solutions to holes in our methods. I found this something I always wanted to do in America as well. It often wasn't an option there unfortunately. Or the curriculum I did develop was simply not used very often. I find myself now in an interesting situation of developing materials to be used by people who aren't just me, to teach dozens of students. So while I don't particularly want to leave the classroom, it is nice to be able to enact something a little bigger than my one classroom.
The inflow and outflow of teachers to Cambodia creates easy chances to move upwards at a school. While it's not true of all schools, the nature of teaching abroad is generally temporary, and many teachers only stay for a few years. Additionally, developing nations are not for everyone. Some people find it is not for them, but the opposite is true as well. Many people move here with the intention of staying a short time and find themselves waking up five years later, deeply in love with the Kingdom of Wonder.
That said, people do move in and out fairly often. With positions opening up often, it's easy to arrive at a place of seniority in a short time. This, coupled with my experience in teaching environmental education, opened up a place for me to write curriculum for the school I'm working in. If you haven't considered Cambodia as a place to come teach, I highly recommend it. The kingdom of wonder is fast paced, developing quickly, and rife with opportunity for a good teacher to get some amazing experience.
This is super awesome for both the country and teachers. Cambodia is a country developing rapidly, and is in need still of amazing educators who are keen to make a difference in the lives of their students. While it may not be the easiest place to teach, it certainly is rewarding. I think that really good educators are instrumental in helping Cambodia is flourish, as it so desperately wants to. I also think that the chances teachers get here to develop and change with the times is unparalleled. It's a mutually beneficial relationship. Developing curriculum here is something I am really looking forward to in the next school year, as I think it will really benefit my students.
I do worry about not being the most qualified and experienced teacher, as I am relatively new on the scene of teaching. While I firmly believe in the benefit of a near to student experience, I also know that a life lived with experiences has a lot to offer in wisdom. The debate of experience vs quality is something i have been weighing heavily. I have taken the position, and therefore I am choosing to believe that while I am not the most senior educator in the world, I can do a great job for my students. So, while my career move is exciting I am trying to be open to new research on education and the opinions and council of my peers and supervisors.
Moving into curriculum development will benefit me as a teacher back in the States eventually, will benefit my school here, and hopefully will impact Cambodia's new generation of leaders. So here's to next school year! And if you're interested in developing your educational background, consider Cambodia as your next fantastic destination!
After volunteering for a year in the Denver Public School System, Kate felt like she needed a change. She and her boyfriend both got TEFL certified and set off on an adventure of a lifetime in the Kingdom of Wonder. Since then Kate has written extensively about her life teaching English in Cambodia as one of ITA's Writing & Content Ambassadors.
Want to Learn More About Teaching English Abroad & Online?
Request a free brochure or call 773-634-9900 to speak with an expert advisor about all aspects of TEFL certification and teaching English abroad or online, including the hiring process, salaries, visas, TEFL class options, job placement assistance and more.