Ambassador City Fact Sheet: Phnom Penh, Cambodia
Written By: Kate John | Updated: June 28, 2022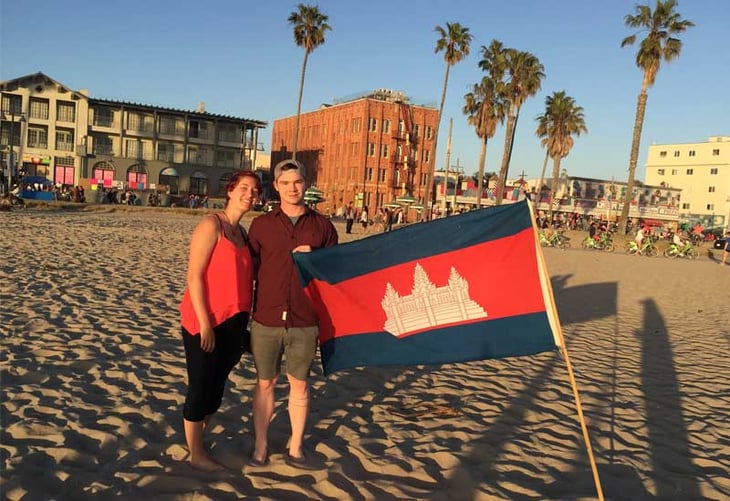 To help our students and graduates make a smooth transition to their new lives teaching English abroad, we've enlisted our ITA Ambassadors to provide us with insider facts and tips for making the most of life in cities around the globe like Phnom Penh, Cambodia.
Whether it's finding an English-speaking doctor, opening a bank account, or simply finding a supermarket where you can find the odd comfort food from home (peanut butter!), our ambassadors have actionable on-the-ground-tips to help you feel at home in your new home city. Please note that things change and we will do our best to keep these "Fact Sheets" updated over time and that current and future ambassadors will continue to provide the most accurate and up-to-date information possible.


Name: Kate John
City: Phnom Penh
Country: Cambodia
Visa Type: E Business Visa
Where can you find North American comfort items like peanut butter in Phnom Penh?
Most super market type stores have them. They all seem to be Something Mart (Eg. Angkor Mart, Lucky Mart, Orange Mart, etc.) My favorite place to get all the groceries I need is Super Duper, because it is open 24 hours, and has an ATM. But I'm also a huge fan of getting groceries at the market, because it tends to be much cheaper than the American items. Anything like produce, bulk grains, oils, etc, is WAY cheaper at the markets. I go to Russian Market (Toul Tom Puong) because it's near my house.
Transportation - how do people get around town?
People who live here mostly get around on scooters. You can get your own by either buying one (which is a good investment, as you can probably sell it when you leave) or renting (which I dislike because most places have you leave your passport with them). But if you're not down for Phnom Penh traffic, tuk-tuks or rickshaws are the way to go. I only get a tuk-tuk if I'm desperate, it's often much more expensive because you're expected to haggle. PassApp is this great app, like Uber, for ordering rides. It charges a flat mileage fee, and is really reasonable.
Please recommend up to 3 hospitals/doctors in Phnom Penh for English speakers
The hospitals here aren't the best option. I would trust them for small things, or really dire emergencies, but for a larger concern or complicated diagnosis I would go to Thailand or Vietnam. Cambodia has come a long way in the last 30 years, but they are still developing. That said, many expats here trust these places:
→ Royal Phnom Penh Hospital
→ Khema Clinic
→ Sen Sok University Hospital
Please share your recommendations for beauty supply stores, hairdressers, barbers, etc in Phnom Penh
I actually haven't been to any hairdressers here, I do my own hair. But they are plentiful, so finding someone should be easy to do.
If you've opened a bank account, please list the name and location of your bank
I've been set up with an account at ABA Bank. My school works with them for direct deposit. It's one of the larger banks in town, and they have a bunch of different branches. I like them because they have an easy to use app, and it's pretty easy to transfer money back to my US accounts with them.

Please list restaurants you enjoy eating at in Phnom Penh
Phnom Penh has a really vibrant restaurant scene. There are new restaurants popping up every day, and most of them are both affordable and delicious. It was really hard to choose just five to list, but here are some places I enjoy. Moving from cities in the US with a booming restaurant culture, living here has definitely not let me down, which is amazing!
Mexicano, #29 St 288 BKK1, Phnom Penh. Amazing, authentic Mexican food, but a very small venue. Be sure to make reservations.
Farm to Table, 16, St 360, Phnom Penh. Lovely atmosphere and a good break from fried street food. The seating is all outdoors, but don't worry about being cold in the Cambodian weather.
Eleven One Kitchen, St 334, Phnom Penh. A good mix of Khmer and western food. This location also does free Khmer classes every Sunday.
Sesame Noodle Bar, #9 Street 460, Phnom Penh. A great Japanese style lunch and dinner spot. I prefer eating lunch here, because they have better deals.
Please list places you enjoy visiting during your free time in Phnom Penh
There are tons of cool things to do in this city, so I'll limit my suggestions to food only. If you're interested in activities you're likely going to be able to find it here. Phnom Penh is the capital city of Cambodia after all, it's got a lot going on.
Sundown Social Club, a rooftop bar in the Russian Market area, it as a great view, wonderful cocktails, and a nice layout. I love a good rooftop bar.
Samai Distillery, only open on Thursday nights, this bar is the tap house for the rum distillery. The only one in Cambodia, as far as I know, which seems silly since sugar cane grows here abundantly. They make excellent drinks, and also sell bottles for home use. They also host some networking events, which is always great to get in on.
Deja Cafe, a coffee shop near Toul Tom Puong, and one of my favorite brunch places. They are less hipster than some of the more popular expat spots, and make really good food.
Le Cafe, a coffee shop attached to Le Marche, a grocery store. This is one of my favorite places, because they have a great grocery selection, as well as making a really excellent cup of coffee. I love working here, and they make it really easy with power outlets by all the tables.

What resources did you use to find permanent housing in Phnom Penh?
I found my apartment through Facebook groups. That's the easiest way to find somewhere to live here. It's also fairly easy to have a real estate agent show you around to a few places. We looked at a few through Elevated Realty before deciding to live in our current abode.
Have you found an expat community in Phnom Penh? How?
We have a lovely community! We have been able to connect with a lot of other expats through school, work, the gym, and events. There are a lot of community events, and it is easy to meet new people here. We've recently been spending a lot of time at CrossFit YiQi, which has an amazing community involvement level. We also have been trying to go to local restaurant events.
Please list any additional information/resources you think will be useful for those interested in teaching English in Phnom Penh
If you're unsure how to meet people, or what to do, join some of the Facebook groups. The Expats & Locals Living in Phnom Penh group regularly posts events, as does the Expats Living in Toul Tom Puong. It's an easy way to get out there and meet people.
After volunteering for a year in the Denver Public School System, Kate felt like she needed a change. She and her boyfriend both got TEFL certified and set off on an adventure of a lifetime in the Kingdom of Wonder. Since then Kate has written extensively about her life teaching English in Cambodia as one of ITA's Writing & Content Ambassadors.
Want to Learn More About Teaching English Abroad & Online?
Request a free brochure or call 773-634-9900 to speak with an expert advisor about all aspects of TEFL certification and teaching English abroad or online, including the hiring process, salaries, visas, TEFL class options, job placement assistance and more.