A Typical Weekend for an ESL Teacher in Ras al Khaimah, U.A.E.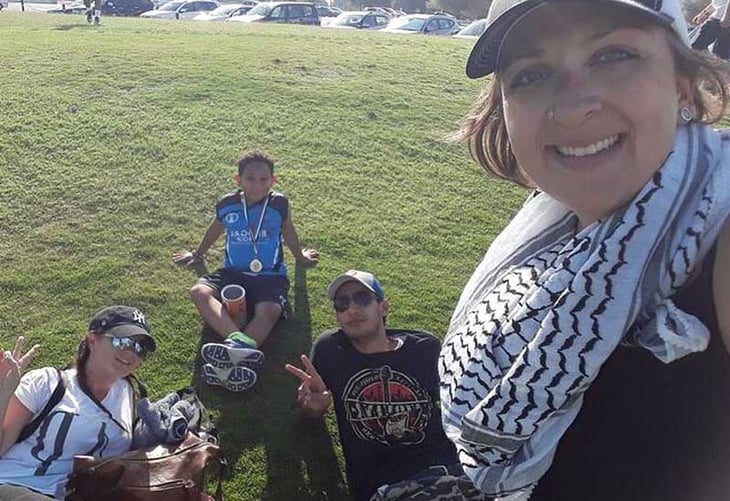 You've heard the expression, work hard - play hard. While I've never verbalized this as my motto for life in Ras al Khaimah, UAE, it does make a lot of sense. My weekdays are essentially non-stop work. My days at work are extremely busy, I'm constantly in motion. I try to get all of my grading and planning done at work so I do not have to take it home. Unlike my previous positions, this is actually possible if you work hard enough during school hours. After school on weekdays I prepare food and head to the gym.
This hard work during the school week results in having the time to play hard on the weekend. Now, I'm old, I'm nearly 30 but I have the soul of a 75 year old. So, sometimes playing heard means I order the pizza deal of the week and I watch movies and tv all weekend or read on the bench outside. This isn't always true though and more often than not my weekend actually looks like this:
Thursday, (which is my Friday), I come home from work and relax for a bit, usually my kitchen looks like a small tornado went through it and just general upkeep needs to be done, so I get that out of the way quickly. The nitty gritty adult responsibilities don't write a nice weekend fairytale, but realistically adulting impacts my typical weekend, much to my dismay.
After I've made my house livable, we tend to head out to The Bay. I've mentioned this bar a few times but I'll discuss it again here because it's my absolute favorite place to be on Thursdays. It's an incredibly relaxed atmosphere, we sit outside, order a delicious blueberry and mint shisha, some food and get a few happy hour drinks. Side note - they recently changed the menu and the food part is 100% less exciting than it used to be. New owner, bad choices. After we've eaten, chatted and forgotten the tumultuous week, ladies night and DJ Incredible (my name for him) begins. Now depending on your level of "let's forget the week" you want to get is directly related to how late you stay out. Because I'm an adult and once you turn 25 you get incredible hangovers I usually leave my best dance moves on the floor and head home by 11/12pm.
*A quick note if you're not a 75 year old at heart and I'm not convincing you to head to the UAE I promise if you go to Dubai (or Abu Dhabi) you'll find all of the clubs and all of the fancy downtown places where you have to dress like a real human and wear high heels and live your best life. I'll just be at home, sheltered by my social anxiety, knitting you a blanket and waiting for your message that you made it home safely.*
Most Fridays I make my way down to Dubai or Abu Dhabi (if we head to Abu Dhabi we usually stay at a hotel for the night). Holy Day in Islam is Friday, so it's the calmest morning to drive, if you've read my previous posts, driving here is like living in Mario Kart and I am cautious about when I drive. Friday's because almost everyone is at the mosque or with family coupled with parking being free downtown this is the day I leave RAK.
One of my favorite things to do in Dubai is head to La Mer or Kite beach. I haven't gone kayaking yet, but it's surprisingly reasonable in price at both beaches, you can stand up paddle board, skydive, literally anything - you're in Dubai (where there are basically no limits to your dreams - there's just limits to my pocket). Some days we go to the Ripe Market, play mini-golf, head the The Green Planet (amazing recreation of the rainforest, actually ecologically thoughtful), Global Village (when it's open), discover a new mall (everything is in a mall), head to the souqs, a new district (design, art, motor, etc) or find a new entertainer coupon to use (boat tour is a must do). I am lucky to have a few friends who have stand up comedy shows during some weekends and they're a must see (Shout out to Tai the Comedy Boss - Laugh like you Mean it).
Other Friday's mean brunch. Brunch is a HUGE deal here. It's from 1-4ish and it's basically all you can eat all you can drink and drink and drink and drink. Until you head to another bar or just start paying for more drinks. My first year I did several brunches, and this year I've done a few. Honestly, I've now sworn off boozy brunches because my weekend is basically over on Friday if I do a brunch. However, some brunches are a bit more food centered than booze centered and those are fair game. There is a brunch season because almost all take place outside and at a certain point you will just die if you drink that much outside in the desert. (Also almost all brunches end when Ramadan starts).
Saturday (my Sunday) is usually a relaxing day - because I'm so busy during the week - I have to be an adult and run my errands today. I did just find an online grocery shop that is wonderful, so I usually do my big shopping online.
I do have to take care of other responsibilities (seriously being an adult is for the birds). I usually don't have much prep work to do for school since I've done it during the week so I often can use this day to relax or continue adventuring (if I stayed at a hotel during the weekend, I do stay in another Emirate about once per month). I usually head to the beach for a while, often I pay to head to a resort if I'm making a day of it, because then I have access to the spa/pool/gym as well as the beach. It's pretty incredible that I can spend the day at the Waldorf. Saturday night often culminates at a cafe where we have tea or coffee and get a shisha while we watch a football (soccer) match.
My "typical" weekend is a bit boring, because I try to ensure when I have a break, or want to have a more extreme weekend I have the money. I make a nice amount of money here, but send a lot of money home for bills and save for my next trip, because traveling and adventure is the best part about being an adult.
A Seattle native who's heart is in Chicago, Katie holds an elementary education degree from Loyola Chicago. Since earning her TEFL certification from International TEFL Academy she first taught English abroad in Mexico before heading to the Middle East to seek new adventures in Ras al Khaimah, United Arab Emirates (U.A.E.). While teaching in the U.A.E. she also served as an ITA Alumni Ambassador, publishing numerous articles and videos about her experience teaching English in the heart of the Middle East.
Want to Learn More About Teaching English Abroad & Online?
Request a free brochure or call 773-634-9900 to speak with an expert advisor about all aspects of TEFL certification and teaching English abroad or online, including the hiring process, salaries, visas, TEFL class options, job placement assistance and more.