Survival Guide: Moving to Phnom Penh, Cambodia to Teach English
Written By: Kate John | Updated: June 28, 2022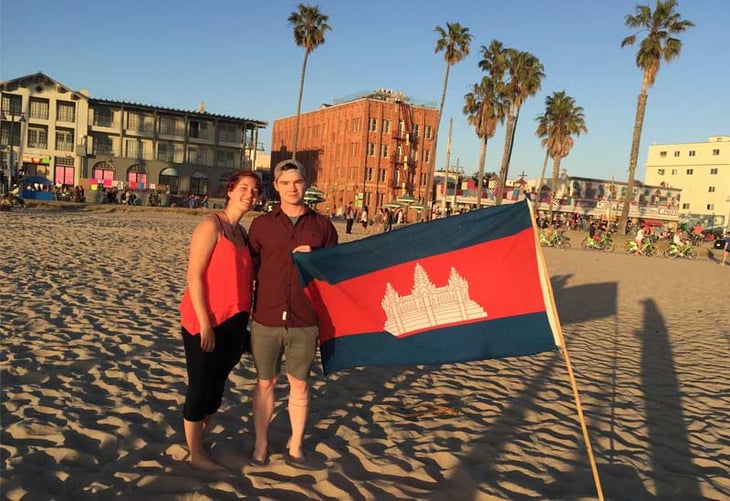 You've just arrived in Phnom Penh. It's overwhelming, intimidating, and confusing. You are wondering why you moved halfway around the world, and what you've gotten yourself into. Do not panic. I was in your shoes not too long ago. I adjusted quickly to life in the Kingdom of Wonder, but I wish I knew some things earlier on. Here's a few tips for your basic survival here in the city. You know, water, shelter, food, wifi, basically all the essentials.
Let's start with getting you home from the airport - you'll be grabbing a tuk tuk. It's important to have an idea of how much things should cost before getting into that adventure. A tuk-tuk from the airport to the riverfront, or to Russian market shouldn't cost any more than 7 or 8 dollars. A good method to deal with the negotiation is to pay after the ride, without much talking, just hand the driver what you think is fair. If they quote you an outrageous price you can always act offended and say "Kl-aye nah," or "too expensive." This same phrase works in markets and with any other price negotiations you may need to do.
So you've gotten to your hostel, but you don't love sleeping in a bunk bed surrounded by 8 of your least close friends. You're probably looking to find yourself new digs sooner rather than later. When I arrived I stayed a grand total of 4 days in a hostel before signing a lease. Find housing in Phnom Penh via Facebook groups, or online listings via Google. You can find something anywhere from $150-800 a month, depending on how western you'd like and which neighborhood you're looking in. I live in a popular neighborhood, Russian Market, but other popular areas are BKK1, 2, and 3 (prices go down as the number goes up), Tonle Bassac, Toul Kork, or Riverside. You can expect to pay 25 cents per kilowatt for electricity, which shouldn't be over $100/month if you aren't crazy about the air conditioning. Landlords will sometimes try to overcharge you for electricity, as it really does cost quite a bit here. The low rent prices make up for it though.
Next let's think food. There is a huge range here, anything from $1 fried rice dishes at street carts, to $90 imported Kobe steaks. Once you get more settled in you should definitely get out there and explore the Cambodian food scene. But if strange new restaurants of dubious quality is intimidating at first, I recommend Meal Temple. A meal delivery app like Uber Eats, but cheaper, it is a great way to get a handle on local restaurants before you've gotten the lay of the land. You can also always cook for yourself, small marts with groceries are plentiful and produce is very affordable in the market. The market will always be cheaper than stores, but not always as convenient and comfortable. There is even a few grocery delivery sites, if you really don't want to run all over town (great for when grades are due and you Can't Even). I like Deli Market Asia the best.
Of course, you cannot truly appreciate any of these things though without the ability to Instagram it though right? So let's talk wifi. There is wifi everywhere here. From the free airport wifi in Phnom Penh's International Airport, to the tiny cafes all around town, you will have no trouble finding a signal wherever you go. I do recommend getting a SIM card once you land though, they're easy to come by. You pay $1 for the card and then $4 for a top up, to get minutes for calls and text, and a subscription to some sort of data plan.
I use Cellcard, one of the larger companies here, and pay $2 per week for more data than I could possibly need, and unlimited texts to other Cellcard users. Another popular option is Smart. Any of these can be easily swapped out with your US cSIM card, so you don't need to buy a new phone here. In fact, I do not recommend it at all, the phones here are not the same quality and often break. Just make sure you have a safe case, and don't keep it out in your hand where passing moto drivers could swipe it from your tuk-tuk. Phones otherwise are really easy here, I'm actually dreading going back to the US and paying the exorbitant data fees to Verizon again.
With these tips you should be set to get started here. Questions always pop up at the last minute, and if they do a great resource are the ITA Alumni Facebook Groups. People can always answer your last minute questions there. So reach out if you need help, and remember that you're not alone in this adventure! You'll survive, and then you'll thrive here in Cambodia!
After volunteering for a year in the Denver Public School System, Kate felt like she needed a change. She and her boyfriend both got TEFL certified and set off on an adventure of a lifetime in the Kingdom of Wonder. Since then Kate has written extensively about her life teaching English in Cambodia as one of ITA's Writing & Content Ambassadors.
Want to Learn More About Teaching English Abroad & Online?
Request a free brochure or call 773-634-9900 to speak with an expert advisor about all aspects of TEFL certification and teaching English abroad or online, including the hiring process, salaries, visas, TEFL class options, job placement assistance and more.