A Survival Guide to Moving Abroad to Ho Chi Minh City, Vietnam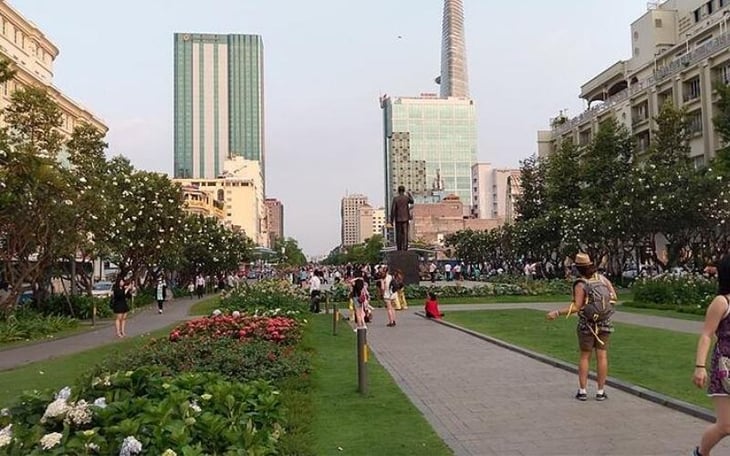 Ho Chi Minh City, Vietnam, also known as Saigon, will forever be one of my favorite places. It was a bit of a slow burn type of love on my end, and it did take awhile to acclimate myself with its culture and my surroundings, though. First off, the neighborhoods in Saigon are sprawling throughout the general region, which I found pretty shocking. There are 24 districts in total; seven of them are considered urban, seven others are numbered and the other five are considered the suburbs. This city is insanely massive, which I'm not sure many people know about.
Pros of Saigon:
→ There's a lovely blend of modern and classic architecture
→ The culture is open and generally accepting of different people
→ As a result, the cafe, bar and restaurant options are abundant
→ The cost of living is low, which allows for saving money if that's what you're interested in
→ There is lots of history to be learned about Saigon
→ The local people are super kind and lovely
→ There's always something to do, making it super easy to make friends
Cons of Saigon:
→ The heavy traffic and pollution get pretty irksome after a few months
→ Petty crime is fairly common here
→ The public transportation is lacking
→ The cost of living is higher than other cities or towns in Vietnam
Top tips for Saigon:
→ If you're a woman, never go out wearing a cross-body bag
→ Download the Grab app for the cheapest transportation
→ Realize that the Google Translate here often does not work too well
→ Invest in a proper face mask upon your arrival
A quick neighborhood guide to a few of Saigon's districts:
Visit District 1 if you're keen to explore the culture and historical sites
Although there are other lesser known museums and buildings outside of District 1, this is where most everything is concentrated. Here you'll be able to find classic spots like the Notre Dame Cathedral, the Saigon Central Post Office, The War Remnants Museum, the Opera House, along with dozens of high-end restaurants and cocktail bars as well as humble street stalls.
Powers Bar in Little Japan is the ultimate dive bar in town; it's reminiscent of being in a midwestern grandmother's basement, which I'm really into
1988 Home Up sells super cheap home goods, including bed sheets which are hard to come by in Asia
Walking Street near Dong Khoi is a lovely part of town; the tree-lined sidewalks give it a different feel compared to the rest of the city
Vincom Center will have familiar brands such as Gap, Old Navy and H&M if you're wanting to go shopping
Al Sham offers some of the best food I've ever eaten in my life and is also owned by a Syrian family. Support them.
Head to District 2 if you want a quiet escape
Many expats prefer this part of town due to the fact it literally feels like you're back in the west. While I do love the amenities out in District 2, it's a bit far out of the way and doesn't give off the "I'm living abroad" vibe. There are plenty of really awesome things to do within the neighborhood.
If you want a delicious hummus sandwich, check out Snap Cafe
If you're in the mood for a bagel, Saigon Bagel is your spot
If you're in the area and want some western snacks for a taste back home, An Phu supermarket is the place to be.
Mandala Wellness offers some great yoga classes as well as reiki, acupuncture as well as mental health facilities
Buddha Bar often has live music
Explore District 3 if you are interested in sights, but at a slower pace
It's hard to tell where District 1 ends and District 3 begins, if I'm honest. The two are quite similar and near to one another, but the deeper one gets into District 3, the quiet it gets.
• Cong Cafe across from Turtle Lake has a great view and the interior is set to look like an old, communist Vietnam. Order the coconut coffee!
• This district is home to a few famous streets in town: Snail Street (where you can buy snail dishes), Art Street (nearly every shop on Nguyen Dinh Chieu) and my favorite Co.Op Mart ever. I admit that I buy dresses from there sometimes.
Venture to District 4 if you're into street food
I've been a vegetarian for the past 20 years of my existence, so unfortunately I wasn't ever really able to take advantage of all the local options when I lived out there. The neighborhood still has a pretty 'local' feel to it, but it's developing at a rapid pace, much to my dismay.
Sushi Ko is the best in town (in my opinion), and incredibly cheap. Go early as you may not be able to get a table; be prepared for lack of air conditioning.
A 75-year-old-man painted gorgeous murals on Nguyen Khoai Street in 2018 and they are pretty awesome
If you're into Mexican fare, Tippy's is my favorite. The owner is from Yuma, Arizona and the salsas are made fresh daily.
There are not as many foreigners living in this part of town, so you will more than likely get stared at.
Make District 5 a priority if you want to see some beautiful architecture
This area was originally run by the Chinese back in the day, resulting in some truly incredible temples from a few hundred years ago. Also known as Cho Lon, this neighborhood is full of surprises and gives off a totally different vibe than anywhere else in town.
Urban Tales offers an interactive and incredibly unique murder mystery walking tour in this area.
This part of town is where the most adventurous foodies should venture to as there are dishes to be found, many of them being traditional soups and stews.
Brave the trek out to District 7 if you're a runner or you like Korean food
If you're thinking that both of those reasons may not seem connected, it's because they aren't. However, District 7 is where a lot of expat families live, making it a quiet haven away from well, literally everything. With families in mind means larger, Western-style roads and sidewalks. Yep, there are sidewalks here that aren't narrow and crumbling and it's awesome. The wide roads are tree-lined and quiet, and many of the community is considered Saigon's Korea Town.
For the best Korean food, check out the Phu My Hung neighborhood
The Tavern runs a pretty difficult pub quiz on Wednesday nights; Sunday evenings it hosts a British-style roast dinner
The chefs at VIII-RE Ottavo Re make all the pasta in house, and the gnocchi is top notch; head to the Speakeasy bar across the street after for a cocktail (it's not really a speakeasy)
You can sit on the grass and have a picnic (a rarity in Saigon, unfortunately) alongside The Crescent Walk
The path behind Crescent Mall is about 5 kilometers
As I mentioned before, there are lots more areas to explore if and when you decide to move to Ho Chi Minh City, Vietnam. However, these are the most popular districts, alongside Binh Thanh and Phu Nhuan. Are you ready to move here yet?
Laura is a Pittsburgh, Pennsylvania native who recently moved back to Chicago after teaching English abroad for nearly six years in both South Korea and Vietnam. During her time abroad, Laura served as an ITA Ambassador providing a wealth of knowledge and content to our alumni and prospective students. A natural helper and leader, she's currently in the process of earning her Masters in Counseling Psychology.
Want to Learn More About Teaching English Abroad & Online?
Request a free brochure or call 773-634-9900 to speak with an expert advisor about all aspects of TEFL certification and teaching English abroad or online, including the hiring process, salaries, visas, TEFL class options, job placement assistance and more.