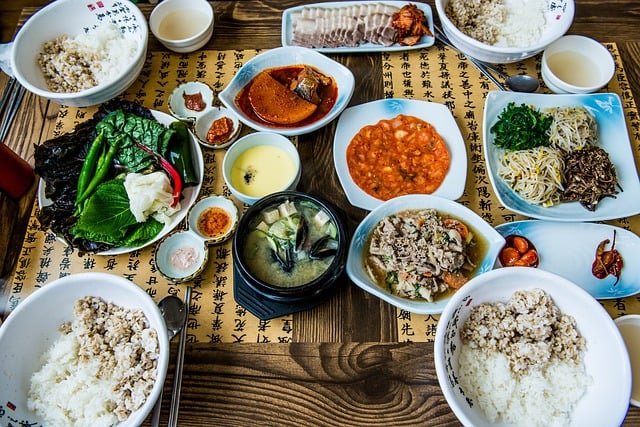 One of the best parts of living in a foreign culture is that you get to enjoy all the weird and wonderful foods it has to offer. You can order a pizza with reindeer meat on it in Finland or sample roast guinea pigs in Peru, but nothing tops the world's list of culinary adventures like Asia, whose range of unusual foods sometimes baffle even the most ambitious foodies.
After polling teachers who have taught English in Asia about the good, the bad, and the ugly of the food scene abroad, here's the list of things you've got to try, even if just for the story. Most of these foods can be found across many countries in Asia and even the west, but we've highlighted the ones each teacher remembers the most fondly from their experience abroad.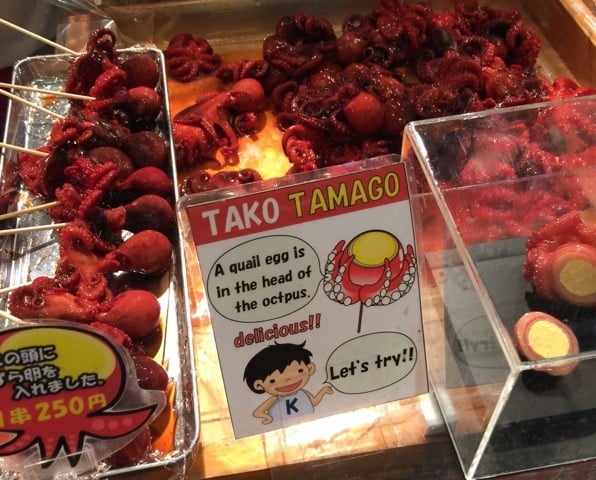 Dare You to Try: Live Octopus
Yes, you read that right. Live octopus. If you felt bad that your lobster was boiled and killed only moments before you chowed down, the concept of eating a still-wriggling octopus may be a bit more unsettling. This dish is not for the faint of heart. Usually a live octopus is cut into small pieces and served on a dish, still squirming, but you can also find it served as a whole, live baby octopus. Just be careful not to choke (we're not joking!)
Runner Up: Beondegi
Beondegi (pronounced bon-DAY-gee) is steamed or boiled silk worm pupae and is a popular snack food across Korea, often sold by street vendors. You can even find them canned in grocery stores to boil before serving, much like a can of soup. Let the strong smell of beondegi from a street vendor draw you in and try a cup full--or for the weak of heart, convince them to try just a single worm on a toothpick. What if you've been missing out on the joy of worm pupa your whole life?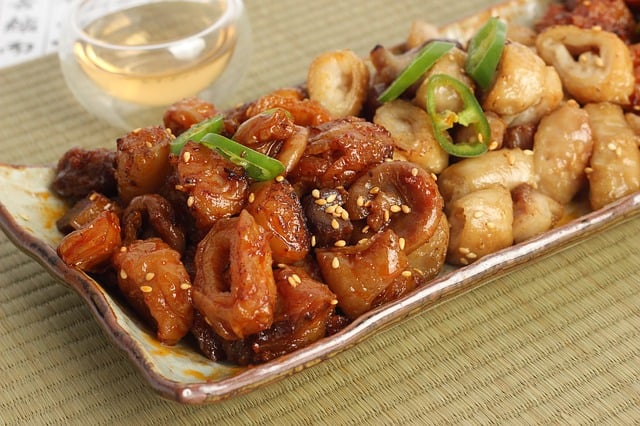 Dare you to try: Chicken Feet
Chicken feet can be found in various forms across several countries in Asia and the rest of the world, but no one does it better than China, who import the most chicken feet out of any country in the world (and notably, a lot of them are coming from the US, where we don't have much use for them outside of livestock fodder). You can find shrink-wrapped packaged chicken feet as a snack in your local grocery store, or even as a main course in a nice restaurant, and there are many different preparation methods resulting in a variety of flavors. Get your taste buds ready for skin and tendons, as the feet don't contain much muscle and have a gelatinous texture. Bon appetit!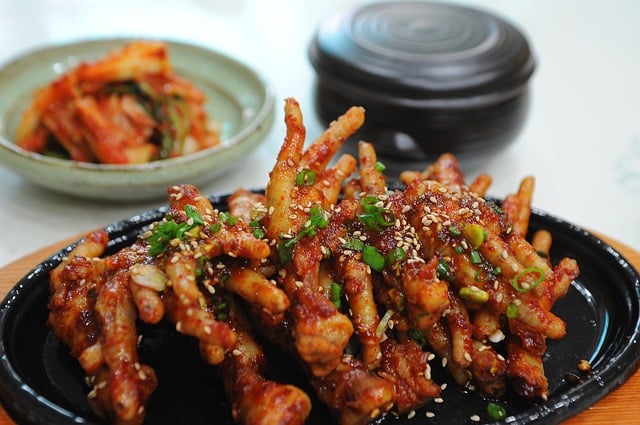 Dare you to try: Natto
In theory, the idea of a fermented soybean doesn't sound all that terrible, but once you encounter the powerful smell, slimy texture and mucus-like consistency of natto in Japan, you might change your opinion. Natto, a polarizing food even among the Japanese themselves (if you're teaching English here, poll your students on who likes and who hates natto!), definitely deserves a spot on this list. Traditionally it is served over rice, but you can find it as a topping to many other dishes and even sometimes as a sushi roll. Some people swear by its health benefits and laud it as a delicacy, but many of us remain unconvinced when presented with that beany, brown slime known as natto. Feeling hungry?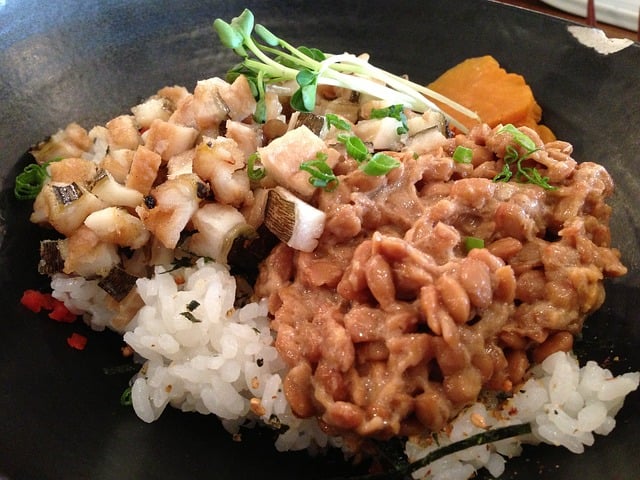 Dare you to try: Fish Balls, at the movies.
You may think buttered popcorn is the traditional thing to eat at a movie theater, but next time you're in Hong Kong, go out on a limb and go for the fish balls instead. There are three kinds of fish balls: yellow, white and golden, so you'll want to give each one a shot. Typically you'll find the yellow (aka smaller and cheaper) variety at the movie theater, cooked in a curry sauce. Grab that Big Gulp of soda if you have to, and do as the Hong Kongers do with a hearty helping of curried fish while catching the latest Jackie Chan flick or the most recent Hollywood blockbuster.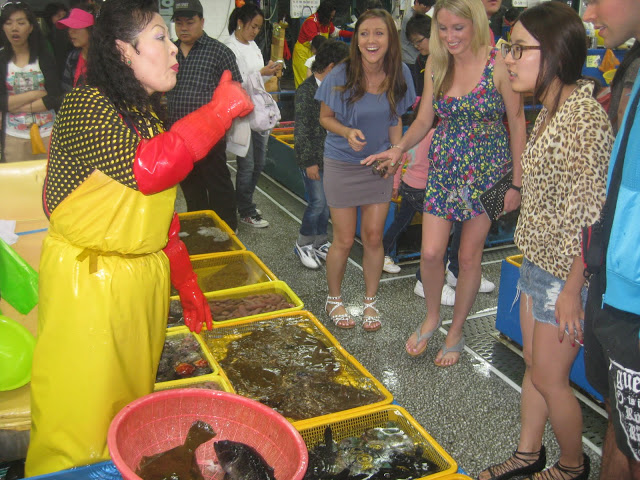 Dare you to try: Stinky Tofu
Yes, Stinky Tofu is literally the name of this food, which gives you a good idea of what it's all about. This common street food is especially popular in night markets, maybe because the smell isn't as repelling to inebriated patrons. People liken the stench to rotten garbage, body odor or smelly feet, which, definitely sounds like something you want to put in your mouth, chew, and digest, right? In Taiwan, the most popular variety of Stinky Tofu is the fried kind, but you can also find spicy, soft, and even barbecued varieties if you travel around enough. Apparently if you can get past the smell, the taste is really great, as evidenced by long lines at street vendors. We'll let you decide for yourselves.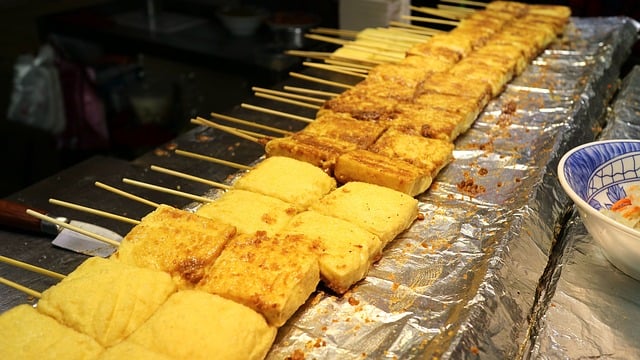 Dare you to try: Crickets
Ever heard a cricket playing its song in high grasses and thought, "Mm, would I love to take a bite out of that?" Then head to Thailand and eat crickets to your heart's content. People eat fried crickets like popcorn, by the handful. Grab a pint of beer and a scoop of fried crickets and have a go at doing as the Thai do. Once you get over the fact that what you're eating is a bug, you may just like it.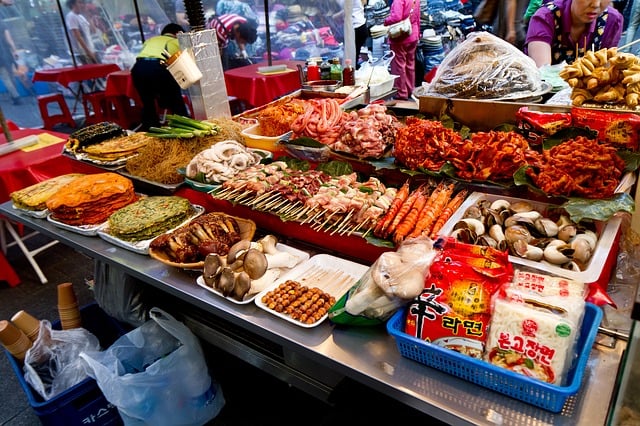 BONUS TIPS:
So there it is, our top 6 Culinary Adventures of Asia! Once you cross all these things off your list, you'll be a true foodie of East. But we won't leave you hanging with all the unusual stuff. Here's some our teachers' favorite delicious go-to foods as well!
Japan: Okonomiyaki, which literally means "grilled as you like it" is a Japanese food that resembles a shredded up pancake, made from flour, yam, cabbage, eggs, and usually pork or seafood, topped with a sweet, thick sauce and mayonnaise. There are a million different varieties all over Japan - find your favorite!
Hong Kong: You can't go wrong with noodles at the raw food market and dim sum, literally anywhere. You'll miss it immensely when you're gone!
Taiwan: Shabu shabu is technically Japanese but can also be found in Taiwan. It's thinly sliced meat and vegetables boiled in flavored water or broth and it's delicious. Just do it.
China: Convenience stores in Asia are a mecca of delicious new snacks to sample. Go for the oil spiced peanuts, you'll love em.
Korea: Galbi which is beef or pork ribs, is a staple of Korean cuisine and especially delicious in various accompanying dipping sauces.
Thailand: Masaman Gai is the national dish, but Pad Thai in Bangkok is the best...especially at the end of a night out with friends!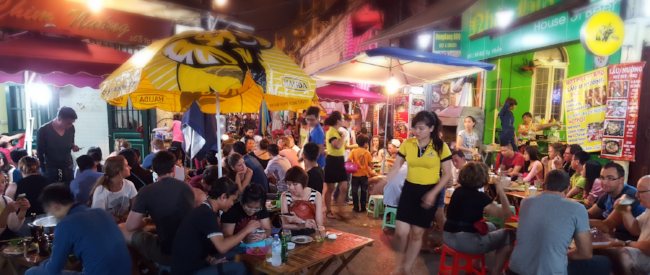 There you have it — the feast is on!
Want to learn more about Teaching English Abroad?
Request a free brochure or call 773-634-9900 to speak with an expert advisor about all aspects of TEFL certification and teaching English abroad, including the hiring process, salaries, visas, TEFL class options, job placement assistance and more.
Related Resources:
Meet the Author: Chelsea Hendrickx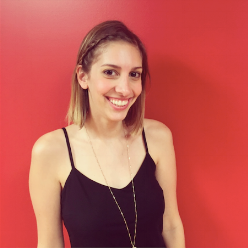 An Admissions Advisor at International TEFL Academy, Chelsea grew up in Southern Florida and attended the University of Florida. Following graduation she hopped on a plane to Japan and participated in the JET program for two years.