5 Expert Tips On What to Pack for Teaching English in Suzhou, China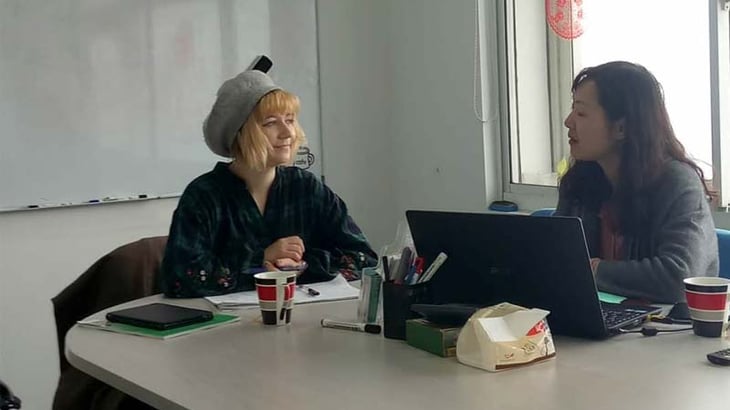 Packing for life abroad can seem like a daunting task. One doesn't want to turn up to a new country empty-handed. Yet, at the same time, bringing everything is not practical. After some careful thought and planning, I've devised some strategies and helpful tips that helped me as I prepared for my new life
teaching English in China
. I'm here to share 5 helpful tips to make your packing experience a cinch as you prepare for your new life abroad.
1. Pack Light
Upon packing for Suzhou, China, I wasn't quite sure what to expect. My initial instinct was "BRING IT ALL!" However, upon talking to my recruiter she stated, "Almost everything is made in China. Pack only the bare essentials." Looking back, I must say: my recruiter's words rang true. Many things are made in China. But as a foreigner starting fresh in China, I knew that I might not have immediate access to all things China. Without a Chinese bank account and the language, there would be certain limitations upon arrival. So, my advice is: pack light but pack smart.
2. Pack for Long Winters and Summers
Suzhou, China has four distinct seasons, but it is worth noting that winter and summer are the longest seasons. In light of this, I would recommend clothing that can be layered and is useful for more than one season in order to make the most of your suitcase space. Heavy outerwear, boots, and all accessories can be purchased in China, so I recommend only the essentials. This saves a lot of suitcase space.
[Helpful Tip]: Vacuum seal bags can be a useful tool if you don't wish to part with some clothing, but wish to be mindful of space.
3. Bring Western Medications
Although Chinese pharmacies have remedies for most ailments, it should be known that Western medicines - even ibuprofen - can be hard to find. Rest assured, there will always be an equivalent in China for whatever illness or ailment you might have. Further, Chinese medicine could affect you differently if you haven't used the same medicine before. For this reason, upon arrival and, for at least the first month, I recommend bringing a supply of medicines from home, as well as a year's prescription of any medication you are receiving at home. Also, Chinese airport security is very strict about luggage, so be sure that all of your prescriptions are labeled. A doctor's note would be ideal.
[Helpful Tip]: If and when you decide to transition to Chinese medicine or visit the pharmacy, always translate the medicine labels and understand the side effects before consumption.
4. Electronics
Be sure to pack converters for your appliances. Check the voltage of your appliances to ensure that your devices can be safely used in China. If the voltage is somehow different, or you worry about stability, a surge protector is a safe investment and could ultimately save your gadgets.
Certain sites and apps are blocked in China as they are perceived as a threat to the government. These include: Facebook, G-mail, Google, Google Play, Instagram, YouTube, Snapchat and PayPal. Thus, before arrival in China, I recommend installing a VPN (virtual private network) on your computer to remain in contact with your loved ones at home. Do not wait to come to China to get a VPN. Acting earlier is better than risking no access to certain sites and VPNs based in China are in the process of being shut down.
There are many VPNS to choose from and it's important to do some research before arrival. Personally, I use and recommend Express VPN. For this service, I pay a monthly fee to the company, but ultimately, I am paying for a secure and reliable connection to the online sites I know and enjoy. You may experience slow Internet with a VPN depending on location. In light of this, I recommend downloading a supply of e-books and bringing any movies you have on file. A VPN is a sure-fire way to keep you connected, but to be safe, it would also be wise to download the Chinese messaging app Wechat, and to encourage some close family members to do the same before your departure.
For more, check out I'm Moving to China - What the Heck is a VPN?
5. Optional: Photos & Details to Decorate Your Walls
The walls of some apartments can leave a living space feeling empty on move-in day, so I recommend bringing some photos of family, friends, noteworthy experiences and uplifting quotes to create one's own unique space and to give a new apartment that feeling of "home". In my personal experience, these little things can serve as a reminder of strength and can help fuel you through the hard days when you might be missing home. Even if you don't experience such bouts of nostalgia, filling up the blank space can be a fun project as you are settling into your new abode.
I hope that these tips have been helpful as you prepare for your new life in China. If you are considering a move to China, have any further questions, or simply want some packing advice, please feel free to reach out. I know that packing can be overwhelming and am happy to serve as a resource.
Upon graduating from College in 2014, Amanda received her TEFL certification from International TEFL Academy and began teaching English in France. A few years later, and a Fulbright grant under her belt, she went on to teach English in South Korea, and then Suzhou, China, where she became one of our 2018 Alumni Content & Writing Ambassadors.
Want to Learn More About Teaching English Abroad & Online?
Request a free brochure or call 773-634-9900 to speak with an expert advisor about all aspects of TEFL certification and teaching English abroad or online, including the hiring process, salaries, visas, TEFL class options, job placement assistance and more.