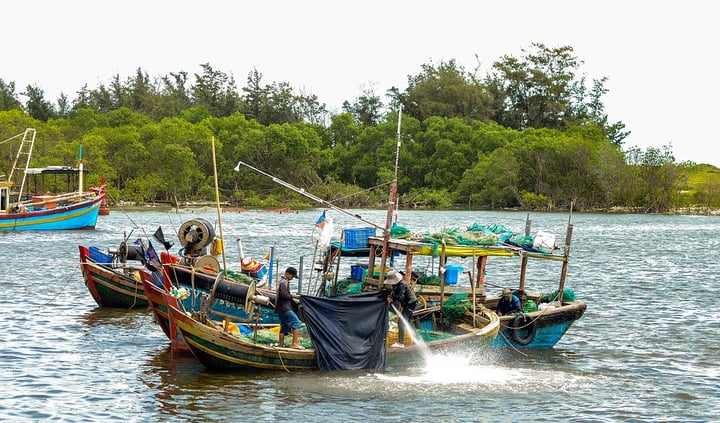 By Laura Nalin
I'd like to fancy myself as someone who's pretty easy to please. Although I've lived in major cities for the past ten years, I've always been within driving distance of a natural escape. I physically cannot stay within a city center for more than two months without going a bit nuts. Maybe it's my Pennsylvania roots or the fact that I grew up camping and hiking every summer, but it's a must.
One of the major downsides of living and working in Ho Chi Minh City, Vietnam is the fact that there aren't as many natural havens to explore outside of the city itself as easily as those teaching English in Hanoi. With that said, the places we are close to are pretty incredible. A favorite of mine is Vung Tau, a sleepy beach town just one hour north of Saigon. The ideal weekend in Vung Tau for most expats living and working in Ho Chi Minh City is generally just for ultimate relaxation, although some larger groups rent villas and party for a few days. If it's a party vibe you're seeking, it's pretty easy to find villas on Airbnb depending on the time of year.
Most of the best accommodation throughout town are resort-style condos or rooms; the beaches are not the cleanest so it's worth it to pay the extra cash. Most, if not all, of the resorts come equipped with lovely pool areas, others with small "private beach" spots.
How to Get to Vung Tau
I recommend taking a bus in during the evening and getting back into Ho Chi Minh City via the hydrofoil ferry. A bus ticket to Vung Tau from the city shouldn't cost any more than 150,000 VND, or $5.60 USD. There are a few different options; I generally opt to go through a tourism company as it's a bit more secure and far less confusing. A great company for this purpose is called Viet Dream Travel, located on the raucous Bui Vien Street.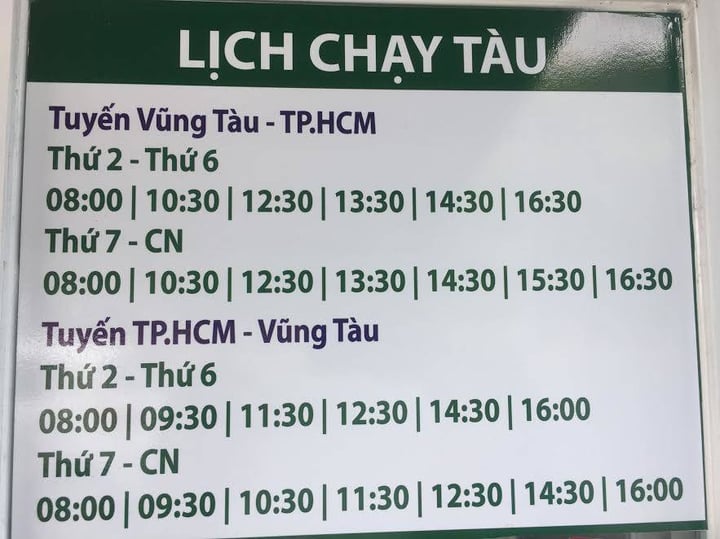 Once you get into town you'll be dropped off at a random bus stop. From here, you'll be able to get into a free shuttle that will go in the direction of where you're staying. If you decide to book resort-style accommodation, be sure to double check with them as they may offer a free door-to-door shuttle service.
How to Spend a Weekend in Vung Tau
Early Morning
I recommend renting a motorbike and cruising around town for a bit to get a feel of it all. This town is super quaint and it is such a nice experience to drive in [nonexistent] traffic. There's lots to see and do, but I would not recommend spending more than a weekend in Vung Tau as you'll run out of options.
After you've driven around a bit, find a parking spot near Bai Truoc, also known as the "Front Beach." Here you can walk along the palm tree-lined pathways and support the local fruit vendors while chillin' in the sunshine. The best part about this little area is that you can actually sit on the grass, which is sadly prohibited in Ho Chi Minh City for some strange reason. Enjoy this slice of freedom while you can!
Lunch
There are a few options for lunch in town. I'm partial to a restaurant called Matilda's Pub for a few reasons. First and foremost, the owner is an advocate for charity work and donates large portions of proceeds toward community members in need. They've been able to provide food packages to shelters as well as purchase new beds for orphanages in town. The restaurant is decorated with artwork done by local children, which is also for sale. Patrons can observe where the money has gone by looking at a progress meter on the central bulletin board. The second reason I am a massive fan of this place is because they sell pierogies and I really love pierogies.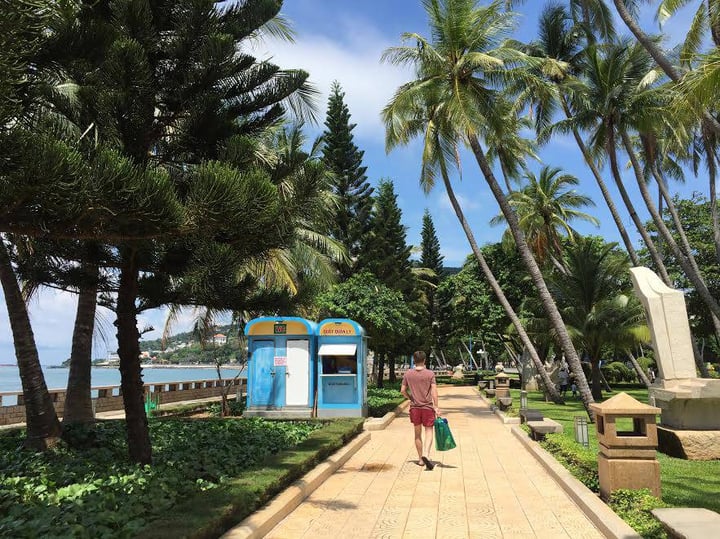 The cheaper, more "local" lunch option if you will, would be to drive your motorbike over to the beachside restaurants for some fresh seafood. Vung Tau is known for its array of seafood, but most famously its lau ca duoi, or stingray hot pot. A popular spot to eat this is a place called Hoang Minh, located at 40 Truong Cong Dinh, Ward 3, Vung Tau City.
If you're not feeling too adventurous, you can sample some banh khot, aka Vietnamese mini pancakes. These finger foods are sold throughout Ho Chi Minh City, but apparently some of the best are sold outside of the center. While I've never eaten this dish as I'm a vegetarian, it's essentially small flour pancakes topped with curry powder, shrimp and green onions.
If you're more interested in picking your own food to eat, you can always head over to the Xom Luoi Market. All of this food is fresh off the fishing boats each morning; you can purchase the seafood and then cook it right there at a cooking stall. To get to this market, head to Nguyen Cong Tru Street, Ward 2, Vung Tau City.
Afternoon
Once you've eaten to your heart's desire, I suggest climbing to the top of the Tuong Dai Chua Kito Vua, aka Vung Tau's bizarrely similar version of the famous Christ the Redeemer statue. Brazil who? There are a lot of really cute puppies around this area, which is something I deem important, so be aware for everything to take a bit longer due to the amount of pats that will be given. Who doesn't want to spend part of a weekend in Vung Tau petting dogs, though?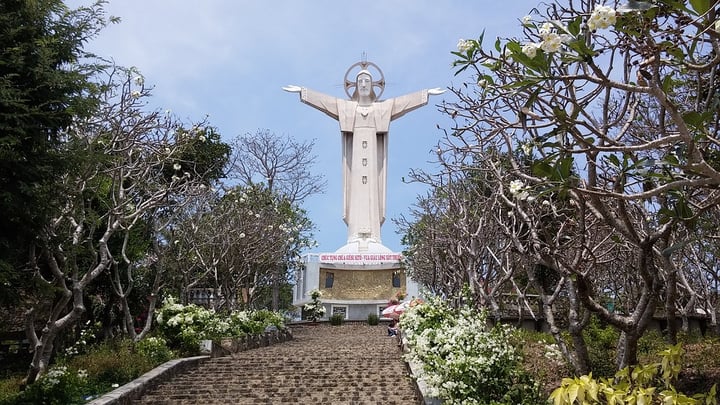 This isn't a strenuous hike and can be easily done in under an hour. There's a lovely view of the sea once you get to the top - and best of all - more dogs to pet. Keep in mind that since this is a holy site, it's polite to cover your shoulders, although not 100 percent compulsory. Take your time and enjoy the views, the pups and the amount of stares you'll receive as a foreigner.
If that doesn't sound like your thing, you could always check out the White Palace. The building is a relic of the French occupancy and legitimately feels like you're taking a step back in time. There's no English translation once you're inside, however, so much like many things in Vietnam you'll be walking around a bit confused. It's still worth checking out, though! If you'd like, you can explore a few of the lovely temples around town on your motorbike. Again, be aware that these are foreign holy sites you'll be visiting so dress accordingly.
Early Evening
If you're keen for more Vietnamese fare, head over to Banh uot chong dia 47 for a sample of the area's trendy street food. Similar to a spring roll, this is a thin rice pancake stuffed with your choice of meat (chicken or pork) and other additions such as sour mango and pickled vegetables. As with everything in Vietnam, this dish gets dipped in fish sauce, or fermented anchovy sauce. If this is something you're wanting to try, head to 77 Xo Viet Nghe Tinh, Ward 8, Vung Tau City.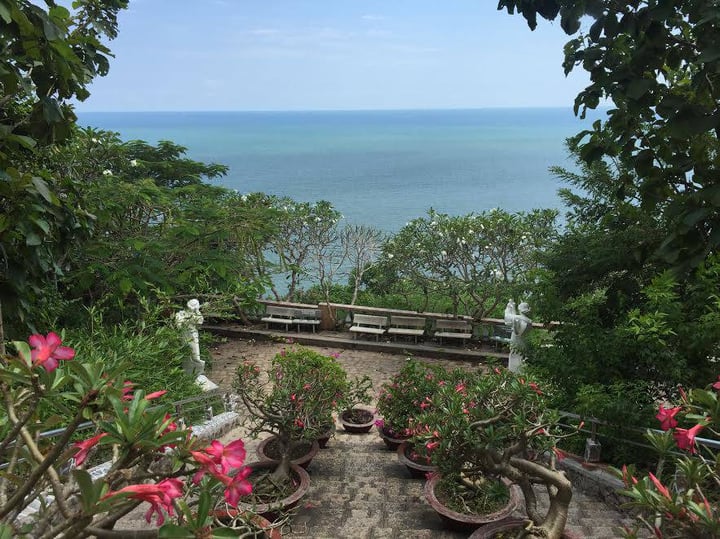 While I'm a staunch supporter in sampling as much local fare as possible while traveling, this weekend in Vung Tau is a bit different. If you've found yourself tired of eating street food on a regular basis and want a taste of home, there's an incredible Italian restaurant in town called David's Pizza. All of the pasta and sauce are made in-house, and the gnocchi was out of this world. I'm also a big fan of the pizza. Give it a go! If you're keen, 92 Ha Long, Phuong 2, Vietnam, Ba Ria - Vung Tau.
Night
Each time I've gone to Vung Tau I've gone home after eating dinner for a few beers and relaxation, but another option is taking a cable car up to Ho May Park. There are a few rides up at the top as well as games and other [what I deem] cheesy tourist attractions. The view from the top is apparently lovely, though! This is also an excellent option for those who have some spare time early Sunday, or if you'd like to swap out any of the aforementioned in favor of this.
Getting back to Ho Chi Minh City
Now that the weekend in Vung Tau is over, it's time to get back to Saigon via a wicked fast ferry. There are two companies operating in and out of Vung Tau back to the city: Greenlines and Petro Pacific. I've only taken Greenlines, so I cannot comment on the latter company, but my journey back into town was a breeze.
Prices for the Greenlines ferry:
- Adult: 250,000vnd (one way)
- Adult over 62 years: 180,000vnd (one way)
- Child 6-11 years old: 120,000vnd (one way)
- Child under 6 years old: free
While the prices are a bit heftier than the bus option, I think it's a cool experience and worth splurging $11 USD on.
Hope this gave you some insight on how to spend a weekend in Vung Tau. Safe travels!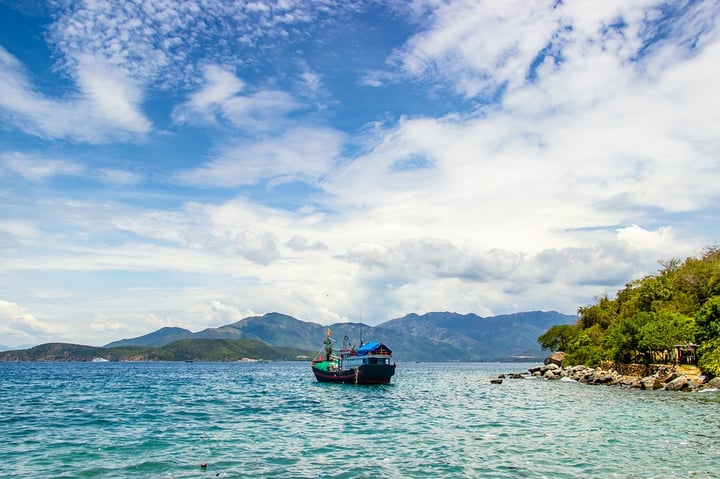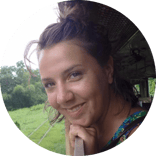 Laura is a 29-year-old serial expat who left the states in 2013 in search of a fresh perspective - a decision which opened more doors than she could've imagined. She's a lover of mountains, spicy food, stand up comedy, and will never turn down a pizza. Laura is one of ITA's Writing & Content Ambassadors.
---
Want to Learn More about Teaching English Abroad?
If you are excited about teaching English from either the comfort of your own home or anywhere in the world, contact us about TEFL certification options and get ready for a great adventure!
Related Resources: