By: Amanda Martin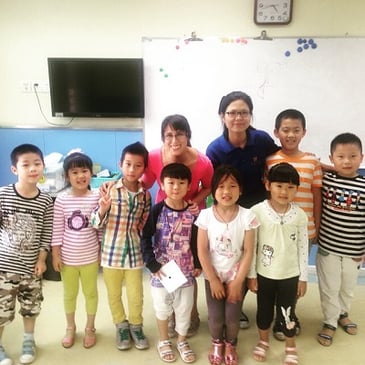 When I first arrived in China to teach, I wasn't sure what to expect.

Would the children hate me?

Would they understand what I was saying?

What would I be able to get my point across?

All of these questions floated around in my head, and it made me feel a bit uneasy. I had previous experience working with children in Texas, but this was a whole other ball game. I was already in China when these thoughts occurred, so there was no turning back. I had to dive into it and give it all that I had.

Luckily, my school was great about providing a thorough training. I was also able to watch different teachers teach various lessons at different levels. It gave me some perspective about how to go about things, and it was nice to see how the other teachers taught. It took me a while to slow down my speaking pace, making sure that I was pronouncing every syllable and word correctly. It also took me a while to incorporate TPR into all of the things I did. But soon enough, I found my groove and style of teaching. It was easy to get into the routine of doing certain things and seeing the students' smiling faces when I first entered every class was priceless.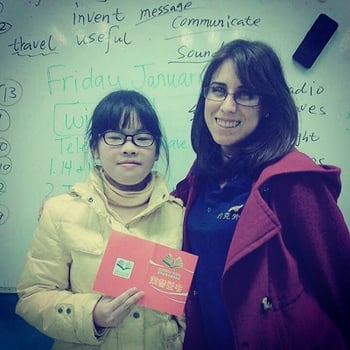 Working with Chinese students was so easy and great. My students were always excited to learn and willing to try out different games and activities. I never had any major discipline problems, and my students were always so respectful. It was refreshing to experience, especially coming from the states where discipline problems are too frequent in the classrooms. If I ever had any trouble getting something across or the students didn't fully understand a concept, I had my Chinese TA translate what I needed to get across.

My biggest surprise came when my Academic Coordinator told me that we would be going into the Chinese public schools to be teaching an English lesson there. I was just baffled at the thought. The normal Chinese classroom size consists of about 60 students at the elementary level. For the kindergarten level, there are about 30 or so students in every classroom. I was even more baffled when she proceeded to tell me that we would be teaching at the elementary and kindergarten once a month. It was all part of a coop that my school had arranged with the others.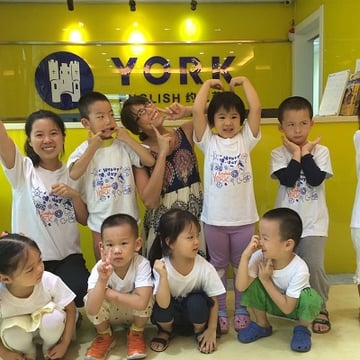 The thought of standing in front of that many students trying to teach English scared the living daylights out of me. Sure enough like always, the school made sure that I watched another teacher conduct a class so that I knew how things went. But I remember the first time I stood by myself if front of a classroom at the elementary school. I was shaking because I was so nervous, and it felt as if I had a frog in my throat. I wasn't sure how load I should be speaking or where I should stand.

Should I stand at the front?

Should I move around the classroom and talk?

Should I make funny voices?


So many things raced through my mind. My Chinese TA was in the classroom with me,but she wasn't allowed to speak Chinese. I was there to speak English and teach English; and the lesson was 45 minutes long. That first time I taught at the school, it felt like the hours had drug on.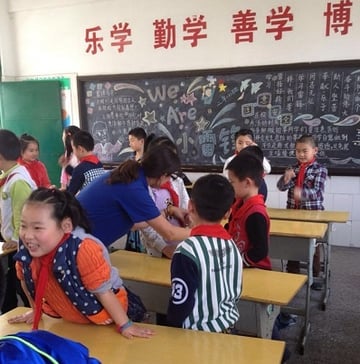 But I came out of there alive and in one piece! The students in the class I was teaching were so happy that I was there and were gems. They were excited to play games and speak in English; it gave them a break from their regular school work. It got to the point that every time we arrived at the school, the whole student body would rush downstairs to give us all hugs and ask us questions. It got a little out of hand during Christmas. One of my male colleagues dressed up as Santa and went to every classroom to surprise the children while we were teaching. After the lessons had finished, all of the students rushed down and started chasing him around the school! It was such a sight to witness. Every month when I went to teach there, it got easier and easier. It was the same way when I went to teach at the kindergarten. I was a nervous wreck at first, but then I got into the flow of things. I actually started to look forward to when I would go teach at the public schools. It was an experience that I will never forget!
Amanda Martin is 27 from Poteet, Texas with a BS in Forensic Science with a Minor in Psychology from St. Edward's University in 2011. She was a Teacher's Assistant for the public schools in Texas for two years before deciding to fly off to Fuzhou, China, to teach English. Since then, she has not stopped traveling and teaching.