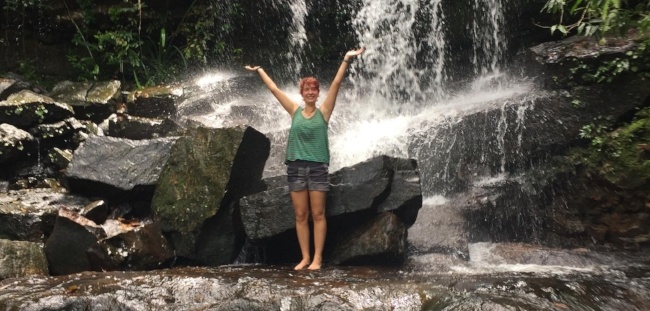 By Kate John
Phnom Penh was incredibly overwhelming to me when we first arrived here to teach English in Cambodia. While Josh, my partner, had traveled to developing countries before, it was my first time stepping out of the western world. Cambodia's streets are loud, crowded, and overwhelming. But, since then I have come to love the city. There are just some of the places that have really helped me fall in love with the "Kingdom of Wonder."
These are my five favorite spots in Phnom Penh: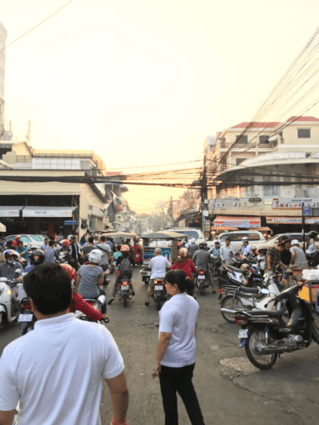 1. The Russian Market
Otherwise known as Toul Tom Puong, this is the closest market to my house. It's popular among tourists and locals because of the variety of things they offer. I am a huge fan of markets in general, but this one is my favorite. It feels more like a community than the larger markets around town. This is where we buy groceries, get clothing mended, and pick up school supplies or housewares. Of course, while in Phnom Penh I definitely recommend you visit the other markets, each one has a different feeling and uniqueness to it. I like this one best because I know the vendors, they have a good variety of items, and it's closest to my house.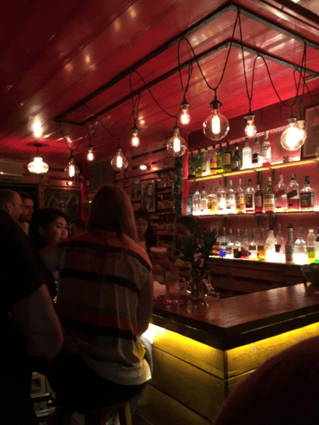 2. Bassac Lane
One of the more popular spots for expats to grab drinks, Bassac Lane is lovely. I'm usually not a huge fan of nightlife hot spots, I don't like large crowds or music you can't have a conversation over. Bassac Lane is more laid back. It's a small side street with a number of small quaintly themed bars. Each bar has signature cocktails to go along with their particular vibe, but all of them are equally good. My favorite bar is a library themed space that serves some really lovely drinks.
One of the only few craft breweries in town is also nearby the lane, for those who prefer beer to spirits. This is absolutely one of my favorite places to meet up with friends. The bars are quiet enough to have a chat, but interesting and fun. Additionally, as it is a popular area, it's likely you'll see other people you know while you're out. Phnom Penh is a fairly small expat community. It would be a good place to come soon after arriving, both to unwind, and to meet some other foreign teachers.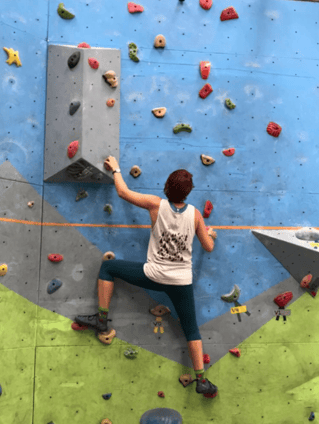 3. Phnom Climb
Josh and I both are big into fitness. We really like staying physically active, and one of our favorite ways is by rock climbing. Phnom Climb is Cambodia's only rock climbing gym. This is actually pretty exciting right now. In two years, at the Tokyo 2020 olympics, rock climbing will be featured as a sport for the first time. So the sport is making a huge rise in a lot of countries, and Cambodia is no exception. We climbed in the States too, but we really like the community at this gym. People are friendly and talkative there, they're always willing to help you with a difficult route. That sort of community feeling was somewhat lacking at the gyms we visited back in the US. So Phnom Climb is one of our favorite places both for the opportunity to climb up things, but also the chance to make friends.
4. Toul Sleng Genocide Museum
While this place is not particularly upbeat, it is really powerful. We tried to learn about Cambodia's history before moving here. So we were familiar with the Khmer Rouge, and the genocide that occured in the country during the 70's. We knew the impact upon the countries infrastructure, education, and development. It was hard to understand what that was really like though just from reading books or watching documentaries. So this museum really helped us understand the country better.
Situated in Phnom Penh, it was previously a high school that got converted into a prison and torturing facility during the communist regime. The site housed thousands over the four years, all of who were later transported to other sites to be killed, after a "confession" was extracted. The place now is preserved from what was found in 1979, while signs and pictures have been added to help people understand the gravity of what took place there. Seeing the site, and the neighborhood it's in, helps put into perspective life in Cambodia. It was incredibly moving. We are glad we went, and happy to have had the opportunity to learn about our new home. Any new arrival to Cambodia should take some time to visit Toul Sleng and come to understand this beautiful country a little more deeply.
5. My Classroom
We moved here to teach. The classroom is by far one of my favorite places in the city, because it is the physical representation what my goals. For years I dreamed about teaching abroad, and now I get to do that. I get to go to my classroom every day and live out that dream. It is a little cheesy, but it's definitely one of my favorite places. It always picks me up having my students walk in a greet me, talking to them about their lives, and using that space to help them learn and grow. I am sure you will feel the same about your classroom once you arrive in Cambodia too!


After volunteering for a year in the Denver Public School System, Kate felt like she needed a change. Her and her boyfriend both got TEFL certified and set off on an adventure of a lifetime in the Kingdom of Wonder. Kate is one of ITA's Writing & Content Ambassadors.
---
Want to Learn More about Teaching English Abroad?
If you are excited about teaching English from either the comfort of your own home or anywhere in the world, contact us about TEFL certification options and get ready for a great adventure!
Related Resources: