Teaching English
in Spain

Teaching English in Spain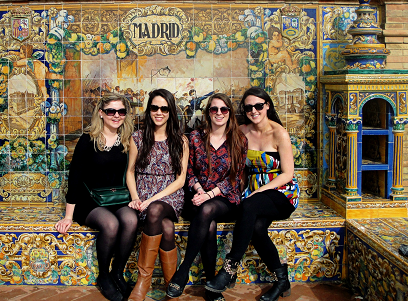 Spain is one of the most popular locations in Europe and the world for teaching English abroad. English teachers in Spain typically find work in September or early October, and then again in January. Most contracts for teaching English in Spain end in late June. For those looking to teach English in Spain through the summer, opportunities at summer English language camps are available in Spain and throughout Europe. Summer camp positions typically start in late June and early July.
English teachers in Spain will be expected to interview in person once they arrive in Spain, and they will also be responsible for their airfare, as well as housing. Many English teachers in Spain live in apartments recently vacated by previous teachers, and many room with their coworkers.
A solid hourly wage enables English teachers in Spain to live a comfortable and enjoyable lifestyle. Schools in Spain typically offer 20-25 hours per week of work, leaving you plenty of opportunity to travel and explore. English teachers do not need to have a BA to teach in Spain, but a TEFL certification is absolutely necessary. Major cities for English teaching jobs in Spain are Madrid, Barcelona, Seville, Bilboa and Valencia. The English teaching market in Spain is compromised primarily of British and American teachers as well as a substantial number of Irish, Canadians, Australians, South Africans and New Zealanders.

Check out Rachel's video about being TEFL certified
and teaching English in Barcelona Spain
Are You an American Interested in
Teaching English in Barcelona?
At International TEFL Academy, we certify nearly 4,000 people a year to teach English abroad & Barcelona represents one of the most popular teaching destinations for our graduates, including Americans. That said, if you are an American interested in teaching English in Barcelona, Spain there are certainly realities when it comes to matters like visas & the job market that you must prepare for and be willing to accept if you want to realize your goal of living & teaching in this beautiful city.
1. You should expect to live & teach English in Barcelona "under the table" on a tourist visa.
2. You should expect to work as a freelance private instructor & not as a full-time employee at a language school.
TO LEARN MORE:
Visas & Jobs: A Quick Guide to Teaching English in Barcelona, Spain for Americans
To Learn More About Teaching English in Spain, check out:
Visas

Job Tips for Teaching English in Spain
Feature Articles - Teaching English in Spain

Feedback from International TEFL Academy Alumni who are now teaching English in Spain: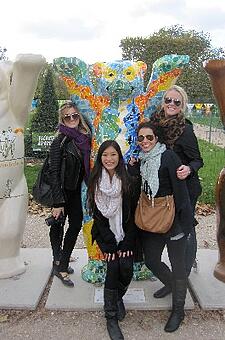 Q&As:
Barcelona Spain Q&A with Lauren O'Rourke
Huelva, Spain Q&A with Allison Clark
Barcelona, Spain Q&A with Gabriele Dow
Barcelona, Spain Q&A with Lexi Sabatino
San Sebastian, Spain Q&A with Kylee Burgin
Sevilla, Spain Q and A with Maggie Vosters
Barcelona, Spain Q&A with Rachel Sair (with Video)
Madrid, Spain English Teaching Q and A with Molly Torbert
Barcelona, Spain English Teaching Q and A with Michelle Palladini
Madrid, Spain English Teaching Q and A with Andrea Hart
Alicante, Spain English Teaching Q and A with Maggie Jones

Articles:
Teaching English in Spain: A Great Experience and a Foundation for a Great Future - By Ryan Franco
How to Find Private English Teaching Work in Barcelona, Spain - Lauren O'Rourke
Life's Too Short - Dustin Burgin
The Imagery of Change - Gabriele Dow
Confessions of an American Abroad - Alexis Sabatino
A Year Teaching English Abroad: 9 Lessons Learned Living in Spain - Morgan Garza
Hola Barcelona - Alice Denny
Two Years Later: Living and Teaching English in Barcelona - Lauren O'Rourke
Blogs:
Alice Denny: http://aliceabroad.com
Colin Brown: http://colinjordanbrown.wordpress.com/
Lexi Sabatino: http://womanwanderer.tumblr.com
Dustin Burgin: www.weekendtravelers.blogspot.com
Alison Clark: www.adventuresofamystic.com
Erin Lake & Rob Morgan: www.ErinAndRobInSpain.blogspot.com
Molly Torbert: http://mollyandmadrid.wordpress.com
Rachel Sair: http://mylife2blog.wordpress.com/
Lauren O'Rourke: http://laurenelizabeth711.tumblr.com/


Videos:
Alumni Video: Teaching English in Barcelona, Spain - Lauren O'Rourke

Join the party in Spain, this shot is from one of the ITA alumni meetups with the president of International TEFL Academy.
Our alumni connect via our ITA Spain Alumni groups
Requirements & Guidelines for Teaching English in Spain
Education:

BA/BS is preferred but not required; TEFL TESOL Certification is required

and students can obtain certification at our Madrid Spain TEFL Course, Barcelona Spain TEFL Course or any of our other Worldwide TEFL TESOL locations or by taking the Online TEFL TESOL Class.

Peak Hiring Months: Late Sept, Early Oct & January
Types of Jobs: Foreign language schools, Summer English language camps
Typical Hiring Process: Interview in person in Spain
Average teaching hours per week: 20-30 hours of classroom & extra prep time
Types of Students: Business professionals, Children in Summer Camps
Cost of Living per Month: $1,230 - 1,490 USD (1,120 - 1,500 Euro)
Average Monthly Pay: $1,230 - 1,490 USD (1,120 - 1,500 Euro)
Start-up Cost: $2,250 - 3,000 USD (1,990 - 2,650 Euro)
Potential to Save or Break-even: Break-even
Accommodation/Housing benefits Paid: No
Flight Reimbursement: No


Interesting Facts About Life in Spain
The people of Spain spend more money on food per capita than any other population in Europe.
As of July 2009, 76% of Spaniards identified themselves as Catholic, though most are non-practicing.
Spanish cinema has achieved major international success, winning Oscars for recent films such as Pan's Labyrinth and Volver.
Real Madrid C.F. and F.C. Barcelona are two of the most successful football clubs in the world.

The Spanish national team won the FIFA World Cup in 2010 and the European Cup in 2012. Olé!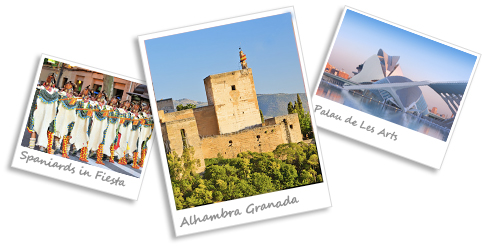 Your life teaching English in Spain....
A strong cup of coffee in the morning, a large delicious lunch, a mid afternoon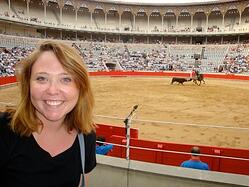 siesta, a light dinner, and then late night dancing until dawn; this is a day in the life in Spain. Whether you are taking a sun drenched seaside stroll in Barcelona, or sipping sangria in a café in Madrid, Spain offers both locals and foreigners an undeniably pleasant lifestyle. Most English teachers in Spain work 20-25 hours weekly in the classroom, though many also take on private students to make extra money. Because most students are working professionals or university students, you should expect to be giving some lessons in the late afternoon and evenings. A large number of national holidays provides ample opportunities to explore Spain's endless array of cultural and natural treasures from sun-soaked beaches and exquisite Moorish architecture to world-class museums containing works from Spanish national like Picasso and Dali.