11 Highlights of Living and Teaching English in Japan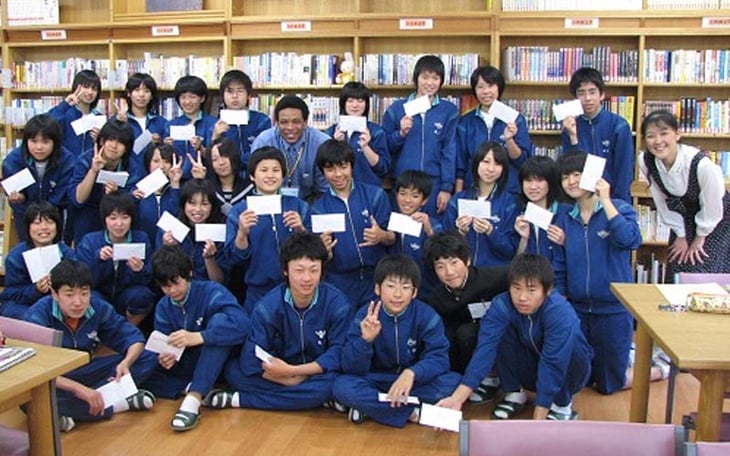 Here are my 11 top highlights for living and teaching English in Japan!
11. Weather:
Not many countries offer as vast extremes from North to South as Japan. From the beautiful beaches of sub-tropical Okinawa, to the mountains and high quality powder snow of Hokkaido, no matter what climate you may desire, it can be found in Japan.
10. Innovation:
The birthplace of Nintendo offers far more advanced technology than just video games. From uber-modern robotics to computerized toilets with heated seats that play music, advanced technology in Japan is unlike any other in the world. Be sure to visit Akihabara, the electronics district of Tokyo, and prepare to be blown away by the maze of gizmos and gadgets.
9. Sake!
No trip to Japan is complete without taste-testing Sake and there's no better place to fully experience that than at the Saijo Sake festival located just east of Hiroshima. This annual festival takes place every October and it's the only time of year where the equivalent of about 20 US dollars affords you the luxury of spending an entire day tasting various types of Sake from all over Japan. Be warned however; drink in moderation—or else things can get messy!
8. Sushi:
If you think California Rolls originated in Japan, then you've definitely never had real Sushi (not to be confused with it's equally delicious close relative sashimi—fresh slices of raw fish sans rice). And what better way to experience authentic sushi than by pleasing your palate with freshly caught fish directly from the Pacific and the Sea of Japan. Seafood lovers should also be sure to visit local fish markets, especially the Tsukiji Market in Tokyo, which is the largest seafood wholesale market in the world where thousands of tons of fish and shellfish (much of it live) is bought and sold to supermarkets and restaurants in Japan and around the world every day.
7. Awesome Transportation:
Getting from place to place in Japan you will experience the wonders of the subway maze of Tokyo, high-speed ferries to various neighboring countries, 250 mph bullet trains and railways, and more. If you want to get somewhere on time, then you will love the punctuality of Japan's transportation system, which is among the most developed and efficient in the world.
6. Tokyo:
35+ million people live in greater Tokyo making the Japanese capital the world's largest city. From grand imperial palaces and ancient Shinto shrines to ultra modern skyscrapers, dazzling shopping centers and a mind-bloggling array of culinary and nightlife attractions, Tokyo offers something for everybody and is not to be missed for anybody teaching English in Japan.
5. Sports:
From baseball, golf and soccer to the more traditional national sports of karate and sumo, sporting events in Japan are always full of fan-filled fun! In addition, for foreign English teachers, participating in local sports leagues and activites is a great way to become involved in the local community.
4. Festivals:
Or as they say in Japan, Matsuri, occur year-round and all over the country and provide great opportunities to experience traditional Japanese culture. There are literally thousands held nationwide every year, but some of the most famous Matsuri include the Lantern Festival of Yonago City, the Sapporo Snow Festival, and the Naked Man Festival of Okayama City.
3. Cherry Blossoms (Sakura):
In case you wonder why spring is one of Japan's most popular season—Cherry Blossoms are the reason. Each year for a brief period of several weeks in March and April (and sometimes into May), the nation becomes awash in delicate pink flowers and Japanese from all walks of life flock to local parks and gardens to celebrate the arrival and beauty of spring.
2. History:
Not many countries boast a history as ancient and rich as that of Japan. From the mystique of ancient emperors and medieval shoguns (military rulers) to the emergence of Japan as a major international power during the Meiji period, Japanese history is both colorful and fascinating and the nation is home to some of the best preserved and most beautiful historical monuments in the world. Explore the charming historic districts of Kyoto and the ancient castles of the old capital of Nara where a walk through Todaiji Temple will instantly transport you centuries back in time.
1. Teach English:
What better way to fully experience the culture than by stepping into the classroom and teaching English in Japan!
Check out our 8 tips For teaching English in Japan Webstory.
Edward Young taught English in Asia (South Korea & Japan) for seven years, including three years in Japan in the rural prefecture of Tottori on the southern coast of Honshu, the largest Japanese island. He has also taught English in Oman and Saudi Arabia in the Middle East before joining the ITA team for a brief period as an ITA Admissions Advisor.
Want to Learn More About Teaching English Abroad & Online?
Request a free brochure or call 773-634-9900 to speak with an expert advisor about all aspects of TEFL certification and teaching English abroad or online, including the hiring process, salaries, visas, TEFL class options, job placement assistance and more.